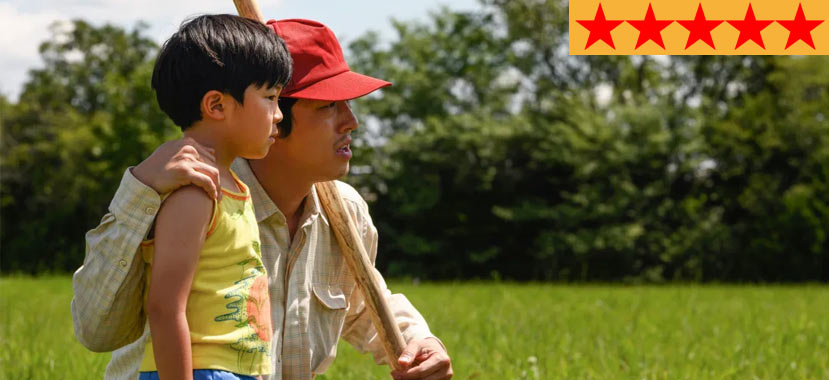 16 Dec

REVIEW – 'Minari' is one of the finest films of the year

Every year, we film critics hope to find those rare movies that deservedly earn the title of "masterpiece." It's a term many seem to throw around quite liberally these days, but it's a word this particularly film critic has always reserved for the absolute cream of the crop. In 2020, it's a pleasure to bestow this special title to writer/director Lee Isaac Chung's Minari; a film that completely took my breath away, leaving it quite difficult to surmise the right words to describe the beauty of Chung's treasure.

Every element of Minari is simply wondrous. Chung's intimate direction. His equally gorgeous screenplay. The stunning ensemble cast. The careful pacing. The score. The cinematography. The editing. Everything here works in perfect harmony. This is the kind of deeply special film that only comes around once or twice a year. An immediate dark horse for this year's Oscar race, Minari shows its immense power lies in its deliberate restraint. To put it simply, it's one of the finest films of the year and a stone-cold masterpiece.

A semi-autobiographical tale loosely based on Chung's experiences growing up in 1980s rural America, Minari follows one young Korean-American family's search for their slice of the American Dream. In California, family patriarch Jacob (a terrific Steven Yuen) was earning a decent living "chicken sexing" (the act of swiftly sorting baby chicks by gender). But Jacob wants more from life and moves his entire family into a mobile home on a patch of empty land in Little Rock, Arkansas.

While his sceptical wife, Monica (an eloquent Yeri Han) sees the move as dangerously risky to both their relationship and the family's finances, Jacob is determined to cultivate his patch of land for the purposes of growing Korean vegetables to sell to restaurants in the big city. Their precocious young son, David (an endlessly adorable Alan S. Kim) doesn't allow his heart murmur to stop him causing all sorts of cheeky trouble in his new home, while their older daughter, Anne (Noel Cho) is busy rolling her eyes and dying of boredom.

As Monica's struggles to assimilate to rural American life, she begins to feel resentment towards her husband over what she perceives as his selfish, dubious dream. A potential savour arrives in the form of Soonja (Youn Yuh-Jung), Monica's unorthodox, foul-mouthed mother, who immigrates from Korea to help look after the children. But thanks to their American upbringing (they'd much prefer a glass of Mountain Dew than grandma's odd-smelling tea), David and Anne have little interest in Soonja's traditional Korean values.

Minari is a deceptively simple film, but those are often the tales that hit the hardest. Chung has crafted an intimate, tender look at the immigrant experience that wisely avoids the need for overly-dramatic beats. They sneak in occasionally (particularly the intensely affecting final act), but Chung is far more concerned with offering a quiet, authentic reflection on his own childhood than something like the melodramatic mess we saw with Hillbilly Elegy. Ron Howard could learn a thing or two from Chung about nuance.

Unlike the Oscar-bait poverty porn that brought Hillbilly Elegy completely undone, Minari wisely chooses to focus on smaller moments that paint a rich, captivating portrait of the daily life of the Yi family. It's this tactful choice that blesses the film with a lived-in quality that's wonderfully authentic and natural. And it allows an audience to form a genuine connection with the Yis right from the opening scene through to a conclusion that will likely leave you in tears.

As Chung meticulously weaves us through his slow-burn narrative, he takes us inside the four walls of the claustrophobic family home to quietly observe the daily trivialities of family life. Whether it's Monica's ecstatic reaction at the treasure trove of cooking ingredients Soonja has stashed in her luggage, the pure pleasure of a cool glass of soda on a hot day ("It's good for you. It's water from the mountains!"), or Anne and David innocently making paper aeroplanes with the words "don't fight" to throw at their bickering parents, the charming soul of Minari is found in these seemingly innocuous moments that Chung taps for cinematic gold.

By using his youth as the foundation for this gift of a screenplay, Chung delivers a deeply personal film that will no doubt profoundly resonate with fellow children of immigrant parents. Even at the risk of alienating certain audiences who shun subtitled films, Chung shoots much of the film's dialogue in Korean with English subtitles, which just shows his confident dedication to portraying a genuine depiction of the immigrant experience. Every frame of Minari exudes an authenticity that could only come from a filmmaker with a deep connection to the material.

As stellar as Chung's direction and writing may be, Minari is further elevated by the sensational ensemble cast the filmmaker has assembled to bring it all to life. Best known for his work on TV's The Walking Dead, Yeun is now beginning to carve out an impressive indie film career that should result in an Oscar nomination this year. Those who saw his wonderful work in 2018's Burning would already be acutely aware of his talent. His subtle performance as the determined Jacob is one of the best of the year.

It's an understated performance (and perhaps that won't play well with the Academy who regularly prefer bombastic turns) that reaches a powerful crescendo in the film's final act. Yeun rightly portrays Jacob as a complicated mix of bravado and vulnerability as a man with such an unrelenting drive to achieve the "American Dream" that he can't see the worsening damage it's doing to himself and his family. His chemistry with Kim is particularly special, and it's obvious paternal roles fit Yeun like a glove.

Han is wonderful as the troubled wife who's been biting her tongue for so long it's down to a nub. She instils Monica with a tight defence mechanism that threatens to unleash at any moment, but it's merely a sign of the stoic strength of a mother gripped with fear over her family's future. One could easily call Kim the film's co-lead (though awards season will surely drop him into the supporting category), given the film is mostly told through David's eyes. It's a huge responsibility for a child actor, but Kim handles it with aplomb, courtesy of his effervescent energy and cheeky attitude that are both truly irresistible.

But it's veteran South Korean actor Youn who completely steals this film as the wildly unpredictable and infectiously mischievous grandmother. Youn brings a huge dose of levity to the film while also offering Soonja's grandchildren the pearls of wisdom that come with age. Soonja's relationship with David begins in a rather antagonistic fashion, but their burgeoning connection soon evolves into the film's true heart. One can't discuss Soonja's captivating character arc without spoiling proceedings, but Youn's performance surely deserves equal consideration this awards season.

The same can also be said for the evocative technical elements of Minari, particularly the warm cinematography of Lachlan Milne and Emile Mosseri's melancholy score. Milne beautifully captures the lush greens and expansive landscapes of the Arkansas farm, but understands when to move in close to capture the intimacy of everything the ensemble cast is delivering. Mossseri's ethereal score perfectly complements Chung's narrative, particularly in the dramatic closing stages when its grandeur equals everything occurring before our eyes.

The title of the film refers to a Korean herb Soonja brings with her in her stash of homeland goodies. In a bid to bond with her tempestuous grandson, the grandmother insists they plant the seeds in a nearby creek for future use in home cooking. While scouting for a good spot, Soonja tells the impish youngster how minari can grow practically anywhere by adapting to its surroundings, yet the curious plant somehow still retains its native form. The symbolism is far from subtle, but it's the perfect metaphor for the immigrant experience and the complicated journey facing the Yin family.

In crafting his romantic ode to his childhood, Chung shows there is still immense power in a filmmaker showing considered restraint. Minari proves realism must be at the heart of a simplistic film of this nature. By sharply ignoring the temptation to inject melodrama in his screenplay, Chung delivers a carefully crafted delight where every moment soars with rich nuance. He wisely takes his time to arrive at his intended destination through a journey we are blessed to have taken.





Distributor: A24
Cast: Steven Yeun, Yeri Han, Youn Yuh-Jung, Alan S. Kim, Will Patton, Noel Kate Cho
Director: Lee Isaac Chung
Producers: Dede Gardner, Jeremy Kleiner, Christina Oh
Screenplay: Lee Isaac Chung
Cinematography: Lachlan Milne
Production Design: Yong Ok Lee
Costume Design: Susanna Song
Editor: Harry Yoon
Music: Emile Mosseri
Running Time: 115 minutes
Release Date: 12th February 2021 (U.S.), 18th February 2021 (Australia)