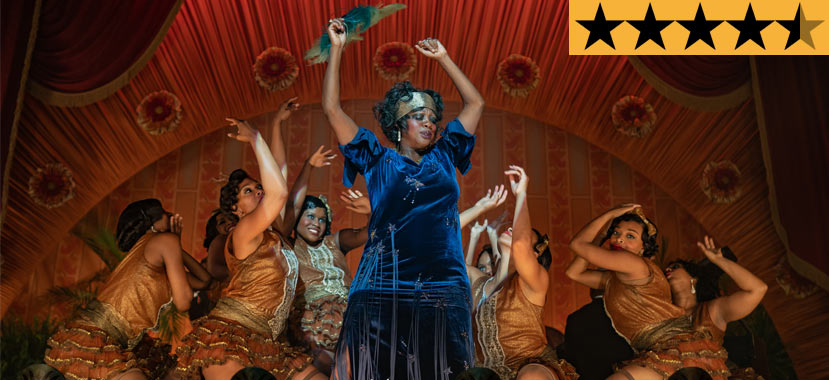 18 Dec

REVIEW – 'Ma Rainey's Black Bottom' is a cinematic opera with a furious tune in its belly

In the gloomy days following the tragic, unexpected death of Chadwick Boseman in late August, there was one ray of light that gave the world some comfort; Boseman would still grace our screens in one final film. That performance has finally arrived. And what a tremendous swan song it proves to be. As a cocky, hotshot trumpet player with a heavy chip on his shoulder, Boseman's last performance will indeed stand as his greatest.

A dazzling showcase for two powerhouse performances from Boseman and a typically commanding Viola Davis, Ma Rainey's Black Bottom brings the late August Wilson's acclaimed 1982 play to the screen in stupendous fashion. While paying homage to a blues legend with an indomitable stage presence and unrelenting ego, Ma Rainey's Black Bottom deftly explores Black culture and those who sought (and still seek) to exploit it.

Adapted for the screen by actor-turned-screenwriter Ruben Santiago-Hudson (who won a Tony Award in 1996 for Wilson's Seven Guitars) and impressively directed by two-time Tony Award winner George C. Wolfe, Ma Rainey's Black Bottom tells the story of a volatile recording session on a steaming hot day in 1920s Chicago. After a phenomenal opening performance inside a Georgia tent that introduces us to the explosive "mother of the Blues" Ma Rainey (Davis, in scintillating form), we head to the claustrophobic confines of the recording studio where Wolfe lays the bulk of the action.

Inside the studio, Ma's beleaguered manager Irvin (Jeremy Shamos) and frustrated producer Sturdyvant (Jonny Coyne) await their diva's overdue appearance, while her band of back-up musicians scurry off to the rehearsal room to prepare to record their leader's new album. Veteran pianist Toledo (Glynn Turman), trombonist Cutler (Colman Domingo), and bass player Slow Drag (Michael Potts) are well versed with Ma's tardiness, but young hot-headed trumpeter Levee (a sensational Boseman) is growing impatient.

Fueled by his ruthless ambition for a career of his own, Levee ruffles the feathers of his bandmates with his insistence on rearranging Ma's signature tune in his own frenetic style. As the band continue to wait for Ma to arrive, Levee's brash attitude spurs his fellow musicians into retelling stories, spitting truths, and sparking fierce numerous arguments.

When Ma finally saunters into the studio with her stuttering nephew, Sylvester (Dusan Brown) and girlfriend Dussie Mae (Taylour Paige) in tow, she's in no mood for either Levee's shenanigans or the input of her white manager and producer in how she'll record her music. But Levee's interest in Dussie Mae and his growing anxiousness to make his own way in the music industry threaten to blow this recording session to pieces.

As the titular character, you're likely expecting Ma Rainey's Black Bottom to be entirely Davis' film, but it's a slightly smaller role than you may be anticipating. That being said, Davis completely dominates each of her scenes like only she can. Right from Ma's spectacular entrance into this film, Davis is immediately explosive as the fiery songstress. With a full face of bold (and slightly smeared) makeup, flashy jewellery, gaudy gold teeth, and ample cleavage for days, Ma is truly a showy sight to behold.

It's a wildly different character to anything Davis has offered in her stellar career. Ma is brutally blunt and fiercely unapologetic, especially in regards to her lack of shame in her bisexuality. The diva openly seduces her female lover Dussie Mae in public and parades the young ingénue around as if to dare anyone to defy their socially-forbidden romance. As she often does, Davis completely disappears into this character, as she effortlessly captures Ma's essence and blazing spirit. It's a deeply layered performance where Davis innately understands Ma's menacing persona is merely a defence mechanism to survive the mounting perils of being a Black woman in the music industry of the 1920s.

But Ma Rainey's Black Bottom ultimately belongs to the late, great Boseman, whose towering performance demands awards season consideration, regardless of its posthumous nature. It's obviously a terribly bittersweet experience viewing Boseman for the final time, but it's a glorious farewell to an astonishing actor taken far too soon. As we now know, Boseman was battling colon cancer during production and was potentially aware his time was limited. He holds nothing back in this transcendent performance and the result is nothing short of breathtaking.

As the arrogant musician with furious anger in his blood, Boseman is a true force of nature. His powerful delivery of Wilson's biting words through Santiago-Hudson's screenplay is a true thing of beauty. Boseman is blessed with two furious monologues (including a shockingly blasphemous speech where he unleashes his anger at God) in which he showcases his ability to remain in complete command of a difficult character. While watching Boseman roar on screen for one last time is undoubtedly sad, he's left us with one of the year's finest performances that now stands as a poignant testament to his immense talent. If he wins an Oscar in April, it's entirely deserved.

Ma Rainey's Black Bottom is as much a tribute to Boseman as it is to Wilson, who passed away in 2005 at the age of 60 in the prime of his career. His play explored the difficult relationship between Black musicians and the unscrupulous white music moguls who exploited their talents at every turn. "If you coloured and you can make them some money, then you alright with them," Ma says of the music industry's puppetmasters, "otherwise you just a dog in the alley." For a narrative set in the 1920s, it's inescapable how little has changed in 100 years.

Much like all play-to-film adaptations, Wolfe can't avoid the inevitable "stagey" aesthetic, but it works considerably in his favour here. The tight confines of the recording studio are necessary to capture the brewing tensions between the clashing egos of Ma and Levee. While the action mostly takes place in one location as it does on stage, it simply wouldn't be as impactful if Wolfe had expanded outside this limited setting. Wolfe is a filmmaker who trusts the power of his material and with the Broadway experience to understand what works on stage can indeed translate to film.

Cinematographer Tobias Schliessler smoothly glides his camera around the actors in a dance-like fashion to avoid the proceedings feeling like little more than a filmed play. But Schliessler is wise enough to know when to pause and allow Davis and Boseman to preach their gospel. The evocative production design of Mark Ricker and the gorgeous period costume designs of Ann Roth may be a somewhat stylised depiction of 1920s Chicago, but when the results are this beautiful, it's hard to complain.

A fascination introspection of Black culture and its exploitation that still rings true today, Ma Rainey's Black Bottom is a cinematic opera with a furious tune in its belly. Davis and Boseman are both simply astounding, and it's a true pleasure to watch two great actors shine before our eyes. While it's painful to know this is the last time we will experience Boseman's immense talent in a new role, he's delivered a performance for the ages that now stands as the crowning achievement of his all too short career. And the Academy would be wise to acknowledge it appropriately.





Distributor: Netflix
Cast: Viola Davis, Chadwick Boseman, Glynn Turman, Colman Domingo, Michael Potts, Jonny Coyne, Taylour Paige, Jeremy Shamos, Dusan Brown, Joshua Harto, Quinn VanAntwerp
Director: George C. Wolfe
Producers: Denzel Washington, Todd Black, Dany Wolf
Screenplay: Ruben Santiago-Hudson
Cinematography: Tobias Schliessler
Production Design: Mark Ricker
Costume Design: Ann Roth
Editor: Andrew Mondshein
Music: Branford Marsalis
Running Time: 94 minutes
Release Date: 18th December 2020 (Worldwide)