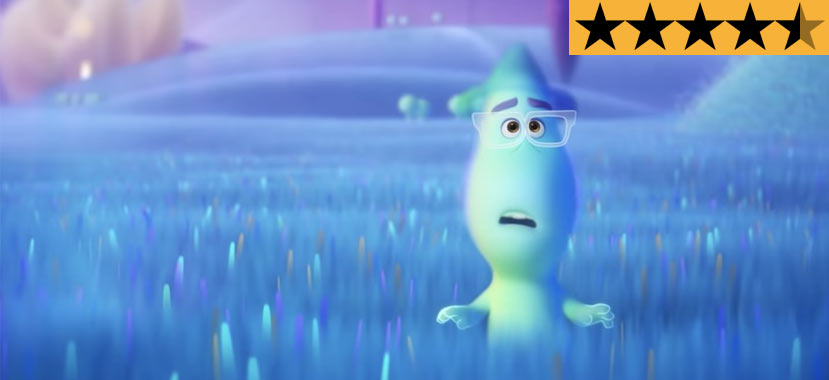 21 Dec

REVIEW – 'Soul' is an emotionally resonant introspection of life, death, and everything in between

One of the biggest tragedies of all the cinematic casualties of 2020 is the difficult fact Soul will stand as the first Pixar film to not receive a theatrical release. As will undoubtedly be the case for many of you, Soul will sadly be the first Pixar release this film critic does not see inside a cinema. The bitter disappointment is only compounded by the realisation this film is easily their most visually ambitious and experimental to date and deserved to be seen on the big screen.

But this is 2020, and we film lovers continue to roll with the punches. We're being blessed with a new Pixar movie through the safety of our Disney+ accounts on Christmas Day. You can't ask for a better gift than that, especially after the rotten year we've all had. We know Pixar set the bar impossibly high with each new release inevitably compared to such masterpieces as WALL·E and Inside Out. Thankfully, they've delivered a dazzling treat that joins the upper echelon of their back catalogue.

An emotionally resonant introspection of life, death, and everything in between, Soul is Pixar's most daringly original film in years. With the typically stunning animation we've come to expect from the geniuses of Emeryville mixed with a swag of experimental styles that break new ground for the studio, it's an astonishing, breathtaking visual masterwork. Blessed by a screenplay with the confidence to explore existentialism and a superb voice cast behind a host of wonderful characters, Soul is an endless delight.

What you've seen in the trailers is merely taken from the film's first act, so I'll try to remain as spoiler-free as possible here. Joe Gardner (Jamie Foxx) is a kind-hearted middle-aged middle school band teacher in New York City, whose endless passion for jazz and piano hasn't quite delivered the fame he's been chasing his entire life. While his adoring mother, Libba (Phylicia Rashad) has long-supported her son's artistic dreams, she believes it's time for him to settle for a stable career as a full-time teacher.

But Joe's shot at stardom arrives with the opportunity to perform with legendary saxophonist Dorothea Williams (Angela Bassett), who's in urgent need of a piano player for a performance at the hallowed Half Note Club. After nailing the audition, Joe lands the gig and fate finally seems to be on his side. In the midst of his joyous celebration, Joe tumbles down an open manhole, and our protagonist is seemingly terminated before the film has barely begun.

A bewildered Joe awakens as a mint-blue glowing blob on a vast conveyor belt towards the Great Beyond, a blinding white light that appears to zap souls to the permanency of the afterlife. Naturally, Joe panics and escapes to another metaphysical land known as the Great Before, a world where unborn souls are assigned personalities traits before being sent to Earth.

After assuming the identity of a noted scholar to fool a group of soul counsellors all named Jerry (Alice Braga and Richard Ayoade among others), Joe is assigned to mentor a precocious unborn soul named 22 (Tina Fey). The troublesome 22 has no interest in earning her final personality badge and completing her approval process to be born on Earth, but she could be Joe's ticket to returning to his comatose body before it's too late.

As you can likely surmise, Soul is one of Pixar's most complicated films thus far (and I haven't even mentioned the second act Earth-bound storyline involving a pudgy therapy cat named Mr. Mittens), but director/co-writer Pete Docter, co-director/co-writer Kemp Powers (who also wrote fellow Oscar contender One Night in Miami), and co-writer Mike Jones somehow make this film's elaborate exposition easily understandable. It may be a tad complex for younger viewers to fully comprehend, but it will be a film they can find more profound meaning within as they grow older.

While still inherently a film targeted at a young audience, Soul feels tailored to the adult audience who've grown up with Pixar films in a way we simply haven't seen from this studio before. Its narrative is centred on the quest to find one's life purpose and how one man has spent his entire life chasing a dream that may never come true. But at the heart of Joe's journey (one that will hit hard to fellow struggling artists out there) lies a deeper reminder to treasure what you already have and celebrate the mere joy of life itself. Soul is a film that revels in life's simple pleasures, be it a hot slice of pizza or the delicate dance of a falling maple tree seed.

After a year of lockdowns, quarantines, and limited social interaction, Soul arrives in a social climate drowning in lost souls who have likely lost sight of what a gift it still is to be alive. At one point in the film, 22 morphs into a depressed, muttering monster trapped in a monotonous cycle of misery. It's a state many of us have experienced in 2020, but Soul highlights how to break the chain of darkness and find the light again. It has nothing to do with achieving exorbitant dreams but simply enjoying the beautiful gifts we all share.

With all this talk of existentialism and the meaning of life, you may now be reconsidering your Christmas plans to sit down with your children to watch Soul, but fear not. Sure, the film's philosophical themes may not ring true to young viewers just yet, but the stellar animation and endless humour will still keep them completely hooked. Docter, Powers, and Jones' screenplay is genuinely funny, both in its sharp, witty dialogue and its delightful slapstick humour.

While the irrepressibly droll Fey receives the lion's share of the film's laughs, Docter, Powers, and Jones have dotted Soul with a cavalcade of fabulous supporting characters that steal focus when given the opportunity. The biggest scene-stealer is talk-show host Graham Norton as Moonwind Starfire, a spiritual sign-twirler who has somehow perfected the ability to exist in both the human world and the Great Before. As the literal navigator of the metaphysical planes, Moonwind provides the enlightenment Joe so desperately needs. And we, the audience, could learn a thing or two from this bohemian flower child too.

But it's in the staggeringly beautiful animation itself that Soul truly shines. It's a mighty shame we can't view the visual majesty in a cinema, as these spectacular creations were designed to be seen on the largest screen possible. The biofluorescent world of the Great Before is where the Pixar animators have clearly been given permission to let their imaginations run wild. We've seen Pixar dabble with abstract animation in the past (namely a memorable sequence in Inside Out), but nothing quite like the Picasso-like creations that dot this fantastical environment.

The gorgeous animation of a bustling New York City (clearly pre-2020) expertly blends exaggerated character designs with photorealistic digital animation to bring the city to life. But there's a concerted effort to tell this story from a culturally specific angle and depict Black culture in an authentic manner. This is abundantly present in an extended scene inside a barbershop where everything from the background music to the clothing and hairstyles of those within the shop to the exact manner Black barbers cut hair has been intricately detailed to feel incredibly genuine.

But there is an elephant in the room that has to be addressed. From the time the first trailer was released, Soul has been met with some understandable frustration from Black audiences for Pixar's decision to have its first Black lead character morph into something inhuman. Films like The Princess and the Frog and Spies in Disguise have faced similar backlash by virtue of their Black lead characters spending the majority of their films as a frog and a pigeon, respectively.

While Joe's human form does indeed reappear after its disappearance down a manhole (that's all I can say without spoilers), it may not be enough to appease some viewers. As a white film critic, it's not for me to decide if Soul succeeds in calming these fears with the groundbreaking way it incorporates Black culture in the very essence of its narrative. From my perspective, it was entirely refreshing to see an animated film from a major studio so committed to its cultural inspiration, even if its lead character may not always physically resemble a Black man.

The final element that binds every scene of Soul is the award-worthy score of Trent Reznor and Atticus Ross, with jazz arrangements created by Jonathan Batiste. The Oscar-winning duo behind the music of films like The Social Network and Mank may not seem the obvious choice for a Pixar film, but their melodic, synth-heavy score forms an integral part of the film's narrative. Reznor and Ross' electronica sounds perfectly blends with the spiritual realms, while Batiste's jazz improvs are spectacular, with the animators using reference footage of Batiste playing to accurately animate Joe's piano performances. A film with music at its core lives and dies on the work of the composer, and Reznor, Ross, and Batiste knock it out of the park.

Pixar has explored the notion of life and death several times now, so there are elements of Soul that feel slightly familiar to their past work. And its ending feels slightly too rush for its own good. Regardless, Soul is a pertinent reminder to find your spark and follow your passions, but never at the expense of appreciating what's right in front of your eyes. Pixar's signature mature approach to resonant storytelling and visual wizardry is consistently on display here, as is their dedication to pushing the boundaries of originality. A heartwarming tale that left me in a mess of tears, Soul wraps up the year in impeccable style.





Distributor: Disney
Cast: Jamie Foxx, Tina Fey, Graham Norton, Rachel House, Richard Ayoade, Phylicia Rashad, Donnell Rawlings, Questlove, Angela Bassett, Daveed Diggs
Director: Pete Docter, Kemp Powers
Producer: Dana Murray
Screenplay: Pete Docter, Mike Jones, Kemp Powers
Cinematography: Matt Aspbury, Ian Megibben
Production Design: Steve Pilcher
Editor: Kevin Nolting
Music: Trent Reznor, Atticus Ross
Running Time: 100 minutes
Release Date: 25th December 2020 (Worldwide)