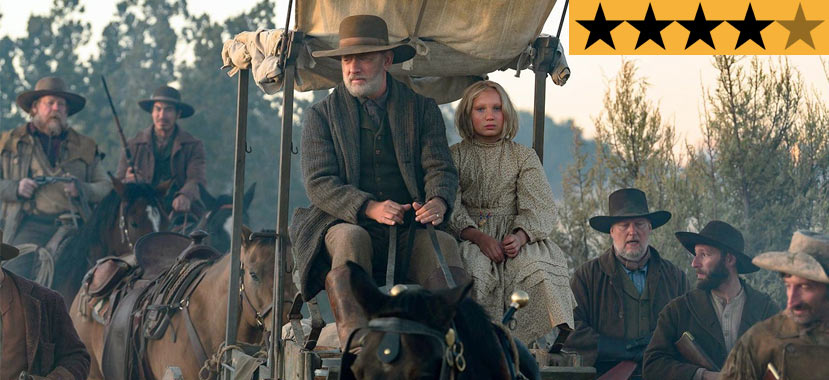 27 Dec

REVIEW – 'News of the World' is an old-fashioned Western epic we rarely see anymore

While its heydey may have ended some six decades ago, the Western genre refuses to truly die. They may not exactly light up the box office (remember that?), but Westerns can still be event films, particularly when one of the world's most beloved actors dips his toe into the genre for the very first time. Sure, it's a style of film that's unlikely to thrill the masses, but there's a classic charm to something like Paul Greengrass' sprawling Western epic News of the World that we could use right now.

Led by a typically grand performance from Tom Hanks and elevated by spectacular period production values, News of the World will quite possibly be your dad's favourite film of 2020. That's far from a criticism. My father has excellent taste in films, just quietly. It may be a film that rarely steps outside the predictable, but when the story is this engaging, the lead actor is so effortlessly excellent, and the filmmaking is this impressive, it's easily overlooked.

Hanks plays weathered Civil War veteran Jefferson Kyle Kidd, a former Confederate captain whose wife tragically passed away while he was fighting a war he wanted no part of. Five years on from victory of the North, Kidd now spends his days travelling from small town to small town as a pseudo-news reporter. With an adoring crowd hanging on his every word, Kidd selects stories to read from the newspaper to inform, educate, and entertain the townsfolk of Texas.

Kidd's life of quiet solitude is interrupted when he stumbles across an overturned wagon and a 10-year-old girl named Johanna (a wonderful Helena Zengel). Originally of German origin, Johanna has spent the last six years in the captivity of the Native American tribe who murdered her parents, named her Cicada, and raised her as one of their own, leaving the young girl only capable of speaking Kiowa and with no memory of her former life.

Taking pity on the frightened orphan, Kidd brings Johanna with him to the next town. But when the local authorities inform Kidd it will be at least three months before someone can escort Johanna to her original hometown and the care of her Aunt Anna (Winsome Brown) and Uncle Wilhelm (Neil Sandilands), he reluctantly agrees to the task instead.

As Kidd and Johanna travel hundreds of miles to reach her new home, they face the harshness of both mother nature and humanity. Naturally, the pair of unlikely travelling partners soon begin to form an unexpected bond as they help each other heal from the pain of their respective troubled pasts. Greengrass crafts News of the World in an episodic structure, which does cause the film's pacing to slightly lag towards the middle. But he's a filmmaker who understands action sequences incredibly well, as evidenced in a tense shoot-out with a group of unscrupulous brutes who want Johanna for themselves.

This kind of paternal role fits Hanks like a glove, and, as America's dad, he's the perfect casting choice for a character rooted in morality and decency. In his first foray into the Western genre, Hanks is not your typical Clint Eastwood shoot-em-up tough guy, rather a quiet, dignified hero whose inherent honesty and empathy consistently shine through. It's another poignant, nuanced turn from an actor who makes it all look so incredibly effortless. While it may be a subtle performance, Hanks finds the captivating gravitas in Kidd, particularly in scenes where he's forced to confront the deep-seated grief he's clearly running from.

Hanks' instant chemistry with Zengel is simply gorgeous. The young actor constantly threatens to steal this entire film and Hanks seems entirely comfortable with allowing his junior co-star to take centre stage at every opportunity. In her first role in an American film, German-born Zengel is a revelation. It's a performance with little dialogue, but Zengel smoothly captures Johanna's wild spirit and tragic pain with aplomb. Their unlikely burgeoning connection is far from the most original of narrative threads for a Western film (see True Grit, The Searchers), but Hanks and Zengel make a wonderful pairing here.

While News of the World is Hanks' first taste of the Western genre (and hopefully not his last), it's also a major departure for a filmmaker like Greengrass, who is more known for frenetic, hyperactive action films like his work on the Bourne series. Like the classic Westerns of yesteryear, Greengrass brings a regal elegance to this film with sweeping camerawork and stunning production design. There's a beautiful serenity to his direction, which is only elevated by the grandeur of the New Mexico locations standing in for rural Texas.

Greengrass knows how to construct thrilling set-pieces to shatter the peaceful journey, but he's equally adept at capturing the raw emotion of tender scenes between Kidd and Johanna. The majestic cinematography of Dariusz Wolski is easily some of the best of the year, while James Newton Howard's soaring score may be the best he's ever delivered, filled with fiddles, guitars, and banjos to bless the film with that classic Western sound. The production design of David Crank and the costume work of Mark Bridges are equally wonderful, with both capturing the Wild West in impressive fashion.

Co-written with Luke Davies, Greengrass' screenplay is where News of the World falters slightly. Adapted from Paulette Jiles' 2016 novel of the same name, the narrative hits all the familiar tropes you can see coming a mile away. The language barrier between our two protagonists. The conflict that brings. Bad guys waiting in the wings. An unexpected natural event to disrupt the journey. The conclusion we know is coming. It's all here and it's all entirely foreseen. Sure, the storyline lacks true originality or any element of genuine surprise, but it's still an incredibly entertaining ride, especially with Hanks and Zengel at the helm.

There's a sly attempt to add modern pertinency to the narrative by setting the story in a deeply divided America and exploring the idea of how journalism can be used as a propaganda tool, particularly in southern states. At a time when misinformation runs rampant in certain factions of the media, the parallels are far from subtle. But Greengrass seems to lack the confidence to truly explore this idea too intensely. Perhaps there was concern in alienating certain audience members by delving too deeply into what constitutes fake news.

These minor quibbles never detract from the fact Greengrass has crafted an old-fashioned Western epic we rarely see anymore. It's likely the last thing you ever expected from a filmmaker known for his high-octane thrills, but it's wonderful to see his versatility on display. For fans of the Western genre, this is everything you could ask for. Sublime visuals, a perfect score, and an endearing hero you can't help but root for. Greengrass has tailor-made a film that takes full advantage of Hanks' beautiful heart and endless charm. You couldn't ask for a better gift at the end of 2020.





Distributor: Universal
Cast: Tom Hanks, Helena Zengel, Michael Angelo Covino, Ray McKinnon, Mare Winningham, Elizabeth Marvel, Fred Hechinger, Bill Camp
Director: Paul Greengrass
Producers: Gary Goetzman, Gail Mutrux, Gregory Goodman
Screenplay: Paul Greengrass, Luke Davies
Cinematography: Dariusz Wolski
Production Design: David Crank
Costume Design: Mark Bridges
Editor: Willian Goldenberg
Music: James Newton Howard
Running Time: 118 minutes
Release Date: 25th December 2020 (U.S.)