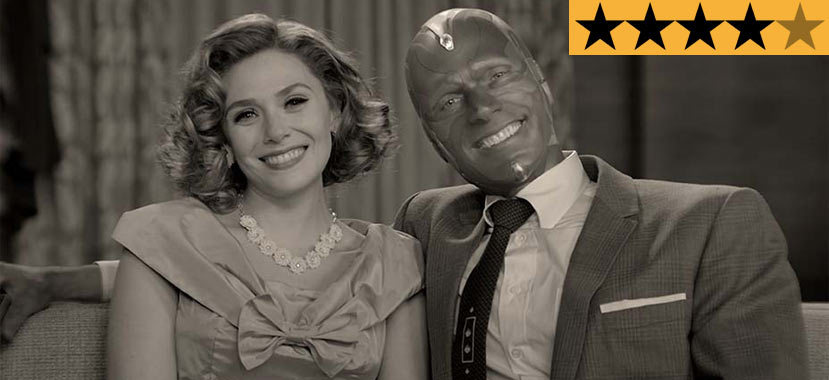 15 Jan

REVIEW – 'WandaVision' is a kooky, campy delight with a suspicious dark streak

2020 will be remembered for many, many things. In the world of cinema, it will stand as the year of a hundred release date delays. This also meant it was the first year without a film from the Marvel Cinematic Universe since 2009. Naturally, that was never intended to be the case. But when a global pandemic saw both Black Widow and Eternals punted to 2021, the MCU lay silent for the first time in over a decade.

While we still await these two new cinematic entries (barring any further delays), Disney has switched Marvel's focus to the medium of television and their first entry in a long list of upcoming MCU-related shows set to debut on Disney+ over the next few years. A kooky, campy delight with a suspicious dark streak permeating in its underbelly, WandaVision is a supreme delight.

A show so shrouded in secrecy we critics were only shown the first three episodes (there are nine in total), WandaVision arrives after a series of trailers and posters that give very little away. From the brief taste of the series we were provided, I still have no clue where this show is heading. But that's clearly part of the fun of this outlandishly bold series seemingly set within a television box that trajects through various decades of television show formats.

Part Pleasantville, part The Truman Show with a sinister splash of David Lynch subversive, surrealist mystery, WandaVision is one of the most unique Marvel properties to date. The series finds Marvel's superhero lovebirds Wanda Maximoff (a delightful Elizabeth Olsen) and Vision (a charming Paul Bettany) moving into the dubiously picturesque town of Westview.

While Wanda settles into her new life as a 1960s housewife and befriends nosy next-door neighbour, Agnes (a scene-stealing Kathryn Hahn), Vision is attempting to charm his gruff boss, Mr. Hart (Fred Melamed) to secure a promotion. In the tradition of 60s sitcoms like The Dick Van Dyke Show and Bewitched, the first two episodes are filmed in black-and-white 4:3 aspect ratio with a "live" studio audience, while episode three sees the introduction of technicolour and a 70s aesthetic akin to The Brady Bunch and The Patridge Family. From what we've been told, the remaining episodes will take inspiration from a range of classic sitcoms including Family Ties, Friends, and 30 Rock.

Without a shred of explanation as to how these two characters have found themselves in their own twisted, ever-evolving sitcom, WandaVision expects its audience not to ask any questions until it's ready to provide answers. By the end of the third episode, those answers still hadn't exactly materialised. Something tells me Disney purposely chose to screen just three episodes for critics to avoid whatever surprises await audiences in the episodes that follow. It's a tantalising tease that left me yearning for more.

Throughout all three episodes, there's a pervasive feeling something is off about the sitcom world Wanda and Vision have somehow found themselves in. The occasional odd occurrence or dark moment suggest there's something sinister lurking beneath the glossy veneer of Westview. While completely entrenched in each retro era and the tropes of the conceit, both characters appear mildly meta-aware they're part of a fake television show. What that all means remains to be discovered, but it's clear this series will eventually form part of Marvel's Phase Four plans by its conclusion.

Many may believe WandaVision is a satirical parody of classic sitcoms, but it's ultimately a beautifully sincere retrospective that pays deep tribute to an American pop culture institution. It's not interested in skewering the well-worn format. It's more vested in celebrating rather than mocking, which is a refreshing surprise. Fans of the history of television and those who grew up with these programs will be entranced by the methodical methods this series recreates everything you know and love about these eras of television.

From the spectacular period details from costume designer Mayes C. Rubeo and production designer Mark Worthington and the ear-worm theme songs from Oscar winners Kristen Anderson-Lopez and Robert Lopez to the fake laugh track and hokey special effects, it's a charming homage elevated by its expertly crafted theming. We're even treated to a fake television commercial each episode featuring Easter egg Marvel references that only add to the growing sense of paranoia invading the sunny facade.

The series is the perfect vehicle for MCU supporting players Olsen and Bettany to take centre stage. Both are so fully committed to the absurdity of the premise, which is entirely necessary for something so obscure to succeed. A shining Olsen perfectly nails the wide-eyed, cheerfully optimistic housewife and it's the first time we've seen the Marvel franchise take advantage of her untapped comic timing. Likewise with Bettany, whose penchant for physical comedy hasn't been seen in years. He brings an old school goofiness to the role that's so effortlessly charming. Their chemistry is simply divine and both actors feel entirely at home in such comedic performances.

The always-magnificent Hahn leads the supporting cast with stellar confidence. As expected, the terrifically talented comedic actor receives the lion's share of the funniest one-liners ("How is anybody doing this sober?") and always manages to steal focus. Teyonah Parris is intriguing as a neighbour who suspiciously introduces herself as "Geraldine," though we know she's been cast as a key character in the upcoming Captain Marvel 2 who is definitely not called Geraldine. And it's fabulous to see Buffy scene-stealer Emma Caulfield as a sceptical neighbourhood wife who appears aware Wanda and Vision aren't all they seem.

How younger audiences will respond to a show like WandaVision remains to be seen, especially for viewers unfamiliar with the shows of the past the series is referencing. This is so far removed from the Marvel franchise we've become accustomed to over the last decade, making it their most ambitious project to date. To see Disney take such risks is incredibly admirable. This is precisely the dose of freshness needed to keep the beloved saga humming. WandaVision is a show shrouded in mystery and intrigue and therein lies its endless fun.





Distributor: Disney+
Cast: Elizabeth Olsen, Paul Bettany, Teyonah Parris, Kathryn Hahn
Director: Matt Shakman
Producers: Mary Livanos, Kevin Feige, Jac Schaeffer
Screenplay: Jac Schaeffer, Roy Thomas
Cinematography: Jess Hall
Production Design: Mark Worthington
Costume Design: Mayes C. Rubeo
Music: Christophe Beck
Running Time: 9 episodes, averaging 30 minutes each
Release Date: 15th January 2021 (Episodes 1 & 2)