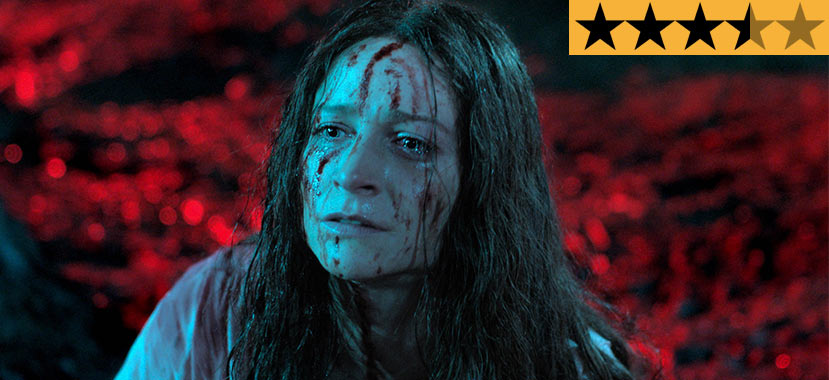 01 Feb

SUNDANCE REVIEW – 'Censor' is a meticulously crafted tribute to the era of 80s video nasties

When a film is accompanied by a warning about its level of gore, you have a certain expectation something truly wicked is on the horizon, especially when it features in Sundance's infamous Midnight program. While co-writer/director Prano Bailey-Bond's Censor is a film that pays deep homage to the UK's wave of "video nasties" of the 1980s, it isn't quite nasty enough to truly call itself an example of the cult genre. Those seeking lashings of gore and violence may find this one a tad disappointing and that pre-screening caution seems a tad exaggerated.

Censor will undoubtedly prove a divisive entry at Sundance. And, to be honest, I'm still unsure if my final feelings will stick. Bailey-Bond paints an unnerving, atmospheric horror with a striking visual aesthetic and a knock-out ending that will leave your mind reeling. Its slow-burn pacing frustrates more than it impresses, but its fabulous leading lady keeps your interest throughout. Bailey-Bond's screenplay (co-written with Anthony Fletcher) doesn't truly sink its teeth into nuts and bolts of the nefarious 80s censorship battle, which feels like a terribly missed opportunity.

Set in the midst of pearl-clutching panic over the influence of violent VHS horror movies on the youth of Britain, Censor follows censorship board worker Enid (a terrific Niamh Algar), who spends her days meticulously observing these gruesome titles to determine if edits are required or if the film should be banned altogether. When one of the films Enid approved is blamed for inspiring a bloody copycat triple murder, the media launches a frenzied attack on the censorship board.

Determined to put the potential mistake behind her, Enid throws herself into her work. She's soon deeply affected whilst reviewing "Don't Go in the Church," a mysterious film from the archives that bears an uncanny resemblance to the unexplained disappearance of her sister, Nina in their youth. Convinced the woman in the video is actually her sister, Enid becomes obsessed with tracking down the film's elusive director Frederick North (Adrian Schiller) and uncovering the truth behind Nina's vanishing.

On a stylistic level, Bailey-Bond delivers a meticulously crafted tribute to the era of 80s video nasties through a deliciously grotty visual aesthetic, complete with aspect ratios changes, a synth-heavy score from Emilie Levienaise-Farrouch, and splashes of ghastly practical effects. However, Bailey-Bond takes a curious slow-burn approach to her storytelling and the lashings of gore don't materialise until the film's brutal conclusion. Its pacing appears purposely restrained but feels at odds with the film's inspirations, especially during the meandering middle section where my mind began to wander.

Irish actor Algar proves to be a wonderful discovery, as she effortlessly captures the fractured journey of a woman whose obsessive-compulsive tendencies are leading her down a dark path. Haunted by Nina's disappearance and crippled by guilt over her involvement, Enid is a fascinating character study of a vulnerable woman whose obsession with control manifests into physical ticks and a ticking timebomb of emotions. Algar takes her time to unveil Enid's emotional turmoil, which keeps an audience invested in the bizarre plot surrounding her.

As Bailey-Bond's feature film directorial debut, Censor shows great promise from a wonderful new voice in horror. Her work in the film's sensationally manic finale is particularly impressive and it's a shame that energy didn't permeate through the rest of the piece. While Censor shines in its evocative style and Algar gives it her all in a sensational performance, it pulls a few too many punches when you just want it to bring out the sledgehammer.





Production Company: BFI, Film4 & Ffilm Cymru Wales
Cast: Niamh Algar, Nicholas Burns, Vincent Franklin, Sophia La Porta, Adrian Schiller, Michael Smiley, Clare Holman, Andrew Havill, Felicity Montagu, Danny Lee Wynter, Clare Perkins, Guillaume Delaunay, Richard Glover, Beau Gadsdon, Amelie Child-Villiers
Director: Prano Bailey-Bond
Producers: Helen Jones
Screenplay: Prano Bailey-Bond, Anthony Fletcher
Cinematography: Annika Summerson
Production Design: Paulina Rzeszowska
Costume Design: Saffron Cullane
Editor: Mark Towns
Music: Emilie Levienaise-Farrouch
Running Time: 84 minutes