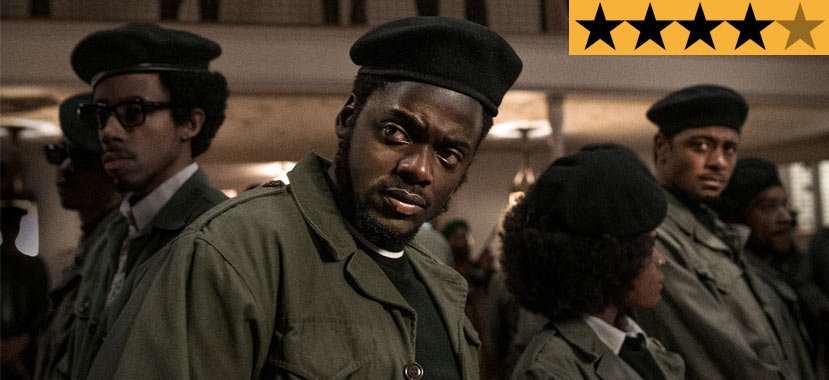 04 Feb

REVIEW – 'Judas and the Black Messiah' screams with an urgency that's impossible to ignore

Even the non-religious are aware of the infamous betrayal of messiah-figure Jesus Christ at the hands of his trusted disciple and eventual saboteur Judas Iscariot. His name has become since synonymous with those who would treasonously sell-out a friend for their own personal benefit. In other words, it's not a moniker you'd be proud to have attached to your name. The biblical tale is the perfect analogy for the tragic true story of Illinois Black Panther Party Chairman Fred Hampton and the treacherous FBI informant who infiltrated the Panthers to save his own hide.

After Aaron Sorkin featured Hampton as a minor plot point in his searing 2020 courtroom melodrama The Trial of the Chicago 7, the American revolutionary activist is given the full feature-length film he deserves in Shaka King's explosive Judas and the Black Messiah. Led by terrific performances from LaKeith Stanfield and an award-worthy Daniel Kaluuya, this is a compelling portrait of a man on the brink of a revolution and a damning indictment of the government determined to bring him down. A film that's sure to give the Oscar race a mighty shakeup, Judas and the Black Messiah film brings the fury, the relevancy, and the urgency at just the right time.

William "Wild Bill" O'Neal (Stanfield) is a small-time crook whose petty scheme involves impersonating an FBI agent to steal cash and cars from his fellow street hustlers. When he's busted and hauled before federal investigator Roy Mitchell (Jesse Plemons), he's given a simple choice; face up to seven years in prison or become an informant. Under the orders of blustering FBI director J. Edgar Hoover (an unrecognisable Martin Sheen), Mitchell has been instructed to quash the social uprising spurred by Fred Hampton (a sensational Kaluuya), the boisterous chairman of the Illinois Black Panther Party.

Hoover deems Hampton "the single greatest threat to our national security" and a potential "Black messiah" who could lead a rebellion that appears to be gaining momentum. Mitchell instructs O'Neal to infiltrate Hampton's inner circle and feed information back to the FBI on the BPP's activities to keep himself out of prison. While Hampton is initially standoffish to the party's latest recruit, O'Neal manipulates his way up the ranks to become one of Hampton's most trusted confidants and personal chauffeur.

Torn between his growing brotherly connection with Hampton and the deal he made with Mitchell, O'Neal begins to question if can continue playing both sides of a game with no winners. As the conflicted informant begins to open his eyes to the importance of Hampton's activism, Hoover remains intent on destroying the civil rights movement from within, leading to the ultimate betrayal that will rip the party apart.

With a background in television comedy and only one other feature film to his name in the form of 2013 stoner-comedy Newlyweeds, King (who co-wrote the screenplay with Will Berson) is hardly the most obvious choice for such a heavy piece. But King assuredly proves he's a filmmaker to watch. His work exudes the confidence of a director with a dozen films under his belt. There's voracious energy pulsing through this piece that perfectly matches the fiery resolution of Hampton's campaign for change.

While King occasionally crafts elaborately choreographed set-pieces, he resists the urge for bombastic filmmaking, allowing his script and his actors to take centre stage. Judas and the Black Messiah is inherently a character study of two men of wildly different morals. King takes a simplistic approach to his filmmaking where he extends intimate conversational moments to allow their emotions to percolate and permeate. King and Berson have also wisely chosen not to deify Hampton or crucify O'Neal, instead presenting both men as flawed, rounded characters that feel incredibly authentic.

As the titular Judas of this tale, it would have been tempting for Stanfield to play O'Neal as a one-note, selfish villain unaffected by the betrayal he's enacting on his own people. But Stanfield finds the pathos in a scared, desperate young man who was so blindly focused on self-preservation, he didn't recognise the FBI's manipulation until it was too late. The pain behind Stanfield's mournful eyes (particularly in scenes recreating the only interview O'Neal gave for the PBS 1990 docu-series Eyes on the Prize II) highlight the torment O'Neal felt, which is only compounded when we learn his ultimate fate during the credits.

By not entirely excusing or condemning his actions, King offers the audience the opportunity to form their own view of O'Neal and decide for themselves whether he was either a traitor or a victim. Or, perhaps, both. Stanfield effortlessly captures the inner turmoil of a man constantly haunted by his decisions but too deeply indoctrinated with the FBI to turn back. King paints O'Neal as a lost soul who finally found a home and a cause to believe in, all whilst actively working to bring about its destruction.

But Judas and the Black Messiah ultimately belongs to the astounding performance of the enigmatic Kaluuya, who is surely in line for his second Oscar nomination. With a furious fire in his belly, Kaluuya is captivating when required to deliver Hampton's passionate, poetic speeches. He's simply electrifying to watch, and, while it's inherently a supporting role, the film suffers when he's not on screen. Kaluuya digs deeper into the infamous icon to find a man capable of great tenderness and a surprising knack for humour. Hampton is a fully-rounded character, avoiding the usual flat tropes of biopics of other noted civil rights personalities.

For all the explosive scenes Kaluuya is offered, it's the more intimate moments where his performance truly soars. The actor delivers glimpses at Hampton's guarded vulnerability you'd never notice from his activist persona, particularly once he meets Deborah Johnson (a wonderful Dominique Fishback), a young poet who idolises the civil rights leader and quickly becomes his adoring girlfriend. In an understated performance, Fishback consistently steals focus as Hampton's stoic tower of strength. Johnson understands the dangers her partner is facing, yet her support never falters. The earnest, engaging chemistry between Kaluuya and Fishback highlights the softer side to such a hardened figure of history.

After the outrage over the deaths of George Floyd and Breonna Taylor at the hands of the police and the ensuing social moment that followed, the pertinency of something like Judas and the Black Messiah can't be understated. We'd like to view this film as a snapshot of history, yet it feels disturbingly familiar to events over five decades later. This is a piece of cinema designed to infuriate with its stark reminder that police corruption and systemic racism still infect America. Hampton may be a tragic figure of history, but his story continues to be repeated to this day.

If there are any foibles to be found, it's in King's depiction of the Black Panther Party. Naturally, this film is centred on Hampton and O'Neal, but the work of those surrounding them is equally important to the narrative. King doesn't delve deeply enough into the heart and soul of the movement, suggesting perhaps this story would have been more effective as an expansive limited series. He also casually flirts with the idea the BPP, the FBI, and the KKK all shared common goals of the betterment of America, which seems at odds with the film's grander messages and intentions.

Minor issues aside, King has crafted the most political of the season. It's a film with genuine heart, yet shrouded in an aura of melancholy when we know Hampton's eventual fate. The climax is necessarily brutal and shocking, made all the more enraging by a text epilogue recounting what became of the players in this game. Judas and the Black Messiah screams with an urgency that's impossible to ignore. It speaks directly to this moment in time and you best sit up and pay attention.





Distributor: Warner Bros.
Cast: Daniel Kaluuya, LaKeith Stanfield, Jesse Plemons, Dominique Fishback, Ashton Sanders, Algee Smith, Darrell Britt-Gibson, Lil Rel Howery, Dominique Thorne, Martin Sheen
Director: Shaka King
Producers: Ryan Coogler, Charles D. King, Shaka King
Screenplay: Will Berson, Shaka King
Cinematography: Sean Bobbitt
Production Design: Sam Lisenco
Costume Design: Charlese Antoinette Jones
Editor: Kristan Sprague
Music: Craig Harris, Mark Isham
Running Time: 126 minutes
Release Date: 12th February 2021 (US), 11th March 2021 (Australia)