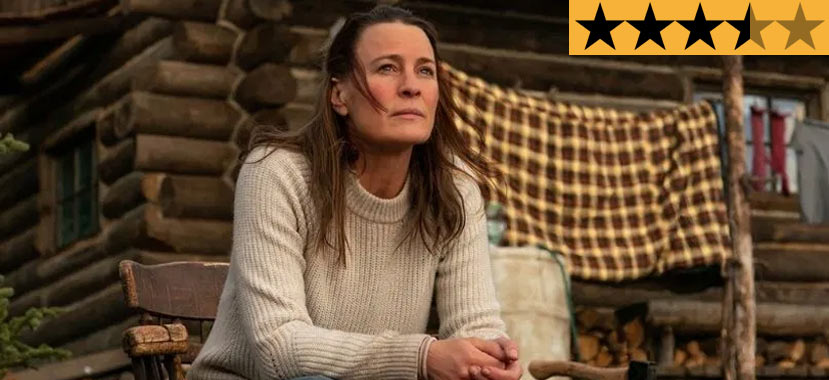 15 Feb

SUNDANCE REVIEW – 'Land' fails to break any new ground

In a case of unfortunate timing, Robin Wright's directorial debut feature, Land, arrives at a time when another film of a similar nature has been eating up awards season and generating tremendous Oscar buzz. Both feature women-of-a-certain-age essentially turning their back on civilisation. Both are running from their grief after a terrible loss. And both feature spectacular cinematography that showcases the gorgeousness of the wilderness.

By virtue of unavoidable comparison, Land can't hold a candle to something like Chloé Zhao's contemplative masterpiece Nomadland. A film that feels painfully familiar and hits every trope you're expecting, Land fails to break any new ground. Thankfully, it's saved by the poignant, compelling performance of Wright, a typically wonderful supporting turn from Demián Bichir, and the sublime location photography of Bobby Bukowski.

Wright plays Edee, a woman so bereaved by a recent tragedy, she's made the rash decision to head off the grid and retreat to a tiny shack in the Wyoming hinterlands. After tossing her cellphone in the trash and packing up a U-Haul trailer, Edee arrives at her new home with grand plans to live off the land in the remote cabin without any running water or power. There's just one slight problem; she has absolutely no idea what she's doing.

While Edee initially adapts well to the hard work required of rural living, a brutal winter season soon sets in and the harsh reality of life in the wilderness quickly becomes abundantly apparent. Starving, freezing, and on the verge of death, Edee is saved by local hunter Miguel (Bichir), who arrives on her doorstep just in time. After nursing Edee back to health, the two form a strong friendship spurned by a love of the outdoors and their mutual painful pasts.

From Reece Witherspoon in 2014's Wild to Mia Wasikowska in 2013's Tracks, we've seen this "woman out of her elements in the wilderness" narrative several times previously. Heck, you could even say Alfonso Cuarón's Gravity follows a similar path. Familiarity isn't always a curse, but it does cast practically every element of Land as terribly predictable. By the time the film has reached its inevitable conclusion, you may not feel the melodramatic beats Wright's direction and Jesse Chatham and Erin Digman's screenplay is reaching for.

The film's simplistic script exposes the lack of depth behind this narrative. Every step along Edee's journey feels preordained, robbing the story of any true tension or suspense. Even when our protagonist is on the brink of death, we know a saviour must be coming by virtue of noticing the film still has an hour left on the clock. Still, Wright appears to understand this genre of film well and plays to its strengths. Not every film has to be groundbreaking and there can be comfort ascertained from conventionality.

As expected, Wright elevates Land beyond its unremarkable screenplay, both in her confident direction and charming performance. Aided by Bukowski's stunning photography, Wright captures the stark, expansive woodlands Edee finds herself in. It's an epic backdrop that Wright takes full advantage of, especially by utilising the wilderness to highlight how isolated Edee truly is. Bukowski often opts for quiet wide shots that are genuinely breathtaking. For all the film's beautiful visuals, it's hard to say Wright has stamped her personal mark on this film in any distinguishable way. It's entirely competent filmmaking, which is perfectly fine for a debut, but one would hope she can deliver something more unique in her sophomore effort.

However, on a performance level, Wright is wonderful in a regal and restrained performance that's rather captivating to watch. Wright takes her time to slowly unveil the many layers to Edee, who is something of an enigma until the film's final stanza. It's a far cry from her Emmy-nominated turn as the scheming Claire Underwood on House of Cards and highlights Wright's endless versatility, as she effortlessly slips into a role rooted in contemplative calmness and solitude. Even as she makes some confounding decisions, we grow to love Edee. That's entirely thanks to Wright's touching performance.

But the true soul of Land is Bichir, who waltzes into this film and completely runs away with it. Beneath Miguel's gruff exterior lies a genuine heart of gold and Bichir crafts his character with a wonderful mix of harshness and tenderness. The chemistry between Wright and Bichir is terrific and it's refreshing the screenplay doesn't force an unnecessary love story between the pair. Their bond is formed from something deeper than romance and it's entirely charming to view these two dear friends either sitting in silence, conversing about anything and everything, or performing an unexpected singalong of Tears for Fears' "Everybody Wants to Rule the World."

Land is a breezy piece of escapism cinema and that's entirely fine. It doesn't seek to reinvent the wheel and it's easy to be swept away by the majesty of both Wright and Bichir's performances and the evocative landscape cinematography. It's a solid directorial debut from Wright, even if it's all just a touch too safe and familiar. She's always been an actor who's endlessly watchable and Land stands as a reminder of Wright's innate ability to elevate even the most conventional films.





Distributor: Focus Features
Cast: Robin Wright, Demián Bichir, Kim Dickens, Brad Leland, Sarah Dawn Pledge, Warren Christie, Finlay Wojtak-Hissong
Director: Robin Wright
Producers: Allyn Stewart, Lora Kennedy, Leah Holzer, Peter Saraf
Screenplay:  Jesse Chatham, Erin Digman
Cinematography: Bobby Bukowski
Production Design: Trevor Smith
Costume Design: Kemal Harris
Editor: Anne McCabe, Mikkel E.G. Nielsen
Music: Ben Sollee, Time for Three
Running Time: 89 minutes
Release Date: 12th February 2021 (U.S.), 22nd April 2021 (Australia)