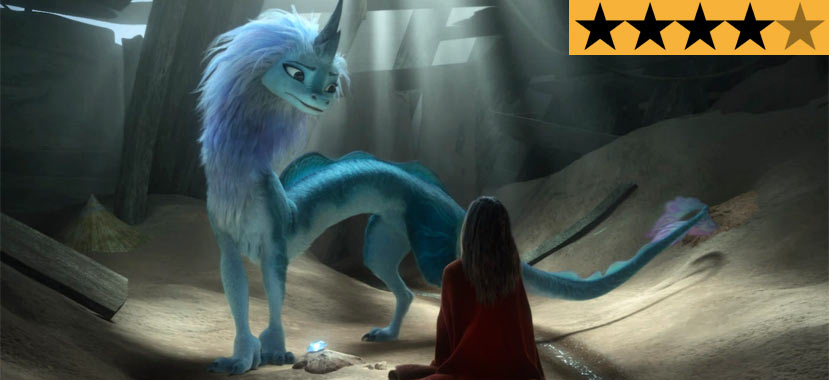 02 Mar

REVIEW – 'Raya and the Last Dragon' is an absolute gem

After a slight release date delay and a change in release strategy, Walt Disney Animation Studios is finally ready to unveil their 59th animated feature film. In what will stand as one of the first big blockbusters of 2021, Raya and the Last Dragon is the breath of fresh air we all need after months of lockdown. With all the hallmarks of classic Disney animation, it's a dazzling, entertaining delight that gifts the world a courageous new Disney heroine for the ages and a hilarious, loveable sidekick who takes her place amongst the best there's ever been.

"How did this world get so broken?" asks our titular protagonist, Raya (a terrific Kelly Marie Tran) at the beginning of Raya and the Last Dragon. It seems her mythical ancient Asian homeland Kumandra wasn't always the desolate dystopia we're now witnessing. Flashing back 500 years, a prologue shows Kumandra was once a utopian land where humans and dragons lived together in harmony. The dragons protected the inhabitants from evil forces and brought peace and prosperity to Kumandra.

When catastrophic plague monsters known as the Druun threatened to destroy Kumandra and turn the humans into stone, the dragons sacrificed themselves to save humanity. The last of their kind, Sisu (a phenomenal Awkwafina) placed all her energy inside a gem to defeat the Druun and disappeared from existence. But possession of the gem caused in-fighting amongst the citizens of Kumandra and the land split into five separate factions, each named for a part of a dragon.

There's Tail, a harsh desert land home to a band of fierce mercenaries; Spine, a floating market filled with sneaky thieves; Spine, a lush bamboo hinterland inhabited by booming warriors whose weapon of choice is an axe; Fang, which boasts angry assassins and their angrier cats; and Heart, the land Raya calls home where her family has guarded the dragon gem for generations.

After hundreds of years of fighting, Raya's father, Chief Benja (Daniel Dae Kim) attempts to unite the lands and re-establish Kumandra to its former peaceful glory. But when jealousy and betrayal cause the Druun to return, Raya and her pet pill bug Tuk Tuk ("voiced" by the sound effects stylings of Alan Tudyk) must journey afar in an attempt to locate Sisu and vanquish the Druun once more. Hot on Raya's heels is Namaari (Gemma Chan), a warrior princess of Fang whose mother, Chieftess Virana (Sandra Oh) has plans of her own for the dragon gem.

There's a truckload of exposition to unload to fully establish the expansive scope of Qui Nguyen and Adele Lim's screenplay. While directors Don Hall and Carlos López Estrada wisely move through these details with swift speed to allow Raya's journey to quickly take centre stage, the complex plot may just sail over the heads of younger viewers. Much like films like Mulan, Frozen, and Moana, Nguyen and Lim follow that classic Disney formula of taking a gutsy heroine and teaming them with a wise-cracking sidekick to provide lashings of levity. Sure, we may have seen this conceit numerous times now, but nobody does it quite like the House of Mouse.

The key to the success of such a concept lies in the voice casting, particularly that aforementioned scene-stealing sidekick. Mulan had Eddie Murphy. Frozen had Josh Gad. Moana had Dwayne Johnson. And Raya and the Last Dragon strikes pure gold with Awkwafina. Selecting the comedian as the goofy water dragon is a piece of ingenious casting perfection. From the moment Sisu bursts onto the screen, Awkwafina's sublime performance grabs your attention and refuses to let go. Overflowing with endless humour and gorgeous heart, Awkwafina's sensational vocal work is reminiscent of the late, great Robin Williams in Aladdin. Much like Genie, Sisu is a deeply empathetic soul, filled with a sweet naivete, yearning loneliness, and an insatiable spirit that's impossible to resist.

With the brave, plucky Raya, Disney continues its impressive determination to offer modern animated female protagonists that break the tired damsel in distress mould Frozen effectively shattered in 2013. Raya isn't waiting for her prince to come, and, thankfully, there isn't any semblance of a love interest for the titular character in sight. This is the story of one young woman's journey of self-discovery and enlightenment. Burnt by a wicked betrayal in her youth, Raya is a sceptical misanthrope who will soon learn the power of friendship, trust, and unity.

Voiced with the perfect balance of strength and vulnerability by Tran, Raya is a fresh, intelligent new icon for young viewers to emulate. And she's totally kick-ass to boot. Blessed with impressive fighting skills and natural ability with a sword, Raya swashbuckles her way through numerous thrilling set-pieces, overflowing with exciting fight choreography that taps into ancient martial arts with impressive precision. While she may have been woefully underused in those Star Wars films, Tran showcases her deft ability to lead a film with tremendous energy and endless warmth. Her earnest chemistry with Awkwafina is gorgeous, with Raya and Sisu forming a charming kinship that's the film's true heart.

Throughout Raya's epic journey, she's joined by a wonderful cast of supporting characters that each steal focus when given the opportunity including Benedict Wong as Tong, a booming Spine warrior with a heart of gold, Thalia Tran as Little Noi, a cheeky toddler con artist who's aided by a trio of monkey-like ongi, and scene-stealer Izaac Wang as Boun, a scrappy, fast-talking young entrepreneur with the best shrimp dishes in Tail. And, of course, Tuk Tuk is another sublimely adorable Disney animal creation who's part pill bug, part armadillo, and a dash of pug. Queue the incoming merchandise line.

As the group forms a rag-tag family of sorts, the true pertinent message of Raya and the Last Dragon is revealed. Kumandra tore itself apart through selfishness and xenophobia that saw once-civil lands now view each other as enemies. It's a timely reminder of the follies of isolationism that feels practically ripped from the headlines without ever feeling preachy or "woke." The path to peace can only be achieved through trust and solidarity against their common villain. It's a powerful theme cemented by Raya's ongoing battle with Namaari.

Chan is excellent as the princess caught between doing what is expected and doing what she knows is right. Namaari's inner conflict is equally echoed in Raya, which only further highlights the foolishness of their antagonistic relationship. These two young women should be the best of friends, but obligation and familial grudges dictate they must despise each other. This is another relevant lesson young viewers need to learn, especially in the 21st century where hatred seems to permeate at every turn.

While Raya and the Last Dragon will concurrently debut on Disney+ with Premier Access along with its theatrical release, this is a staggeringly beautiful film that deserves to be seen on the big screen. Of course, that's only if you're lucky enough to live in a location where it's safe to do so. It's a visually masterful creation that's one of the most stunningly animated films Disney has ever crafted. The photorealistic animation of Kumandra's landscapes is mind-blowingly authentic to the point you'd swear you were watching live-action footage. Each land is wildly unique, offering the animators the opportunity to dabble with contrasting environments that evoke the juxtaposition of Asia.

In another huge step forward for diversity in Disney animation, the locations and characters retain their distinctive Asian features without feeling too "Disneyfied." Unlike Mulan, the voice cast is comprised entirely of Asian actors, highlighting the progression of the Disney production and casting process. I would implore you to seek out the reviews of Asian film critics to ascertain their perspective on the food, fashion, heritage, and culture found within the exquisite design work. It all felt incredibly authentic and meticulously detailed to this film critic, but they'll rightfully be the determining factor on that front.

Endlessly rewatchable, terrifically entertaining, and entirely loveable, Raya and the Last Dragon is an absolute gem. It may occasionally tread familiar ground, but it still strides its own confident path with unique characters, stunning visuals, and a heartwarming narrative rooted in the power of trust, community, and friendship. And, of course, it features an ending that's unlikely to leave a dry eye in the house. Another major success for the House of Mouse, Raya and the Last Dragon is easily one of the best Disney animated films in years.





Distributor: Disney
Cast: Kelly Marie Tran, Awkwafina, Gemma Chan, Daniel Dae Kim, Sandra Oh, Benedict Wong, Izaac Wang, Thalia Tran, Alan Tudyk
Directors: Don Hall, Carlos López Estrada
Producers: Osnat Shurer, Peter Del Vecho
Screenplay: Qui Nguyen, Adele Lim
Cinematography: Newton Thomas Sigel
Production Design: Helen Mingjue Chen, Paul A. Felix
Editor: Fabienne Rawley, Shannon Stein
Music: James Newton Howard
Running Time: 114 minutes
Release Date: 4th March 2021 (Australia), 5th March 2021 (Disney+ with Premier Access,)