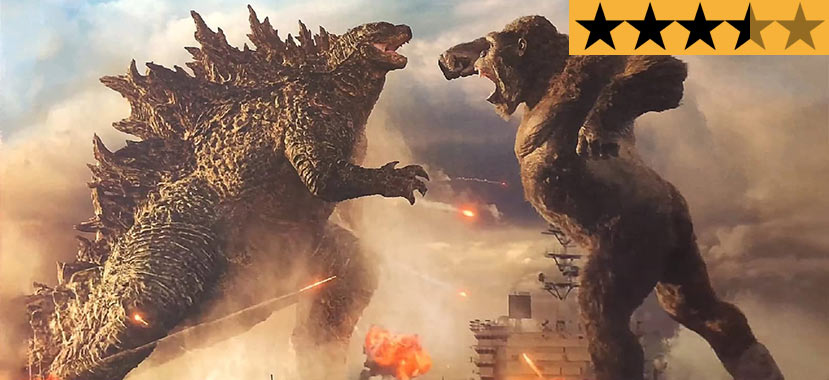 25 Mar

REVIEW – 'Godzilla vs. Kong' delivers everything you paid for

After a year of cinema closures and release date delays, many have wondered what film will be successful in reviving box office numbers around the globe. Tenet couldn't do it. Wonder Woman 1984 tried its best. But they both arrived at a time when audiences were still reluctant to leave their homes. With the world tentatively taking its first steps into a new sense of normality, it may ultimately fall to two legendary pop culture icons to save cinema.

If there ever was a film you need to see on the big screen, it's the monster mash-up battle royale of the century. The kind of gloriously silly blockbuster we haven't seen in over a year, Godzilla vs. Kong revels in its own outlandish premise and delivers everything you paid for. Ridiculous set pieces? Tick. Dazzling visual effects? Tick. Roaring sound design? Tick. Two booming film icons beating the absolute hell out of each other? You better believe it.

Set three years after the events of Godzilla: King of the Monsters, the crossover sequel finds the world in a relative state of calm after Godzilla defeated Ghidorah and slithered back into the ocean. Fearing the gargantuan lizard will head to Skull Island to eliminate his ancient enemy King Kong, Monarch anthropological linguist Dr. Ilene Andrews (Rebecca Hall) and her team of scientists have created a system to hide Kong's presence from Godzilla.

During containment on the island, Kong has formed a unique bond with Ilene's adopted daughter, Jia (Kaylee Hottle), a deaf orphan who communicates with the great ape in her own special way. When Godzilla launches a seemingly unprovoked attack on the Apex Cybernetics facility on the Floridian coastline, he's suspiciously labelled a threat to humanity by Apex CEO Walter Simmons (Demián Bichir).

But loyal Godzilla supporter Madison Russell (Millie Bobby Brown) suspects the assault is not all it seems and decides to investigate with best pal, Josh (Julian Dennison) and Apex employee turned conspiracy theory podcast host Bernie Hayes (Brian Tyree Henry). Determined to find a new home for Kong away from Godzilla's wrath, Ilene teams up with former Monarch geologist Dr. Nathan Lind (Alexander Skarsgård) to locate Hollow Earth, the mythical homeland of the Titans where a potential source of energy may help the humans fight Godzilla.

While the fourth film in Legendary Pictures' so-called "MonsterVerse" suffers from the familiar curse of relatively lacklustre human characters and a narrative riddled with plot holes, endless exposition, and illogical conveniences, they're hardly the ingredients needed for a film of this nature to succeed. It's best to turn your brain off and ignore the temptation to apply logic and reason to such a piece of cinema. The film certainly drags when the focus isn't on our titular duo, but you could hardly craft a movie exclusively starring two enormous animals hitting each other for two hours, so it's an unavoidable necessity.

The plot is unnecessarily complicated, leading to an endless stream of expositionary dialogue delivered by a cast stuck in mostly thankless roles. Skarsgård is his typically charming self but disingenuously feels miscast as a socially-awkward scientist. Hall isn't given much to do but chase after Hottle, who steals focus at every turn with her mute performance that's the film true heart. While Skarsgård and Hall's journey with Kong is key to the film's plot, the same can't be said of Brown, Dennison, and Henry's dull arc, which feels grossly pointless in the grand scheme of things. At least Dennison and Henry expectedly provide a much-needed dose of levity to proceedings.

But director Adam Wingard knows exactly what you came to Godzilla vs. Kong to see and he's happy to serve it up in absolute spades. The two Titans cross paths several times in this chaotic spectacle and the results are nothing short of breathtaking. Wingard and his team of visual effects wizards have crafted numerous visceral, thrilling set-pieces that capture every punch, crunch, and bite in impeccable clarity. Thankfully, unlike the previous Godzilla film, the action sequences aren't hidden by a haze of clouds, smoke, or dust. Wingard showcases every move in the open to deliver one of the most visually spectacular films of the year.

It's a glorious sight to see Godzilla and Kong battle it out atop an aircraft carrier before duelling deep down into the ocean, but the film's Hong Kong finale sequence is truly something else. As the two creatures lay waste to the skyscraper-dotted skyline, it's all lit by the cavalcade of neon lights Hong Kong is famous for. The pink, green, and yellow hues create a stunning visual aesthetic for the epic battle. Added by the swooping, majestic cinematography of Ben Seresin, Wingard clearly has an eye for theatrics and the visual flair he showcases in this sequence is genuinely something special. It's all complemented by Thomas Holkenborg's purposely thunderous, over-the-top score that matches the silliness of the action on-screen at every turn.

Clocking in at under two hours, Wingard mercifully doesn't waste time getting to the crux of the action and keeps the pace moving at a cracking speed to deliver a highly entertaining thrill-ride that demands to be seen on the biggest screen possible. This is absurd, guilty-pleasure popcorn cinema of the highest order, but Wingard knows it and leans heavily into the preposterous chaos to create something truly fun, outrageous, and enjoyable. Its narrative and character flaws are noticeable, but its action and thrills are immaculate. It's time to head back to the movies and Godzilla vs. Kong proves to be the perfect antidote for the lockdown blues.





Distributor: Warner Bros.
Cast: Alexander Skarsgård, Millie Bobby Brown, Rebecca Hall, Brian Tyree Henry, Shun Oguri, Eiza González, Julian Dennison, Kyle Chandler, Demián Bichir
Director: Adam Wingard
Producers: Thomas Tull, Jon Jashni, Brian Rogers, Mary Parent, Alex Garcia, Eric McLeod
Screenplay: Eric Pearson, Max Borenstein
Cinematography: Ben Seresin
Production Design: Tom Hammock
Costume Design: Ann Foley
Editor: Josh Schaeffer
Music: Thomas Holkenborg
Running Time: 113 minutes
Release Date: 25th March 2021 (Australia)