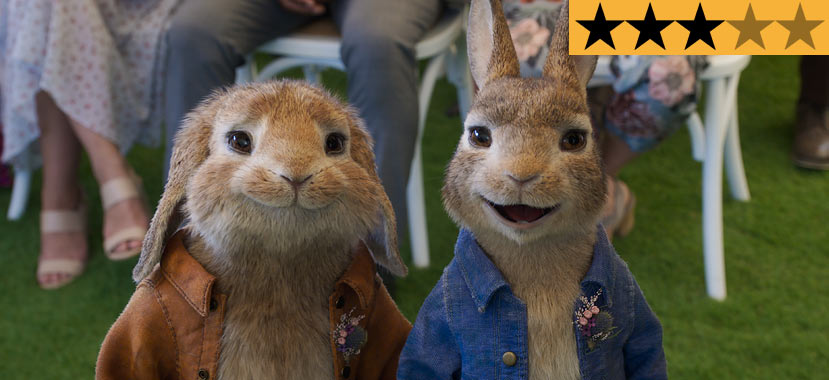 26 Mar

REVIEW – 'Peter Rabbit 2' is a good dose of harmless, fluffy nonsense

Despite fairly middling reviews and heavy criticism from Beatrix Potter purists (UK film critic Mark Kermode famously remarked, "If you've read the books you will be appalled."), Peter Rabbit's astonishing $350 million worldwide gross in 2018 signalled a sequel was all but assured. Had it not been for that pesky global pandemic, we would have received the follow-up at this time last year. After several release date changes and a new staggered global rollout that sees the film released in Australia three months before the U.S., Peter Rabbit 2 has finally arrived.

While there are probably few over the age of 7 who are clamouring for this sequel, it's incredibly pleasing to see Australian audiences (and cinema chains) rewarded for living in a country where coronavirus is almost entirely under control. For young fans of its predecessor, Peter Rabbit 2 offers more of what they loved about the first film i.e. slapstick humour, wacky hijinks, and adorable CGI animals. It's breezily entertaining enough for adults to also enjoy what can only be described as a good dose of harmless, fluffy nonsense.

As we return to McGregor Manor, we find the truce between Peter Rabbit (voiced by James Corden), Flopsy (voiced by Margot Robbie), Mopsy (voiced by Elizabeth Debicki), Cotton-Tail (voiced by Aimee Horne), Benjamin (voiced by Colin Moody) and crotchety gardener Thomas is still seemingly intact, particularly now that Thomas is set to wed the rabbits' beloved "owner" Bea (Rose Byrne). Keeping his rebellious ways at bay by drifting off into daydreams of creating all sorts of chaos, Peter is enjoying his newfound local fame as the cheeky star of Bea's popular self-published storybook, while doing everything he can to shake his mischievous reputation.

The storybook grabs the attention of smarmy publisher Nigel Basil-Jones (David Oyelowo), who's keen to turn Bea's work into a series of books. In a bid to reach a broader audience, Nigel pushes Bea to recast Peter as a nefarious "bad seed." Feeling hurt Bea would betray him in such a manner, Peter feels if the whole world sees him as a villain, he may as well start acting like one.

Fleeing to the city, Peter is a sitting target for the cunning Barnabas (Lennie James), an old friend of Peter's late father. By playing on the naive rabbit's disillusionment with the world, Barnabas recruits Peter into his street gang featuring Tom Kitten (voiced by Damon Herriman), his sister, Mittens (voiced by Hayley Atwell), and Samuel Whiskers (voiced by Rupert Degas), who are planning a major heist of a farmer's market. Will Peter truly turn to the dark side?

Its predecessor was the subject of much criticism for commercialising (or possibly bastardising) Beatrix Potter's creative vision by reworking the quaint Peter of the author's cherished books into a mischievous, arrogant, and often grating character whose selfishness, recklessness, and penchant for wanton destruction rubbed many the wrong way. Director Will Gluck (who co-wrote the screenplay with Patrick Burleigh) attempts meta self-awareness by essentially incorporating the befouling of Peter's wholesome image into the sequel's plot.

While it's admirable Gluck appears to be poking fun at the furore surrounding the original film, he doesn't lean heavily enough into this notion to call this sequel an ingenious, intelligent satire. That's hardly what his core audience is calling for. Instead, it appears this plotline is merely the filmmaker's medium to thumb his nose at critics who dared challenge his depiction of Peter, especially when Gluck has doubled down on the level of mayhem and chaos Peter creates in this film.

With lashings of slapstick comedy and zippy one-liners, Peter Rabbit 2 knows how to please its target market and there's little doubt younger viewers will be delighted by the outlandish set pieces Peter and co. find themselves in. There's a concerted effort to explore deeper themes of self-identity and remaining true to yourself when faced with misrepresentation. It's far from the depth and intelligence of something like Paddington or a Pixar film, but Gluck tries admirably to offer more than just sight gags and physical humour.

There's a solid helping of inside humour for the adults (like a warning about jelly beans where the candy treats are referred to as "the hard stuff") and I can't deny I found myself genuinely chuckling during numerous moments in this silly sequel. Gluck pays heavy homage to the heist-movie genre with clichés and references that will sail over the head of little ones. While there's no denying adults in the audiences are likely only there to mind their little ones, Peter Rabbit 2 still offers enough to keep parents and caregivers equally enthused by the antics on-screen.

Gleeson once again shows his penchant for physical comedy and highly-strung characters, particularly in his warring interactions with Oyelowo, who appears to be having a ball with a role outside his typical dramatic wheelhouse. Byrne isn't given all that much to do, but her sparkling charisma and gift for comedic timing still shine through. But, as expected, the real stars of the show are the wondrous CGI creature creations by the technical wizards of Animal Logic which flawlessly blend into their live-action environments and light up the screen with beautifully expressive faces and marvellously rendered fur.

There's probably little about Peter Rabbit 2 that will appease the Beatrix Potter fans who found its predecessor an affront to the legend of the cherished bunny character. It's mildly confusing this sequel heavily pushes the notion of being true to oneself while moving further away from the literary foundations of its titular star. Gluck established his own interpretation of Potter's work and there's no turning back now. If your kids loved the first film, they will adore this sequel. And maybe that's more than enough to call this follow-up a success. After the dark year we've all had, why bother bemoaning something so harmless and inoffensive? Take your kids back to the movies and just enjoy this goofy little movie.





Distributor: Sony Pictures
Cast: James Corden, Rose Byrne, Domhnall Gleeson, David Oyelowo, Elizabeth Debicki, Margo Robbie, Lennie James, Sia, Colin Moody, Damon Herriman, Hayley Atwell.
Director: Will Gluck
Producers: Will Gluck, Zareh Nalbandian
Screenplay: Will Gluck, Patrick Burleigh
Cinematography: Peter Menzies Jr.
Production Design: Roger Ford
Costume Design: Lizzy Gardiner
Editor: Matt Villa
Music: Dominic Lewis
Running Time: 93 minutes
Release Date: 25th March 2021 (Australia), 2nd July 2021 (U.S.)