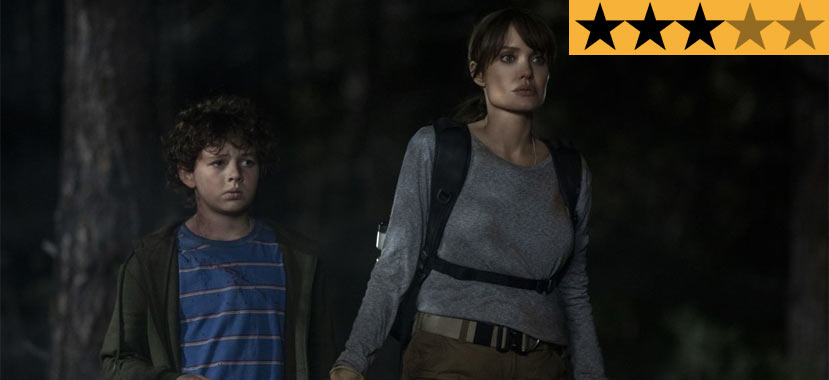 11 May

REVIEW – 'Those Who Wish Me Dead' brings plenty of thrills to keep you engaged

Fire is one of mother nature's most giving and unforgiving elements. Its heat provides warmth and fuels our lives, but its uncontrollable wrath creates destruction and death, particularly in the wilderness of somewhere like Montana. It's here that co-writer/director Taylor Sheridan lays the scene of his latest occasionally-brutal neo-Western thriller where he'd like you to believe fire can be a character all in itself. It's a shame he didn't pay as close attention to the humans running from its fury.

A throwback action blockbuster in the tradition of films like Cliffhanger, The River Wild, and Daylight, Sheridan's Those Who Wish Me Dead throws Angelina Jolie into survivalist mode but fails to give her a decent script to work with. While it's an entirely enjoyable rollercoaster with enough thrills and turns to keep you entertained, it's a film beset by a flat screenplay with narrative threads left hanging and underdeveloped characters merely plonked into a series of unfortunate events.

Based on the 2014 novel of the same name by Michael Koryta (who co-writes the screenplay with Sheridan and Charles Leavitt), Those Who Wish Me Dead introduces us to Hannah Faber (Jolie), a veteran Montanan smokejumper in the grips of PTSD one year on from a terrible tragedy. In the midst of a raging forest fire, Hannah failed to effectively "read" the wind and feels responsible for the deaths of three young boys caught in the middle of the flames.

Relegated to monitoring signs of forest fires in a remote, solitary lookout tower, Hannah is plagued by flashbacks of her painful past and the mistakes she made that fateful day. Meanwhile, in Florida, ruthless assassins Patrick and Jack Blackwell (Nicholas Hoult and Aiden Gillen, respectively) are targeting anyone connected to a federal investigation that could bring down a network of corrupt businessmen and politicians.

When the forensic accountant (Jake Weber) responsible for uncovering the web of corruption learns he's in the duo's crosshairs, he flees to Montana with his young son, Connor (a terrific Finn Little). It's there he's hoping to connect with good guy Sheriff Ethan Sawyer (Jon Bernthal) and his pregnant wife, Allison (Medina Senghore). After father and son are ambushed by the Blackwells, Connor narrowly escapes into the wilderness on his own.

While the assassins set fire to the forest in a bid to either flush their target out or burn him alive, Connor crosses paths with Hannah, who takes the youngster into her protection. But with communication lines fried from an electrical storm, the pair are left with no choice but to hike back to town while attempting to survive both the deadly blaze now burning out of control and the menacing killers hot on their tail.

The kind of cat-and-mouse thriller that was all the rage in the early 90s, Those Who Wish Me Dead feels reminiscent of something like 1994's The Client. A middle-aged, unmaternal woman whose life is somewhat of a mess meets a young child who is being targeted by criminals out for his blood, spurning an unexpected kinship born of mutual trauma. Swap the Louisiana setting for Montana and throw in a forest fire and you basically have Sheridan's film. That's hardly a criticism. The Client is a brilliant film (and one of the late Joel Schumacher's best), but it does mean Those Who Wish Me Dead is far from the most original of movies.

The third chapter in Sheridan's unofficial neo-Western trilogy, Those Who Wish Me Dead simply doesn't have the rich character depth of his Oscar-nominated Hell or High Water screenplay or his vastly underrated directorial debut Wind River. Hannah's PTSD and Connor's grief hover over much of the first act before their pain essentially takes a backseat to the more survivalist aspects of Sheridan, Koryta, and Leavitt's screenplay. There's a noticeable lack of character development here, which is staggering coming from the man who wrote something as character-driven as Sicario.

You may be thinking Those Who Wish Me Dead would serve as a grand tribute to the brave men and women who literally leap out of a plane to fight forest fires. While we do witness Hannah's cunning wilderness skills and her selfless nature when faced with a helpless child in need, it's a film about a firefighter where we never see her actually perform that very job. In fact, we don't see anyone fighting the fire that's raging around Hannah and Connor and it's seemingly allowed to burn out of control. No water bombers. No helicopters. No attempted rescue by Hannah's smokejumpers colleagues (who are introduced at the beginning of the film and not seen again until the conclusion).

Instead, the film is a simple tale of two lost souls finding each other in the most unimaginable circumstances. While the screenplay does neither Jolie nor Little any favours, Sheridan is blessed to have two gifted actors try their utmost to elevate this rather mediocre material. As a mother herself, Jolie is in her element as a woman whose hidden maternal instincts kick in when required. After witnessing the death of three young boys one year earlier, Hannah refuses to see Connor suffer the same fate, and Jolie shines in moments where the smokejumper's unselfish nature is fully on display. And it's terrific to see Jolie throw herself into action scenes for the first time in years, which will whet your appetite for Chloé Zhao's Eternals later this year.

After his remarkable debut in 2019's unremarkable Storm Boy, Little continues to prove he's a star in the making, as he effortlessly handles the pain and grief of a young boy whose entire world is shattered in an instant. Little elevates every moment of this film with his devastatingly empathetic performance and I genuinely cannot wait to see what he delivers next. Hoult and Gillen ham it up as the two moustache-twirling villains, but without any real backstory to their mission (bar one genuinely odd cameo scene from Tyler Perry), it's hard to attain any real motivation behind their dastardly deeds. Bernthal is typically charming, but it's Senghore who consistently steals focus, particularly in one scene that elicited genuine applause from my audience.

A creation of digital wizardry and physical effects, the forest fire itself almost feels rather superfluous to the emotional core of the film, but it certainly creates a large spectacle for Sheridan to play with. Moving at a cracking pace of just 100 minutes, Sheridan creates several thrilling, tension-filled set-pieces that attempt to mask to screenplay's narrative flaws. Such a short running time is clearly at the expense of fully-fleshed character arcs, but there's an old school entertainment factor here that's hard to resist.

While many may choose to view Those Who Wish Me Dead at home, it's a film designed to be seen on the big screen, particularly stirring elements like Ben Richardson's gorgeous location cinematography, the booming sound design, and the visceral score of Brian Tyler. The film may lack the impressive writing of other films of this style (and those of Sheridan's), but it brings plenty of thrills to keep you engaged. Jolie and Little make a terrific pairing, even if they've found themselves in a by-the-numbers production ultimately unworthy of their talent.





Distributor: Warner Bros.
Cast: Angelina Jolie, Nicholas Hoult, Finn Little, Aidan Gillen, Medina Senghore, Tyler Perry, Jake Weber, Jon Bernthal
Director: Taylor Sheridan
Producers: Steven Zaillian, Garrett Basch, Aaron L. Gilbert, Kevin Turen, Taylor Sheridan
Screenplay: Michael Koryta, Charles Leavitt, Taylor Sheridan
Cinematography: Ben Richardson
Production Design: Neil Spisak
Costume Design: Kari Perkins
Editor: Matthew Newman
Music: Brian Tyler
Running Time: 100 minutes
Release Date: 13th May 2021 (Australia), 14th May (U.S. and HBO Max)