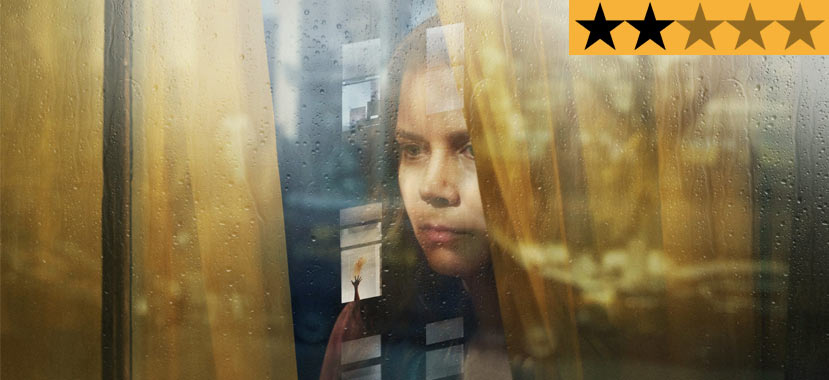 14 May

REVIEW – 'The Woman in the Window' is a disappointing flop

A director whose previous three films have been nominated for a total of 17 Academy Awards including two Best Picture nominations. A six-time Oscar nominee in the lead role plus two Oscar winners in the supporting cast. A screenplay from a Tony Award and Pulitzer Prize-winning playwright. A score by one of the most beloved film composers in modern history. A cinematographer with five Oscar nods to his name. All of these impeccable ingredients would suggest something truly special was on the way. Where, oh where, did it all go so horribly wrong?

After suffering through so many release date delays that most of us started to assume the film may never see the light of day, director Joe Wright's The Woman in the Window finally arrives this weekend over 18 months after its original release date. When Disney acquired 20th Century Fox in early 2019, the studio almost immediately delayed the film by an entire year after disastrous test screenings necessitated reshoots and re-edits. Then the global pandemic saw it shelved indefinitely before the House of Mouse sold the title to Netflix to be rid of it for good.

That chaotic backstory doesn't exactly fill anyone with confidence as to the quality of this pulpy psychological thriller. Nor does its May (i.e. not awards season) release date. Those apprehensions are all but confirmed in an overstylised, messily constructed film with a frustrating protagonist, questionable performances, and nauseating twists drowning in plot holes. While The Woman in the Window may contain all the right ingredients on paper, the final dish is a disappointing flop.

Based on A. J. Finn's New York Times bestseller of the same name, The Woman in the Window centres on former child psychologist Dr. Anna Fox (Amy Adams, trying her hardest to save this film from itself), a reclusive alcoholic who suffers from severe agoraphobia and anxiety. Living a secluded life in her three-storey Manhattan brownstone condo with tenant David Winters (Wyatt Russell) renting out her basement, Anna spends her days downing a cocktail of pills and alcohol in between visits from her therapist Dr. Landy (Tracy Letts), phone calls from her estranged husband, Ed (Anthony Mackie), and spying on her neighbours from her lounge room window.

Firmly in Anna's gaze is the Russells, the new family that's just moved into the $4 million townhouse across the road. After the shy and reserved teenage son, Ethan (Fred Hechinger) stops by with a gift from his mother, Jane (Julianne Moore), Anna senses something is amiss at the Russell residence and begins watching their home even more intently. When Anna bonds with Jane over a bottle of wine, she becomes concerned her new friend might be in an abusive relationship with Jane's husband, Alistair (Gary Oldman).

Late one night, in a haze of booze and medication, Anna witnesses Jane being violently stabbed in the family bedroom and immediately calls the police before passing out in the street in the midst of a panic attack. When she awakens, she finds two detectives (Brian Tyree Henry and Jeanine Serralles) in her home with Alaistair who denies any attack ever took place. To prove his innocence, in walks a completely different woman (Jennifer Jason Leigh) claiming to be Jane Russell. Despite all the evidence to the contrary, Anna is convinced there's something suspicious afoot and continues on an unrelenting mission to uncover the truth.

If it isn't already abundantly obvious, The Woman in the Window is essentially Rear Window meets The Girl on the Train with a dash of The Lady Vanishes and practically everything else Alfred Hitchcock ever created. It's a film so achingly desperate to craft something Hitchcock would be proud of, it gives its lead character a passion for the classic films it's attempting to pay homage to. It might be considered "meta-awareness" to spy a scene from a Hitchcock film playing on a television screen within a film that's lazily bastardising his plots and style. However, cheap plagiarism is still cheap plagiarism, even when you seemingly admit to doing it.

In the place of James Stewart's wheelchair-bound Jeff, we have Adams' agoraphobic Anna, which, admittedly, is a clever twist on the trapped-in-the-house conceit. With her addiction issues and mental health quandaries, Anna is an untrustworthy protagonist for obvious reasons. There is naturally some thrilling fun to be elicited from attempting to ascertain if what we're seeing is nothing but Anna's manic delusions or an actual murderous conspiracy she's unwittingly stumbled upon.

But Anna is a frustrating lead character by virtue of Tracy Letts' screenplay constantly forcing her to make the most confoundingly illogical character decisions that will leave you pulling your hair out. Yes, the character is a fractured mess, but Anna's demons cannot explain many of the ludicrous moves Letts' messy script has her undertake. The intrigue surrounding this twist-filled narrative is damaged by the audience's inability to genuinely connect with our protagonist, even one played by someone as endlessly likeable as Adams.

With its original October 2019 release date, many suspected this could be another shot at Oscar glory for six-time nominee Adams. This is entirely her film (a scenery-chewing, manic Oldman, a giggling Moore, and a barely seen Mackie deliver little more than extended cameo appearances) and she carries it with aplomb. As always, Adams gives it her absolute all to drag this film from the gutter it wants to wallow in, but even she can't save this one. We know she can play these kinds of tormented roles with her arms tied behind her back, but there's very little here for her to work with. A garish third act monologue was surely expected to be her "Oscar moment" but falters courtesy of stilted dialogue and bizarre directorial decisions from Wright that get in the way of everything Adams is laying down.

Wright boldly attempts to liven up The Woman in the Window with edgy stylistic choices like twisted lighting decisions, odd camera angles, blood literally splashing onto the screen during Jane's murder, and Anna's drug-induced hallucinations melding with reality. It's completely out of the realm for what we're used to from the filmmaker and it has to be mildly admired he attempted something new here. But it all just feels like flashy gimmicks attempting to mask the film's narrative flaws and lame attempts at Hitchcockian suspense.

The Hitchcock homage continues with the string-heavy, overly dramatic score from Danny Elfman, but at least Bruno Delbonnel's vibrant cinematography and framing choices offer the occasional moment of brilliance, particularly an oddly mesmerising slow pan down through the three levels of Anna's home. Kudos also go to production designer Kevin Thompson on the creation of Anna's elaborate townhouse, which often feels like a claustrophobic character all in itself.

There may have been pulpy joy to be elicited from Finn's novel, but it simply doesn't translate well to screen. Given the bulk of the action takes place in one setting, it may actually be more effective as a two-act play. Wright can't avoid staging the film as such, which may explain why he's so seemingly desperate to spice up proceedings with wild flourishes of unnecessary style. There's mild enjoyment still to be found in such an overindulgent, overwrought mess that borders on campy ridiculousness, but you'd be wiser just to stick with a rewatch of Rear Window to see how this style of narrative is really done.





Distributor: Netflix
Cast: Amy Adams, Gary Oldman, Anthony Mackie, Fred Hechinger, Wyatt Russell, Brian Tyree Henry, Jennifer Jason Leigh, Tracy Letts, Julianne Moore
Director: Joe Wright
Producers: Scott Rudin, Eli Bush, Anthony Katagas
Screenplay: Tracy Letts
Cinematography: Bruno Delbonnel
Production Design: Kevin Thompson
Costume Design: Albert Wolsky
Editor: Valerio Bonelli
Music: Danny Elfman
Running Time: 100 minutes
Release Date: 14th May 2021 (Worldwide)