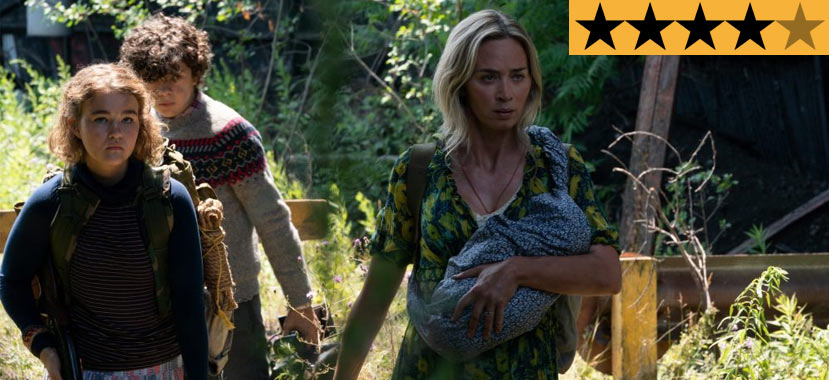 21 May

REVIEW – 'A Quiet Place Part II' is as unnerving, tense, and riveting as its predecessor

In an uncomfortable twist of irony, a film set in a post-apocalyptic world was one of the first cinematic casualties of the 2020 global pandemic that was causing all manner of terrifying visions of the future. Some 14 months ago, this film critic was mere days away from seeing an advance screening of A Quiet Place Part II before the entire film world was essentially put on pause for the rest of the year. And now that very film just might be the answer to getting audiences back inside a cinema.

While many of its Paramount Pictures' doomed 2020 compatriots were sold off to streaming services, the studio wisely chose to hold on to writer/director John Krasinski's follow-up to 2018's staggeringly successful A Quiet Place and wait for a time when it could be unleashed in theatres as intended. You may have noticed how heavily the marketing for the sequel is pushing the "exclusively in cinemas" line. Paramount wants you to return to the multiplex and Krasinski is happy to provide a reason to do so.

After Krasinski's surprise hit earned rave reviews, $340 million at the worldwide box office, a richly deserved Academy Award nomination for Best Sound Mixing, and a Screen Actors Guild Award for Emily Blunt that shamefully didn't translate into an Oscar nod, the anticipation for A Quiet Place Part II was already high before that 14-month release date postponement. Thankfully, the wait was more than worth it.

Equally as unnerving, tense, and riveting as its predecessor, this tremendously entertaining sequel expands on the world established in the first film while still serving up all the familiar terrifying thrills and chills that demand to be seen (and heard) inside a cinema. By shifting focus to his brilliant young stars, Krasinski refuses to simply repeat himself and crafts a follow-up that feels like a natural evolution of a narrative rooted in familial bond that never loses sight of its beating heart.

Krasinski begins the sequel where his original did not – Day 1 aka the moment Earth went to hell in a handbasket. In an absolutely terrific flashback prelude, we see the horrifying arrival of the menacing blind alien creatures who quickly begin decimating everything (and everyone) in sight. After the once-calm American small town is thrown into utter chaos, the story takes us to Day 474 aka the exact moment we left the Abbott family.

After the sacrificial death of patriarch Lee (Krasinski), Evelyn (Blunt), her newborn baby, her hearing-impaired daughter Regan (a magnificent Millicent Simmonds), and her plucky son Marcus (Noah Jupe) are forced to leave the family farm in search of what lies beyond the sand path. The Abbotts soon stumble upon Emmett (Cillian Murphy), an old friend and neighbour who's taken refuge inside an abandoned train yard.

Grappling with his own grief, fear, and paranoia, Emmett is initially reluctant to assist the Abbotts, but soon realises they have nowhere else to go and allows the family to join his underground bunker. When Marcus intercepts a radio transmission continuously playing Bobby Darin's "Beyond the Sea," Regan impulsively sets out alone to undercover its source. A panic-stricken Evelyn begs Emmett to follow her daughter and keep Regan safe from monsters of both the alien and human kind.

It's an ingenious move by Krasinski to split his narrative (and the Abbott family) into two distinct story threads, as it sets the sequel apart from its predecessor in a narrative sense. While the original centred on Lee and Evelyn's fight to protect their children, the sequel focuses more heavily on Regan as the new guardian of the family. With her newfound ability to utilise her hearing aid to cause the creatures to break into fits of incapacitation, Regan may just be the saviour of humanity, elevating her character to the true hero of this franchise.

This film ultimately belongs to Simmonds, who stole focus in 2018 and effortlessly inherits the mantle of leading lady (and horror movie heroine) with aplomb. While still dealing with the tragic loss of her beloved father, Regan is a complicated mix of grit and vulnerability, offering Simmonds the chance to play a character who constantly fluctuates between fear and fury at the drop of a hat. She more than holds her own against strong performers like Murphy and Blunt and her unrelenting determination to save both her family and potentially the world is entirely gripping.

Jupe continues to prove why he's one of the brightest young actors around with an endearing performance cemented by his staggeringly expressive face that captures Marcus' every emotion without the need for dialogue. However, there is one moment where the young boy is brutally injured and Jupe's agonising shrieks of pain will hit you in your very soul. Blunt takes a backseat to allow her young co-stars to shine, but still typically impresses in several key dramatic scenes. Murphy is the perfect choice for a morally ambiguous character whose pain and mystery make for a fascinating character study. It's a shame Krasinski doesn't delve deeply enough into Emmett and leaves him feeling underdeveloped.

Where Krasinski excels is his keen understanding a genre film of this nature simply won't work if you don't care about its characters. It naturally helps we've already formed a connection to the Abbotts in the first film, but the genuine desire to see them survive is strengthened by the gorgeous bond these actors have instilled in this ensemble cast. At its core, A Quiet Place Part II is still a family drama taking place within a horror film. The scares and thrills are there, but the heart of the film is the survival of a close-knit family we've grown to adore.

Much like the first film, the use of sound design here is sensational, with Krasinski and sound designers Ethan Van der Ryn and Erik Aadahl utilising the juxtaposition between tense silence and startling sound to great effect. At one point, we "hear" the action from Regan's perspective when she's without her hearing aid and the cinema falls entirely silent for what feels like an absolute age. While there's naturally plenty of jump scares to launch you from your seat, they all feel entirely earned and never merely tacked on. Krasinski knows how to build tension and it's hard not to hold your breath through much of this sequel.

Krasinski's screenplay occasionally falters with stilted dialogue and too many narrative conveniences that stray too far from logic, particularly several questionable character decisions inserted purely to heighten the tension. But his set-pieces pay deft homage to everything from Jurassic Park and Jaws, especially in moments where the terrifying creatures maniacally stalk their prey that will leave you on the edge of your seat. By expanding the world of the first film and delivering even more monster mayhem, this sequel is certainly "bigger," but never loses focus on the intimacy and heart that made its predecessor such a success.

With its supreme use of sound and silence, A Quiet Place Part II is an equally unique cinema experience that simply cannot be replicated at home. We film critics have been saying that a lot lately, but it cannot be understated how necessary it is to see this film inside a cinema to properly enjoy Krasinski's terrifically thrilling follow-up. An entire audience collectively holding their breath and gripping their seats is the kind of communal experience we haven't enjoyed in over a year. What a thrill it is to have it back and what a spectacular sequel Krasinski has delivered.





Distributor: Paramount Pictures
Cast: Emily Blunt, Cillian Murphy, Millicent Simmonds, Noah Jupe, Djimon Hounsou, John Krasinski
Director: John Krasinski
Producers: Michael Bay, Andrew Form, Brad Fuller, John Krasinksi
Screenplay: John Krasinski
Cinematography: Polly Morgan
Production Design: Jess Gonchor
Costume Design: Kasia Walicka Maimone
Editor: Michael P. Shawver
Music: Marco Beltrami
Running Time: 97 minutes
Release Date: 27th May 2021 (Australia)