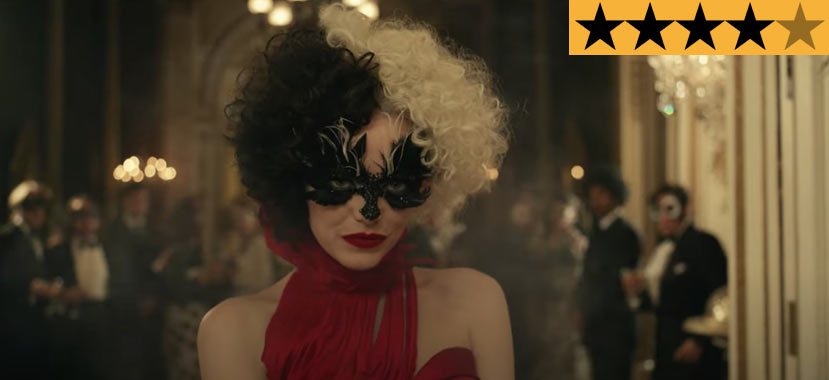 27 May

REVIEW – 'Cruella' is a deliciously devilish treat

In the late 1950s, Walt Disney was genuinely on the verge of shutting down his beloved animation department after the artistically brilliant but commercially disappointing Sleeping Beauty almost bankrupted Walt Disney Productions. It would fall to an inexpensively produced animated animal caper to save Disney animation, and, in the process, give birth to one of the studio's most enduring villains.

Designed by the legendary Marc Davis and voiced by the indomitable Betty Lou Gerson, the maniacal Cruella de Vil completely stole the show in One Hundred and One Dalmatians with her distinctive style, outlandish personality, and, of course, that infamous black-and-white hairstyle. After creating an origin story for another of Disney's cherished villain icons in 2014's misguided disappointment Maleficent, it's time to discover the birth of the queen of mean. Thankfully, the result is a deliciously devilish treat and one of the year's most outrageously enjoyable delights.

Led with infectiously vigorous fun by a pair of Oscar-winning divas and dripping with utterly spectacular costume designs, makeup, and hairstyling, Cruella is a campy feast with a heavy dash of The Devil Wears Prada, a sprinkling of Joker, and a touch of Birds of Prey. While its two-hour-plus running time is excessive and the screenplay could use some sharper editing, Cruella is a total blast and the perfect vehicle for the outrageous brilliance of Emma Stone and Emma Thompson.

Long before she was kidnapping dalmatian puppies to turn into a glamourous fur coat, Cruella de Vil was a precocious young girl named Estella (Tipper Seifert-Cleveland). Born with a shocking half black, half white hairstyle and a punk rocker attitude, Estella seemingly intended to challenge the world from the get-go. Much to the chagrin of her adoring mother, Catherine (Emily Beecham), Estella can't stay out of trouble, leading to her expulsion from a preppy finishing school.

When a tragic accident leaves Estella orphaned and homeless, she's taken in by loveable street hustling brothers Jasper (Ziggy Gardner) and Horace (Joseph MacDonald and later Paul Walter Hauser), who steal from wealthy Londoners to help their new pal fuel her passion for fashion design. Flashing forward ten years to the 1970s, Jasper (Joel Fry) nabs Estella (Stone) an entry-level job at Liberty of London, a luxury department store famous for its fabulous window displays.

After drunkenly reimagining a stuffy display in her own unique style, Estella catches the eye of renowned haute couture fashion designer Baroness von Hellman (Thompson), who invites the young artist to join her fashion house as an intern. When a mistreated Estella soon realises her ruthless new boss is hiding a dark secret, she begins a roaring rampage of vengeance that gives birth to her outlandish alter ego, Cruella de Vil, who just might challenge the Baroness for the title of the queen of London style.

One of the best Disney live-action adaptations to date, Cruella is ultimately an epic battle of two Emmas, and, in all honesty, I couldn't confidently declare a winner. It's a supreme joy to watch Stone and Thompson both chew the scenery in their wicked face-off as a pair of fashion diva rivals keen to destroy each other. One is fueled by ruthless ambition, petty jealousy, and a desperate need to stay atop the fashion world. The other is spurred by a thirst for revenge that gives life to an outrageous persona who's always been bubbling beneath the surface. These are roles that fit both actors like a glove and it's clear they're each having an absolute ball playing it bad.

Impeccably dressed and constantly accompanied by a trio of snarling dalmatians, Thompson impresses early with her delightfully catty take on a nefarious fashion designer whose selfishness and narcissism knows no bounds. Thompson's deft skill with the language that is acerbic, dry wit is perfectly placed for a character who could destroy anyone with the lash of her tongue. It's a performance similar to what we've seen from Thompson in the past, but she does it so incredibly well and makes it all look so ridiculously effortless. Thompson brings depth to the potentially shallow role by digging into the pathos of a successful woman on the verge of losing touch with the changing style of the 70s and willing to do anything to remain in her position of power.

In the role she was clearly always born to play, Stone is simply captivating. With all the devilish charm and tempestuous attitude that made Cruella such a memorable villain, Stone roars through this film with fiery energy. She understands the assignment and plays to the back row with a performance so unashamedly loud, proud, and gloriously camp. While Stone's take on Cruella dazzles in scenes of absolute extravagance, she never loses sight of Estella's beating heart hidden beneath all the costumes and wigs. There's a method to Cruella's madness and Stone consistently remains in tight control of this fascinating character throughout.

Fry and Hauser both constantly steal focus as the petty thieves with hearts of gold. Adding his own personal dash of levity, Hauser is terrific as the imposing brut with a childlike soul that can't help but swoon over an adorable puppy. Fry's terribly endearing performance as Jasper is the moral compass of the narrative, particularly as he begins to fear his beloved Estella is becoming corrupted by her desire for vengeance. His loyalty is unwavering, but the wildly charismatic Fry impressively captures Jasper's internal conflict with ease.

Much has been made of Cruella featuring the "first openly gay character in a live-action Disney film" in the form of Artie (Jon McCrea), the owner of a bold clothing store who helps Estella find Cruella's signature looks. While the fabulously androgynous Artie never "openly" discusses his sexuality, his gender fluidity and undeniable queerness are wonderfully refreshing. Unlike other LGTBQ characters with blink-and-you'll-miss-them roles in recent Disney films, Artie is rather integral to the plot, so his inclusion has to be cause for some celebration.

It's a rather ingenious move from screenwriters Dana Fox and Tony McNamara to craft Cruella's origin story as that of an alter ego for Estella she initially utilises to mask her true identity. Due to this juxtaposed duality, Stone's killer performance is akin to something from a Dr Jekyll and Mr Hyde film or an episode of RuPaul's Drag Race. One could argue Cruella is Estella's drag queen persona who allows the wannabe fashion icon to unleash her wild side with unabashed freedom and become the outlandish diva she was born to be. Estella was told to repress her individuality since childhood, but her voyage of self-discovery and metamorphosis into Cruella is a rather fabulous and surprisingly deep exploration of identity.

Fox and McNamara thankfully avoid the temptation to turn the iconic villain into a misunderstood heroine and allow Cruella to remain the anti-hero she's always been. She may be the lesser of two evils when compared to the despicable acts of the Baronness. And you will undoubtedly feel sympathy for Cruella when witnessing the tragedy of her upbringing. But she's still performing acts of anarchy that border on criminality, which effectively incorporate the angsty chaos of the London punk scene in the 1970s.

However, the biggest issue with Fox and McNamara's screenplay is its length. At over two hours, the film is longer than it needs to be and takes much too long to truly get going, courtesy of an unnecessarily lengthy prologue sequence centred on Estella's youth that concludes in clunky fashion. With several heist sequences throughout the storyline with essentially the same result, the film teeters upon repetition and lags towards the middle. But the spectacular finale effectively concludes proceedings and might leave you yearning for a potential sequel, especially a mid-credits scene you won't want to miss.

The marvellous performances of the ensemble cast are elevated by gorgeous production values that drench the film in necessary extravagance. Oscar-winner Jenny Beavan drapes Stone and Thompson in the most dazzling array of elaborate costume designs that are all truly stunning. Several of Cruella's outfits are genuine works of art and the race for Best Costume Design at next year's Academy Awards might already be over before it's even begun. The sumptuous production design of Fiona Crombie perfectly complements everything Beavan has created, blessing the characters with the most glorious worlds to play in. The soundtrack of vintage 60s and 70s needle drops is a total banger (something tells me it will prove divisive), though the occasionally on-the-nose song selections do have a tendency to get in the way of Nicholas Britell's charming original score.

In what may be one of the biggest surprise packages of the year, Cruella proves Disney can do an origin story without muddying the reputation and legacy of one of its beloved icons. Everything here feels like an earnest extension of a character who's been a key figure of Disney folklore for the last six decades and treats Cruella de Vil with the reverence she deserves. Stone and Thompson are an absolute riot together and they both look so outrageously gorgeous while delivering equally villainous performances. It's such a pleasure to witness a film unafraid to have some good old fashioned naughty fun. Colour me shocked, but this is one of the best times you'll have at the cinema in 2021.





Distributor: Disney
Cast: Emma Stone, Emma Thompson, Joel Fry, Paul Walter Hauser, Emily Beecham, Kirby Howell-Baptiste, Mark Strong
Director: Craig Gillespie
Producers: Andrew Gunn, Marc Platt, Kristin Burr
Screenplay: Dana Fox, Tony McNamara
Cinematography: Nicolas Karakatsanis
Production Design: Fiona Crombie
Costume Design: Jenny Beavan
Editor: Tatiana S. Riegel
Music: Nicholas Britell
Running Time: 134 minutes
Release Date: 27th May 2021 (Australia), 28th May 2021 (Disney+ With Premier Access)