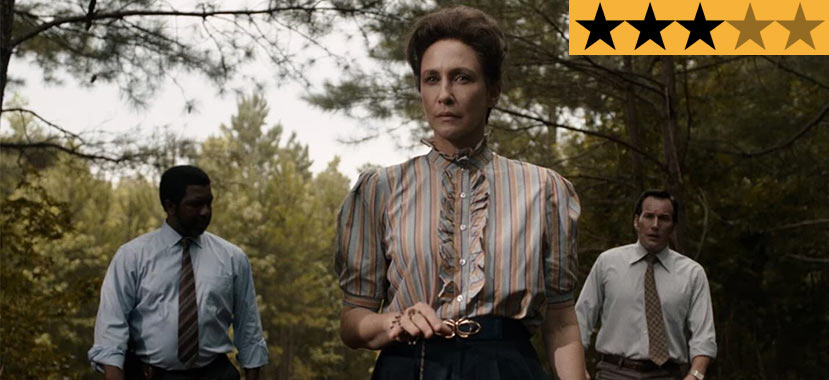 02 Jun

REVIEW – 'The Conjuring: The Devil Made Me Do It' is a decently enjoyable horror film hiding amongst a lot of silliness

With two chapters, five spin-offs, and close to $2 billion at the worldwide box office, The Conjuring Universe is one of the most successful horror movie franchises in cinema history. From the high of 2013's The Conjuring to the low of 2018's The Nun (which, staggeringly, remains the highest-grossing film thus far), it's been an uneven saga where nothing has come close to matching the exhilarating terror of the film that started it all.

Naturally, that won't stop Warner Bros. from eliciting a third film from the case files of infamous paranormal investigators Ed and Lorraine Warren in The Conjuring: The Devil Made Me Do It. Much like the previous two chapters, the endlessly lovable pairing of Vera Farmiga and Patrick Wilson remains the true heart of this franchise. It's just a shame they're stuck in a threequel beset by an overreliance on jump scares and an absurdly silly third act that takes the franchise into genuinely farcical territory.

Based on "the demonic case that shocked America," The Conjuring: The Devil Made Me Do It centres on the first known court case in U.S. history that sought to prove innocence based upon a claim of demonic possession. Set in 1981, we begin with an extended prologue sequence where Ed and Lorraine Warren (Wilson and Farmiga) attend the turbulent exorcism of eight-year-old David Glatzel (Julian Hilliard).

In the midst of David's demonic screams and horrifying body contortions, Ed begins to suffer a heart attack and witnesses David's sister's boyfriend Arne Johnson (Ruairi O'Connor) selflessly demanding the young boy's demon possess him instead. As Ed recovers in hospital under heavy sedation, he can't warn anyone of Arne's potential possession and the dangers it could bring.

Soon enough, Arne begins to experience terrifying visions and demonic voices, leading to the brutal murder of his oafish landlord Bruno (Ronnie Gene Blevins). Desperate to prove his innocence, Arne turns to the Warrens to help convince a jury he was possessed by a demonic spirit. But as the Warrens dig deeper into Arne's case, they soon uncover signs that point to a satanic curse that could have dire consequences for all involved.

Personally, I'd never heard of Johnson's case or the Warrens attempts to prove demonic possession could be used as the defence of an unconscionable crime. After taking a read of the Wikipedia entry, it's clear writer David Leslie Johnson-McGoldrick has taken major liberties with the truth of this real-life event. When you see the words "based on a true story" on the film's poster, take that with a large grain of salt. Actually, just take the whole damn salt shaker.

Unsurprisingly, the Warrens never battled a satanic curse in the aftermath of Johnson's misdemeanour, nor did the presiding judge even allow any suggestion of demonic possession to be entered as a defence into his courtroom for the jury to hear. But, hey, why let the truth get in the way of a good horror story? What's rather telling is how Johnson-McGoldrick's screenplay fails to even mention the Warrens were already negotiating lectures, a book deal, and a movie based on Johnson's crime before the case even went to trial, which certainly casts some shadow of a doubt on their involvement.

The film never once stops to ponder if Johnson was guilty of murder or treat Bruno (his real name was Bono) as the actual victim of a senseless and unprovoked crime. There's no speculation here. In the eyes of this mostly fictitious film, Arne Johnson was possessed by a demonic spirit and that inherently makes him innocent of murder. This may not make audiences squirm as I did, but there's something that feels wrong about failing to even question the validity of Johnson's claims in the name of horror cinema. Seek out 2005's The Exorcism of Emily Rose for a better example of a courtroom drama centred on an apparent possession that offers both sides of the story for the viewer to determine their own opinion.

Despite what the trailers may have you believe, Johnson-McGoldrick and director Michael Chaves don't focus too heavily on Johnson's trial or the Warrens attempts at a wild defence never before seen in a U.S. courtroom. Part buddy-cop detective film, part paranormal spookfest, The Conjuring: The Devil Made Me Do It deviates from the foundation director James Wan established in the previous two films and travels down its own outlandish path of satanic worship, witches, curses, and zombies (okay, they're technically possessed corpses, but close enough).

While Wan remains as one of the film's producers and receives a story credit, his absence in the director's chair is painfully noticeable. Wan's two films featured his trademark penchant for patiently building suspense and letting the camera draw an audience into dark spaces that may or may not contain something horrific. Chaves prefers a more bombastic, forceful style drowning in nauseatingly obvious jump scares, grotesque imagery, loud noises, and supernatural silliness that throws any sense of realism out the window.

For all the paranormal activity found in the previous two films, they were still grounded in some semblance of reality. You cannot say the same for the third outing, particularly the chaotic and utterly ridiculous third act where Ed and Lorraine play a dizzying cat-and-mouse game with a menacing witch inside dark catacombs while Arne begins pulling demonic moves that would make Linda Blair blush. However, by this point, we've spent so little time with our possessed protagonist that it's hard to even care about what he's experiencing.

It's ultimately left to Wilson and Farmiga to save The Conjuring: The Devil Made Me Do It. Thankfully, they're more than up to the task of rescuing this film from its messy screenplay. Their infectious chemistry remains as strong as ever, especially in scenes where Chaves explores the Warrens' undying love for each other including a rather gorgeous flashback to their first date. Farmiga effortlessly captures Lorraine's tortured soul with ease, while Wilson is typically charming as the ultimate wingman to his wife's dangerous ventures where the duo literally faces the demons torturing the innocent.

For all its faults, there's still plenty of atmospheric chills and thrills to be found here. An unsettling sequence involving a waterbed is rather terrifying (and perhaps a slight nod to A Nightmare on Elm Street 4: The Dream Master) and the film's opening prologue, which features sly visual references to The Exorcist and The Shining, is genuinely unnerving. If you can overlook the screenplay's liberties with the truth (it is a movie, after all), this is still a decently enjoyable horror film hiding amongst a lot of silliness.

By deviating far from the evocative style of the first two films, The Conjuring: The Devil Made Me Do It attempts something new but doesn't have the skills to stick the landing. With enough solid horror moments to set your heart racing and a terrific duo leading proceedings, it's still an engaging and occasionally fun film that rarely lags. However, if this is the final cinematic outing for Ed and Lorraine Warren, they're going out with a mild whimper than a thunderous roar.





Distributor: Warner Bros.
Cast: Vera Farmiga, Patrick Wilson, Ruairi O'Connor, Sarah Catherine Hook, Julian Hilliard, John Noble
Director: Michael Chaves
Producers: James Wan, Peter Safran
Screenplay: David Leslie Johnson-McGoldrick
Cinematography: Michael Burgess
Production Design: Jennifer Spence
Costume Design: Leah Butler
Editors: Peter Gvozdas, Christian Wagner
Music: Joseph Bishara
Running Time: 112 minutes
Release Date: 3rd June 2021 (Australia)