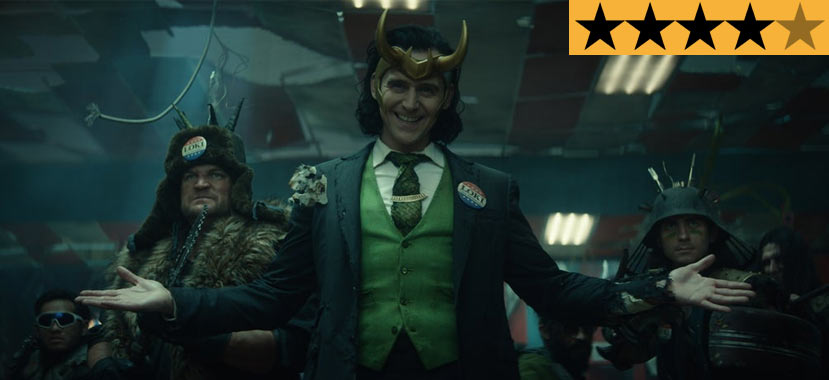 08 Jun

REVIEW – 'Loki' is another major home run for Marvel Studios and Disney+

Now that WandaVision and The Falcon and the Winter Soldier have firmly established the television spin-off world of the Marvel Cinematic Universe, it's time to turn our attention to the franchise's favourite mischievous scamp. The MCU has delivered a chequered roster of villains over the past decade. While there's been the highs of Avengers: Infinity War's Thanos and Black Panther's Erik Killmonger, there's also the lows of Iron Man 2's Whiplash and Thor: The Dark World's Malekith.

But the most enduring villain of this lengthy saga has undoubtedly been Loki, aka the God of Mischief, who has essentially stolen the show in every MCU film he's found himself in. Back in 2011, a then-unknown Tom Hiddleston captured attention with his breakout role in Thor and managed to upstage even someone as noted as Sir Anthony Hopkins. Six films and a decade later, it's time for Hiddleston to step into the spotlight and for Loki to have his moment in the sun.

An ambitious undertaking from the Marvel television universe that feels like a natural evolution of something as unique as WandaVision, Loki is another major home run for Marvel Studios and Disney+. As expected, the series takes full advantage of Hiddleston endless charisma, who revels in the opportunity to lead a Marvel production at long last. With typically impressive production values and a twisty, time-bending narrative to keep you on your toes, your next weekly must-watch has arrived.

As with Marvel Studios' first two television programs, we critics were only treated to a small taste of Loki (the first two 50-minute episodes), so consider this more in the realm of an initial reaction than a full review, especially given by the end of the second episode, I still have no clear idea where this series is heading. And I mean that in the best possible way.

Loki begins right where we last saw Loki Laufeyson (Hiddleston, and, yes, that's Loki's true surname) in 2019's Avengers: Endgame, which was technically the end of 2012's Avengers. After snatching the Tesseract from the hands of Earth's mightiest protectors, Loki vanishes into thin air. When Loki lands in the middle of the Gobi Desert, he's immediately arrested by no-nonsense Hunter B-15 (a scene-stealing Wunmi Mosaku) and her cohorts who all work for the Time Variance Authority.

A mysterious bureaucratic organisation that appears to exist outside of time and space, the TVA monitor the so-called "sacred timeline;" a single strand of time controlled by a trio of ethereal beings known as the Time-Keepers. To avoid a catastrophic "multiverse" disaster, the agents of the TVA are there to correct any anomalies (known as a "nexus event") to the sacred timeline such as "time-variant" Loki altering the events of 2012 by disappearing with the Tesseract.

Threatened with being erased from existence by pragmatic TVA judge Ravonna Renslayer (Gugu Mbatha-Raw), Loki is spared by hard-boiled TVA detective Mobius M. Mobius (a terrific Owen Wilson), who specialises in investigating nefarious time criminals. In the midst of attempting to locate a particularly dangerous time-variant who's causing all sorts of chaos throughout human history, Mobius believes Loki may provide assistance in ending the criminal's reign.

If this plot summary sounds mercifully complicated, the complex workings of the TVA and all the sacred timeline gobbledegook is neatly explained in an intro video package, gleefully presented by a sprightly animated clock and office assistant named Miss Minutes (voiced by Tara Strong). To say too much regarding Loki and Mobius' journey through time to capture the criminal time-variant would spoil the endless fun of this quirky, intriguing series. But it's clear Loki has plenty of time-bending turns up its sleeve, particularly after a jaw-dropping moment at the conclusion of the second episode.

What cements Loki as something genuinely engaging is the terrifically tempestuous bromance brewing between our two leads. The unexpected pairing of Hiddleston and Wilson proves to be a masterstroke of casting in what is ultimately a buddy cop crime thriller that just happens to take place in the mystical Marvel world of time travel. Hiddleston's wickedly sarcastic Loki is perfectly balanced against Wilson's snarky straight-man Mobius and watching the two trade barbs back-and-forth from Michael Waldron's wonderful script is tremendous fun.

Unsurprisingly, Hiddleston continues to show Loki is the role he was born to play. While the morally ambiguous anti-hero made an excellent supporting player in the MCU, Loki also makes for a convincing lead character, largely thanks to Hiddleston deliciously mischievous performance. After ten years of playing this role, Loki is a character that fits Hiddleston like a second skin. His malevolent arrogance is still on display, but it's pleasing to see Waldron and director Kate Herron exploring what makes Loki tick and the deep-seated issues he's been avoiding his entire life.

Waldron's screenplay forces Loki to finally face his status as a murderous villain and confront how his potentially misplaced lust for power (aka his "glorious purpose") affects those he secretly loves, particularly his adopted parents. When Loki admits his need to hurt, destroy, or kill anyone who gets in his way is purely a desperate attempt not to appear weak, it's a startling admission that delves deeper into this bad guy's psyche. Given Loki's ultimate fate in Avengers: Endgame, there's also some fascinating exploration of the idea of predestination vs. free will that casts the series as something in the same vein as Tom Stoppard's existential tragedy Rosencrantz and Guildenstern Are Dead.

But it's Wilson who really impresses with the best performance he's given in years. Any doubts over Wilson's casting are quickly eased and the comedic actor effortlessly demonstrates he's the right man for the role. As someone outside the realm of humanity, Mobius is seemingly impervious to Loki's smarmy charms, making him the perfect counterpart to rein in his mischievous ways. Mobius can give as good as he gets and Wilson nails numerous zippy zingers that immediately put Loki right in his place. It's possibly the first time we've seen a Marvel character truly match wits with the God of Mischief and Wilson is stupendously effective at complementing everything Hiddleston is delivering.

Much like every Marvel production, Loki assumes you're already well-versed in the lore of the MCU and the timeline of events that have led to this moment. By this point in the franchise, it's hard to imagine anyone but Marvel fans tuning in to watch the exploits of the beloved villain. That being said, if you've only kept a passing interest in the Marvel films and television shows of the past decade, Loki moves at a fast pace and presumes its audiences knows how to keep up. It makes for glorious entertainment for MCU enthusiasts, but you'd have to imagine anyone else might be slightly lost.

While there are the occasional thrilling set-pieces to be found in the first two episodes, Loki wisely establishes itself as a engaging character study rather than a bombastic action series. Naturally, that may change as the series barrels along. For the moment, the show better resembles the charming quirkiness of WandaVision, particularly in its ambiguity to refuse to reveal all its cards early on. With only four episodes left to be seen, it's anyone's guess what lies ahead, but I cannot wait to find out.

Another impressively unique chapter in the ever-evolving world of Marvel Studios, Loki is terrifically entertaining, tantalisingly mysterious, and beautifully crafted. Hiddleston shines, Wilson surprises, and Herron creates a remarkable new playground for the God of Mischief to enjoy. The series is further proof Marvel Studios is intent on deviating away from its formulaic roots and seeking to deliver refreshingly distinctive productions in its Phase Four period. If this is the direction the franchise is heading, the future of the MCU is in good hands.





Distributor: Disney+
Cast: Tom Hiddleston, Owen Wilson, Gugu Mbatha-Raw, Wunmi Mosaku, Sophia Di Martino, Richard E. Grant
Director: Kate Herron
Executive Producers: Kevin Feige, Louis D'Esposito, Victoria Alonso, Stephen Broussard, Kate Herron, Michael Waldron, Tom Hiddleston
Head Writer/Creator: Michael Waldron
Cinematography: Autumn Durald
Production Design: Kasra Farahani
Costume Design: Christine Wada
Music: Natalie Holt
Running Time: 6 episodes, averaging 50 minutes each
Release Date: 9th June 2021 (Episode 1 and then weekly)