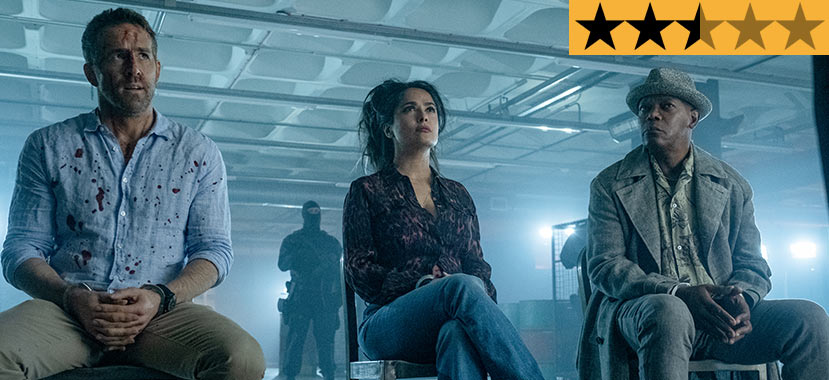 10 Jun

REVIEW – 'The Hitman's Wife's Bodyguard' delivers little more than a regurgitation of the first film

Full disclosure – until the trailer for its sequel dropped, I had forgotten 2017's The Hitman's Bodyguard existed. A breezy late-summer popcorn action movie that earned tepid reviews and a mildly respectable worldwide gross of $180 million, it wasn't exactly the most memorable of films. Evidently, it's since found a fanbase that warranted a follow-up. And, let's face it, new distributor Lionsgate is desperate for a successful franchise outside of Saw and John Wick.

Much like most action sequels, The Hitman's Wife's Bodyguard (just FYI – there's no "The" in the U.S. title for some inexplicable reason) is bigger, louder, and more chaotic, while still serving up another helping of the same ingredients of its predecessor. In other words, if you enjoyed the first film, there's a strong chance you'll have a good time with its successor.

A throwback buddy cop action comedy that plays to the strengths of its three leads, The Hitman's Wife's Bodyguard doesn't exactly break the mould of this well-worn conceit, but it's unlikely its intended audience expects it to. Once again, the winning chemistry of Ryan Reynolds and Samuel L. Jackson elevates this dumb, nonsensical spectacle, while a committed Salma Hayek is rightfully bumped up to co-lead status to effortlessly run away with this entire film.

It's been four years since the events of the first film, and bodyguard Michael Bryce (Reynolds) is still traumatised by the encounter with nefarious hitman Darius Kincaid (Jackson) that saw him lose his triple-A executive protection status. While unloading to his beleaguered therapist (Rebecca Front), she suggests Bryce take a company-mandated sabbatical (including a ban on the use of lethal force of any kind) in Capri, Italy and leave his bodyguarding days behind for the time being.

Bryce's once-blissful vacation is quickly shattered by the emergence of Darius's hot-tempered wife, Sonia (Hayek), who begs the bodyguard to help rescue her husband who's been kidnapped by a group of hired goons. Meanwhile, in the midst of economic unrest in Greece, Mafia kingpin Aristotle Papadopolous (Antonio Banderas) is planning to unleash a cyber-attack that will throw all of Europe into absolute anarchy. When Bryce, Darius, and Sonia cross paths with Interpol agent Bobby O'Neill (Frank Grillo), he reluctantly recruits the trio to track down Aristotle and save the day.

The Hitman's Wife's Bodyguard essentially lazily rehashes the same basic plot as its predecessor, but with more explosions, a higher body count, and louder sound design. Co-written by Tom O'Connor, Brandon Murphy, and Phillip Murphy, the screenplay repeats the same tired action movie clichés that beset the first film, seemingly unaware (or uninterested) these were precisely what made the original so generically disappointing. The sequel's steadfast commitment to cartoon-style violence never wavers and its plot is ludicrously convoluted, even for an action film.

While occasionally mildly entertaining, the bombastic set pieces generally consist of either a car and/or boat chase, our trio running away and somehow inexplicably always surviving a torrent of machine-gun fire, and lots of things blowing up. It's all captured in frenetic super speed by cinematographer Terry Stacey in a desperate attempt to add some semblance of life to such a tiresome, repetitive film. Everything is haphazardly stitched together by editors Michael J. Duthie and Jack Hutchings, making it genuinely difficult to know what is actually happening most of the time.

It's left to Reynolds, Jackson, and Hayek to admirably attempt to save this film, but it's strange to see the sequel take such odd character changes to both Bryce and Darius. In its predecessor, Darius was a pseudo father figure to Bryce, occasionally dishing out wise words of wisdom to his unexpected new ally. The sequel finds him journeying into toxic masculinity territory where his continual mocking of Bryce's deep-seated mental health issues and childhood pain feels unnecessarily cruel.

After spending much of the first film attempting to win back the heart of his lost love Amelia, the follow-up spins Bryce into a strangely asexual character; something Sonia takes pleasure in poking fun at. Élodie Yung does not appear in the sequel, nor is there any reference to her character or the relationship that appeared to be amended at the conclusion of its predecessor. It's a curious twist to force Bryce to avoid lethal force at every turn, but it does rob Reynolds the chance to really let loose in the action department.

The sparkling chemistry between Reynolds and Jackson and the tempestuous relationship of this unlikely duo of characters continues to be the main drawcard of this bloated blockbuster. Sure, they're both playing characters they've delivered numerous times before, but they do it so well. Reynolds' penchant for dry wit and Jackson's foul-mouthed tirades are both firmly on display, even if he's not given as much to do as in the original.

Hayek's brief appearances in the predecessor were one of the film's few highlights, so it's hardly surprising she's been wisely promoted to lead status for the sequel. As someone who clearly understood the assignment, Hayek delivers a scenery-chewing performance that blesses the film with the energy the set pieces sorely lack. With a short fuse and a raging temper, Sonia is a cartoonishly silly character, but Hayek knows better than to take any of this nonsense seriously. She's having an uproariously great time with this outlandish role and the film is better for it.

Banderas phones it in with a one-note villainous performance that never really goes anywhere, while Richard E. Grant drops in to reprise his role as the drug-addicted corporate executive in one of the sequel's few lively sequences inside a nightclub. Grillo's hard-nosed Interpol agent exists for no reason but to push the narrative from A to B and it's the kind of empty character that could have been played by a mop. And while it's best to leave the role of Morgan Freeman a mystery, his involvement at least delivers one of the film's best gags.

As a piece of brainless blockbuster fluff, The Hitman's Wife's Bodyguard is an inoffensive way to waste 100 minutes, but that's hardly a glowing recommendation. With 20-minutes less running time than its predecessor, at least it doesn't overstay its welcome. While this sequel barely manages to justify its necessity and delivers little more than a regurgitation of the first film, it offers a few laughs and the occasional exciting sequence to maintain your interest.





Distributor: Roadshow/Lionsgate
Cast: Ryan Reynolds, Samuel L. Jackson, Salma Hayek, Frank Grillo, Antonio Banderas, Morgan Freeman, Richard E. Grant
Director: Patrick Hughes
Producers: Matt O'Toole, Les Weldon, Yariv Lerner
Screenplay: Tom O'Connor, Brandon Murphy, Phillip Murphy
Cinematography: Terry Stacey
Production Design: Russell De Rozario
Costume Design: Stephanie Collie
Editors: Michael J. Dutchie, Jack Hutchings
Music: Atli Örvarsson
Running Time: 100 minutes
Release Date: 24th June 2021 (Australia)