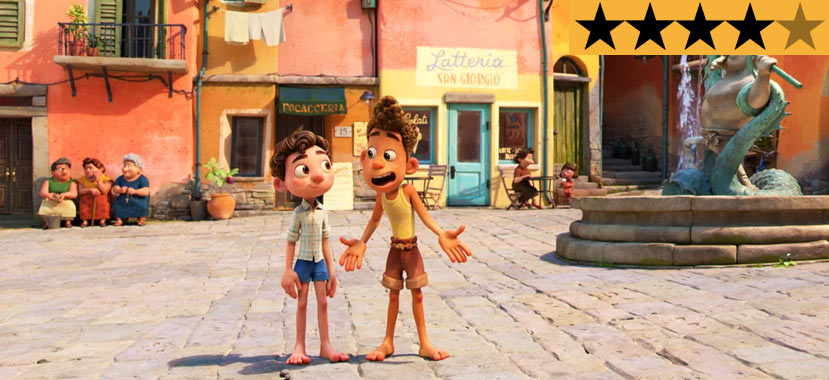 17 Jun

REVIEW – 'Luca' is a sweet charmer of a film that serves as a beautiful ode to young friendship

For those of us who live in nations where international travel is still off-limits, watching a film set in a foreign location is the closest we'll get to an overseas holiday for at least another six months. Just in time for the onset of Australia's brisk winter, the wizards of Pixar Animation are here to provide a joyous trip to the sunny shores of the Italian coast with their latest little gem that typically packs an emotional punch.

Crafted with a gorgeously quaint storybook quality rarely seen in Pixar films and brought to life by a terrific ensemble voice cast, Luca is a sweet, vibrant charmer of a film that serves as a beautiful ode to young friendship. While it may not quite reach the impossibly high bar Pixar has set for itself, Luca is still endearingly warm and delightfully entertaining. And it's a film young audiences will undoubtedly adore.

Set on the Italian Riviera sometime in the late 1950s, director Enrico Casarosa takes us under the sea to meet wide-eyed Luca Paguro (Jacob Tremblay), a precocious 13-year-old "sea monster" with a deep curiosity for life above the water. Pining for an epic adventure that fails to materialise ("I never go anywhere. I just dream about it."), Luca spends his monotonous days herding goatfish for his adoring parents, Daniela (Maya Rudolph) and Lorenzo (Jim Gaffigan).

While his distracted father is too busy tending to his prize-winning show crabs to notice his son's curiosity, Luca's overprotective mother warns him to stay away from the land monsters ("The curious fish gets caught!") and forbids her son from making "the change" by surfacing out of the water where sea monsters are instantly transformed into humans.

At first, Luca heeds his mother's advice until the day he's literally dragged onto land by the cheeky Alberto Scorfano (Jack Dylan Grazer), a free-spirited teenage sea monster who's been living alone as a human on a deserted island seemingly without a care in the world. The young boys instantly form a tight bond and take off on an adventure to Portorosso, a nearby fishing town that's long believed in the myth of dangerous sea monsters.

While on their forbidden sojourn, the boys will learn about all things Italian (including pasta, gelato, and Vespa scooters) from plucky resident Giulia Marcovaldo (Emma Berman), a wily young girl with a passion for books and a desperate desire to win the local marathon, the Portorosso Cup, much to the chagrin of her imposing fisherman-with-a heart-of-gold father, Marco (Massimo Marcovaldo).

On its surface (excuse the pun), Luca is a simple tale centred on those blissful days when your best friends were your entire world and the bond you shared was something nobody else could understand. The power of kinship is firmly on display in this delightfully breezy story where the stakes may appear low but just try telling a child winning a competition with their pals isn't the most achingly important thing in their little world, especially when it means beating an arrogant bully like Ercole Visconti (Saverio Raimondo).

Casarosa and screenwriters Jesse Andrews and Mike Jones seem acutely aware Luca is nowhere near as complex or deep as other Pixar fare and there's absolutely nothing wrong with that. Not every animated film has to be an introspective look at the inner workings of the world. In the first two acts, they lean heavily into the fun, adventurous side of this narrative (particularly any moment involving a scene-stealing cat named Machiavelli and a genuinely hilarious scene featuring Luca's deep-sea dwelling Uncle Ego voiced by a big-name cameo I dare not spoil) that moves at a cracking pace and basks in the smallest of details to allow an audience to truly soak up the gorgeous world Luca and Alberto find themselves in.

But when you dive a little deeper (again, the puns are unavoidable), Luca touches on the notion of a child with a (literally) monstrous secret they must hide to avoid the world seeing who they really are. It's the kind of metaphor that could be applied to a hundred different situations but there's an inherently queer subtext bubbling beneath the surface similar to the way many have read Elsa's journey of self-discovery in Disney's Frozen. Luca cannot show who he really is and that's something that will ring especially true for those of us who felt that way in our youth.

Of course, this is merely my interpretation and Casarosa never explicitly takes any form of queer exposition here, which may upset those wishing it had the nerve to take such a path. Luca and Alberto's journey can naturally be read as simply that of two boys who feel they don't fit in within their homeworld and find comfort in a friendship that ultimately helps them discover and accept who they really are.

It's a story of growing up feeling different to everyone else and the struggle between familial obligation and finding your own path in life in a narrative that features an impressive serving of important lessons for younger audiences. For much of this film, you'll be thinking Luca will be one of the rare Pixar movies not to make you cry. But Casarosa saves the emotional wallop for the third act which features powerful moments of betrayal, jealousy, and selfless sacrifice with a climax that may just leave you in a puddle of tears.

Those elicited emotions are largely due to the wonderful voiceover work of Tremblay, Grazer, and Berman, who combine to create a marvellous trio of young protagonists you will unquestionably fall in love with. Tremblay is the perfect choice for Luca, as he effortlessly captures the sweet, shy nature of an adorable wannabe adventurer who's beginning to find his inner strength. Grazer is terrific as the outlandish and gregarious Alberto who's secretly hiding deep-seated pain. In her debut role, Berman is a delight as the spunky, outgoing Giulia, who is ultimately the catalyst for encouraging her two newfound friends to be exactly who they're meant to be.

While Luca doesn't seek to replicate the stunning photorealistic animation of other films in the Pixar catalogue, its visual aesthetic is still entirely gorgeous and the smooth, rounded character designs are something more akin to the stop-motion work of Aardman Animations. Its bright colour palette of greens, blues, yellows, and oranges captures the essence of summer and the recreation of an Italian coastal town in the 1950s is perfectly authentic. Casarosa has instilled his Italian heritage into every frame of this film, crafting an intimate tribute to his childhood in Genoa and the films of Frederico Fellini.

From the food and the architecture to the decor and the music (Dan Romer's splendid score perfectly complements a cavalcade of Italian music needle drops), Casarosa brings Italian culture to Pixar animation with the level of authority that can only come from someone who's lived it. He even drops in the occasional use of his native language with a few memorable catchphrases for the young characters. Trust me when I say your children will likely be quoting "Silenzio, Bruno!" and "What's wrong with you, stupido?" for weeks to come.

With a dash of The Little Mermaid, a sprinkle of Finding Nemo, a pinch of Stand By Me, and a tip of the cap to Fellini, Luca is a charming, entertaining, and touching film for the whole family. It may not have the depth of top-shelf Pixar, but it certainly has the heart. Endlessly rewatchable and joyously fun with a hilarious post-credits scene you won't want to miss, Luca is an absolute treat. Bravissimo!





Distributor: Disney Pixar
Cast: Jacob Tremblay, Jack Dylan Grazer, Emma Berman, Marco Barricelli, Saverio Raimondo, Maya Rudolph, Jim Gaffigan
Director: Enrico Casarosa
Producers: Andrea Warren
Screenplay: Jesse Andrews, Mike Jones
Director of Photography: David Juan Bianchi, Kim White
Production Design: Daniela Strijleva
Editors: Catherine Apple, Jason Hudak
Music: Dan Romer
Running Time: 96 minutes
Release Date: 18th June 2021 (Disney+)