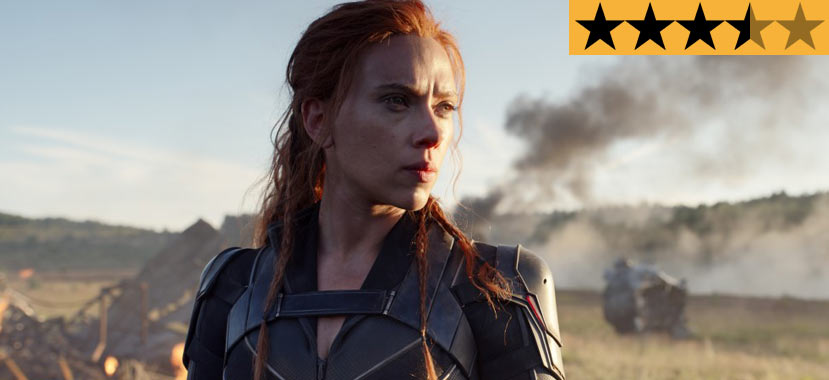 30 Jun

REVIEW – 'Black Widow' is a familial drama wrapped in a summer blockbuster

A new film from the Marvel Cinematic Universe opening in theatres around the globe is surely a sign the world of cinema is beginning to return to some sense of normalcy. After three release date delays and a change in strategy that sees the film debut simultaneously on Disney+ with Premier Access, Marvel Studios' long-awaited prequel Black Widow has finally arrived to give a fallen hero her deserving swan song.

Part James Bond spy thriller, part Mission: Impossible action epic with a good dose of tense familial drama, Black Widow is a solid, entertaining outing with all the ingredients Marvel fans clamour for. While the film may not quite reach the pinnacle of the MCU's best, its low stakes are a refreshing change from the recent swarm of apocalyptic comic book films and its wonderful ensemble cast create the best superhero family since The Incredibles.

Beginning with an opening prologue set in mid-90s Ohio, we meet a young Natasha Romanoff (Ever Anderson) and her "family" of fellow Russian spies hiding in America on a covert mission for a mysterious organisation run by General Dreykov (Ray Winstone). Her "father" Alexei Shostakov (David Harbour) is the Russian "co-equal" super-soldier equivalent of Captain America known as Red Guardian. Her "mother" Melina Vostokoff (Rachel Weisz) is one of Dreykov's leading scientists. And Natasha's beloved "sister" Yelena Belova (Violet McGraw) is approaching the age she'll be trained at the nefarious Red Room and transformed into a combative agent for the Russian government.

After Alexei's cover is blown, the family flees back to their motherland where Natasha and Yelena are promptly removed from their adoptive parents and unwillingly thrown back into the Red Room program. Flashing forward to the events following Captain America: Civil War, Natasha (Scarlett Johansson) is busy evading the capture of Secretary of State Thaddeus Ross (William Hurt) while Yelena (a typically terrific Florence Pugh) is obediently performing her duties as one of Dreykov's many Black Widow assassins.

When Yelena is freed from her chemical mind control by a mysterious vile of red gas released by her latest victim, she turns to her Avenger sister for help in bringing Dreykov down. But this places the sisters firmly in the sights of the General who activates his ruthless mercenary Taskmaster to destroy them. With the Avengers initiative still in disarray, Natasha has no choice but to turn to her estranged parents for help in her quest to eliminate both Dreykov and the Red Room for good.

A familial drama wrapped in a summer blockbuster, Black Widow is a curious choice to launch Phase Four of the monstrously successful Marvel Cinematic Universe, particularly after the MCU took an unintentional two-year sabbatical since Spider-Man: Far From Home. And it's abundantly clear this prequel should have been released years ago to truly land its intended impact. While it's undoubtedly a nice change to find a Marvel film concerned with something smaller scale like a simple revenge plot, the film sacrifices potentially deeper introspection of that very plot in the name of bombastic entertainment.

Since defecting from the Red Room to join the ranks of S.H.I.E.L.D., Natasha has spent her life desperately attempting to "wipe clean her ledger," which, as Loki pointed out in 2012's The Avengers, was "gushing red." Unsurprisingly, that forms the basis of her narrative arc in Black Widow, particularly her guilt over the collateral damage of her past. Those regrets are personified in Yelena, who feels Natasha failed her by allowing her "sister" to suffer the same fate in Dreykov's maniacal hands.

But Eric Pearson's screenplay pulls too many punches when you yearn for his script to go deep and dark. Pearson indeed explores Natasha's complicated journey to redemption, but his writing indolently assumes an audience will care for her arc by virtue of an existing connection with the character. Sure, it's wise to presume most viewers have been watching this franchise from day dot, but the film relies too heavily on that notion than actually presenting anything for an audience to sink their teeth into.

As the first MCU film directed by a solo female director, it's mildly disappointing to find Black Widow refusing to take any real risks in either a narrative and visual sense. Australian director Cate Shortland was such a remarkable choice to tackle a Marvel film, but it certainly appears she may have been stifled by the MCU machine and presents a film that looks and feels like practically everything that has preceded it. Naturally, Shortland's direction is sound and assured. Her female gaze ensures the film never hyper-sexualises its lead character and her work really soars in conversational family moments. But, for better or worse, everything still follows the age-old Marvel formula to a tee.

Unfortunately, Black Widow suffers from another problem that often besets the MCU franchise; the lack of a great villain. In a visual sense, the menacing yet undercooked Taskmaster is a terrifying creation, thanks to the spectacular costume design by Jany Temime and dazzling fight choreography created by Trayan Milenov-Troy. But the soldier is merely a pawn in Dreykov's game and there's nothing deeper to this villain's motivations than surface-level evil. One could say Dreykov is this film's true villain, but even he isn't given any wicked motive other than his status as the film's generic Russian bad guy.

The inherent issue with a prequel of this nature is always being keenly aware the main character is never truly in mortal danger. Sequences involving Natasha in perilous positions are robbed of any potential gripping suspense because we know she's going to make it out just fine. It's why it's rather odd Marvel Studios didn't create this film at the conclusion of Captain America: Civil War to capture its true potential. Sure, it's obviously terrific Johansson gets her moment in the sun, but it's arriving at such a strange moment in the history of the MCU franchise.

That being said, Black Widow stills shines brighter than most of the popcorn cinema drivel you'll see this summer season. Even with no prior experience with this style of filmmaking, Shortland is deftly skilled at crafting plenty of wickedly entertaining set-pieces. The staggeringly thrilling opening sequence is one of the best of the entire Marvel franchise. While the chaotic finale features several outrageously unbelievable moments, it concludes proceedings with impressive excitement. This prequel may not have the depth of its fellow MCU compatriots, but it's hugely entertaining and rarely lags.

But it's the focus on family drama where Black Widow really zings. Johansson, Pugh, Harbour, and Weisz craft a spectacular familial dynamic, rooted in genuine love but complicated by anger, regret, and guilt. When the quartet reunites after many years apart, you could cut the familial tension with a knife. The chemistry between these four actors is sublime and they truly feel like a complicated family right from the outset. They have numerous painful issues to overcome but it's a joy to watch their relationships mend to what we saw in the charming prologue.

As the pair of bickering sisters bound by a common pain, Johansson and Pugh are a terrific duo. Their fractured connection is a delight and offers both actors the chance to tackle equal helpings of drama and comedy Pugh's flair for sarcastic wit consistently slices through (a moment where Yelena criticises Natasha's penchant for "posing" is genuinely hilarious) and she truly steals every single moment of this film. Pugh is a born action star who is somehow both fragile and imposing, but she effortlessly handles Yelena's dramatic beats to create a complex and fascinating new heroine that seems likely to have a bright future in the MCU.

Occasionally sketchy accents aside, Harbour and Weisz create a wonderful old married couple whose glory days may be behind them, but they can still kick ass with the best of them. Alexei's blind devotion to the wrong cause saw him lose the family he'd always wanted and his quest for vengeance is just as strong as his adopted daughters. And kudos to Weisz for managing to keep a straight face during an extended scene involving Melina's groundbreaking work with mind-controlled pigs. Yes, you read that correctly.

While the supporting cast may consistently steal Johansson's spotlight, Black Widow still firmly belongs to its titular character. It's wonderful to see Natasha given the solo feature film fans have been demanding since her debut appearance in 2010's Iron Man 2. Black Widow was always been the heart of the original Avengers sextet and Johansson continues to offer that boundless warmth throughout her solo endeavour. Natasha is a tortured soul and Johansson's empathetic performance elevates the narrative misgivings of Pearson's screenplay. After all these years of playing Natasha, the role fits Johansson like a second skin and she relishes the chance to take centre stage for the first (and final) time.

After the extended delays of Natasha Romanoff's long-overdue solo film, Black Widow was certainly worth the wait. Much like its protagonist, it's flawed and imperfect, but still entirely lovable and richly enjoyable. It's a bittersweet farewell to a beloved character we'd already said goodbye to once before. Both a solid spy thriller and an engaging familial character study, it brings the action but wisely offers plenty of heart and humour and leaves you completely satisfied.

Oh, and you certainly know the drill by now, but stay seated for an absolute kicker of a post-credits scene.





Distributor: Disney
Cast: Scarlett Johansson, Florence Pugh, David Harbour, O-T Fagbenle, William Hurt, Ray Winstone, Rachel Weisz
Director: Cate Shortland
Producer: Kevin Feige
Screenplay: Eric Pearson
Cinematography: Gabriel Beristain
Production Design: Charles Wood
Costume Design: Jany Temime
Editors: Matthew Schmidt, Leigh Folsom Boyd
Music: Lorne Balfe
Running Time: 134 minutes
Release Date: 8th July 2021 (Australia), 9th July (Disney+ with Premier Access)