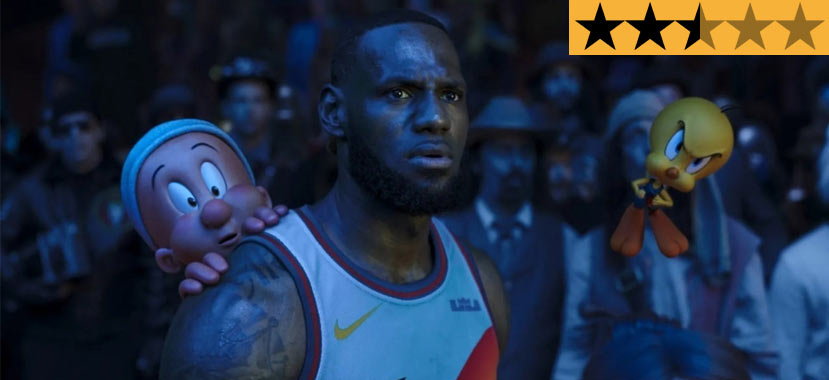 09 Jul

REVIEW – 'Space Jam: A New Legacy' rarely takes the time to stand on its own two feet

Have you ever yearned to see King Kong give The Iron Giant a fist bump? Or witness Pennywise, Catwoman, and the droogs from A Clockwork Orange cheering on from the sidelines of a basketball game? If so, Space Jam: A New Legacy is certainly the film for you. In one of the most shameless pieces of cross-promotion cinema has ever seen, this long-awaited (perhaps too long) sequel stuffs so many pop culture cameos into 115 minutes that it would take even longer to name them all.

A film that oddly attempts to target adults who fondly cherish 1996's Space Jam, fans of Warner Bros.' 98-year history, and younger viewers who've likely (and sadly) never heard of Bugs Bunny, Space Jam: A New Legacy can't seem to decide who this film is for. And I'm not entirely sure anyone at Warner Bros. is aware either.

Loaded with nostalgic references to its predecessor and the expansive worlds of Looney Tunes, Harry Potter, DC Comics, Game of Thrones, The Wizard of Oz, and just about every other lucrative IP under the Warner Bros. umbrella, Space Jam: A New Legacy is a nauseating example of product placement in overdrive. Thankfully, its gorgeous visuals are remarkable, its heart is occasionally in the right place, and its entertainment factor soars at just the right moments.

When the film shies away from drowning in retro cultural references that will fly over the heads of children, it offers ingenious puns, meta-aware humour, and amusing gags. But you can't shake the feeling the final product ultimately feels like you're merely watching an almost two-hour-long commercial for the entire Warner Bros. back catalogue.

Switching out the previous film's star Michael Jordan (who is referenced at one point in the most hilarious of ways) for current NBA juggernaut LeBron James, the sequel casts King James as a hard-nosed father struggling to connect with his pre-teen son, Dom (Cedric Joe). While LeBron pushes his son to follow in his footsteps on the basketball court, Dom is a tech wiz who has designed his own video game and longs for a career as a developer. While at a pitch meeting on the Warner Bros. lot, LeBron and Dom are sucked inside the Server-Verse, a digital world housing all of WB's properties and overseen by the megalomaniac artificial intelligence Al-G  Rhythm (a fantastically maniacal Don Cheadle).

Dreaming of fame and recognition of his own, Al-G has created Warner 3000, a groundbreaking software that will digitally insert users into their favourite classic Warner Bros. films and television shows. When LeBron rejects Al-G's offer to partner on the project, the furious A.I. kidnaps Dom and challenges the NBA star to a basketball game to win freedom for both himself and his son. In desperate need of a team of players, LeBron lands on Tune World where a deflated Bugs Bunny (Jeff Bergman) remains alone after the rest of his gang sought adventure throughout the worlds of the Server-Verse. Joining forces, LeBron and Bugs must journey through the Warner Bros. worlds to reunite the Looney Tunes squad before taking to the court to defeat Al-G and his Goon Squad.

On a narrative level, Space Jam: A New Legacy is essentially a lazy rehash of the original film's plot. The screenplay (which evidently took six (!) screenwriters to craft) begins by belittling the idea of bastardising cherished Warner Bros. content and then bafflingly spends the next 90 minutes doing just that. It's a strange move to have your protagonist literally scoff at the suggestion of inserting a foreign character into an existing IP and just a few scenes later showcase Wile E. Coyote and the Road Runner in the midst of Mad Max: Fury Road's Wasteland and Yosemite Sam sitting in Rick's Cafe from Casablanca.

That all culminates when the main event begins and the basketball court sidelines are literally stacked with dozens upon dozens of Warner Bros. characters from the last nine decades. Baby Jane Hudson from What Ever Happened to Baby Jane? rubs shoulders with Mr. Freeze from Batman & Robin. The Night King from Game of Thrones claps and cheers next to Stanley Ipkiss from The Mask. Dorothy and the Tin Man. Beetlejuice. The Penguin. Willy Wonka. They're all here and it's as genuinely bizarre as it sounds. Cartoon characters from The Flintstones, The Jetsons, and Animaniacs sit perfectly fine in this digital playground. Naturally, the live-action characters are not played by the actors who first inhabited these roles, leaving them to appear like little more than lame imitation performers you'd find at a Warner Bros. theme park.

But we're not in a theme park. Or playing a video game. This is a film and it's hard to say anyone involved in this production appears to realise that. Watching a group of cartoons play a basketball video game is about as enjoyable as sitting behind your best friend while they play Mario Kart. That being said, there is an entire generation of youngsters who absolutely do enjoy watching other people play video games, so perhaps that's who this film is ultimately targeted towards. The big showdown arrives with 45 minutes still left on the clock, which is almost as long as an actual game of basketball. If you do find yourself tiring of the rather repetitive action on the court, at least you can kill time by playing a game of spot the cameo.

If you tear away all the endless pop culture references, Space Jam: A New Legacy could actually be a genuinely enjoyable little film. That's not the film we're presented, but if you attempt to ignore the shiny nonsense surrounding it, you can certainly still have an entertaining time. In a visual sense, it's a surprisingly beautiful piece of cinema. The 2D and CGI character animation is spectacular and wonderfully detailed, especially on members of the squad with fur.

It's always a difficult challenge updating 2D characters into 3D animation, but it's pleasing to see the meticulous care Warner Animation Group have taken in updating Bugs and co. for the 21st century. The set-pieces burst off the screen with an array of special effects, entertaining action, and bright on-screen overlays. And, I have to admit, I found myself genuinely caring if LeBron and the Looney Tunes could ultimately win the match.

James is not an actor, so it's relatively moot to judge his acting skills here. His performance is best when he's on-court or performing physical gags and worst when director Malcolm D. Lee fails to realise the basketball star has absolutely no comedic timing or ability to handle emotional beats. The father-son narrative thread is charming and effective, with Joe proving deft at creating an empathetic outsider who desperately wants his father to see him for who he really is and not who he wants his son to be.

But the real star is Cheadle who is clearly having an absolute ball chewing the scenery and playing it bad as the spectacularly silliest of cartoonish villains. Cheadle understood the assignment and genuinely livens up this entire film. The addition of Zendaya as the voice of Lola Bunny feels like stunt casting more than anything, but she's typically great and at least they've toned down Lola's bizarrely sexualised appearance in the original.

As a piece of harmless fun to keep your kids occupied for two hours, Space Jam: A New Legacy is perfectly fine. Your children won't understand the cultural references and cameos or likely have any clue who the Looney Tunes characters are, but they'll certainly enjoy their slapstick antics and the high-energy action on the court. Splashes of nostalgia and homage can be a wonderful thing, but this sequel rarely takes the time to stand on its own two feet. It's far too busy mining existing IP to distract you from its generic screenplay and the inescapable fact you've seen this all before.





Distributor: Warner Bros.
Cast: LeBron James, Don Cheadle, Khris Davis, Sonequa Martin-Green, Cedric Joe, Jeff Bergman, Eric Bauza, Zendaya
Director: Malcolm D. Lee
Producer: Ryan Coogler, LeBron James, Maverick Carter, Duncan Henderson
Screenplay: Juel Taylor, Tony Rettenmaier, Keenan Coogler, Terence Nance, Jesse Gordon, Celeste Ballard
Cinematography: Salvatore Totino
Costume Design: Melissa Bruning
Editor: Bob Ducsay
Music: Kris Bowers
Running Time: 115 minutes
Release Date: 15th July 2021 (Australia)