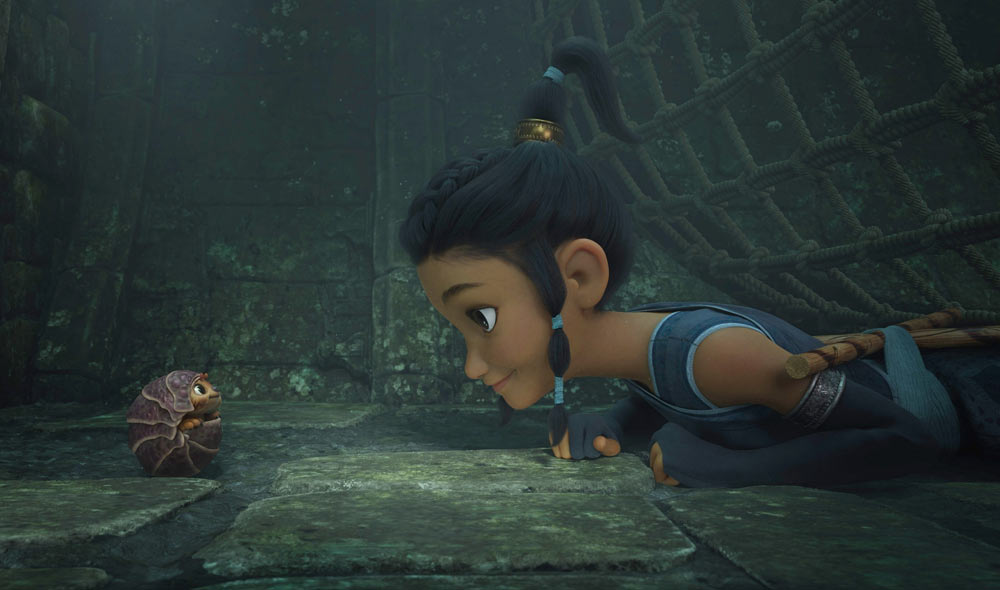 12 Jul

THE HOUSE OF MOUSE PROJECT – 'Raya and the Last Dragon'

The one that was made at home.

2020 will be remembered for many god-awful things we'd all like to forget. For movie lovers, it was the year the world of film ground to a halt. With cinema shutdowns, release date delays, and film festival cancellations, there was little joy for those of us who regularly spend time inside the hallowed walls of a movie theatre. In the midst of a global pandemic and stay-at-home orders from the California government, Walt Disney Animation Studios was faced with the daunting task of producing their latest animated adventure entirely remotely. Somehow, they pulled off the impossible.

Following the soaring critical and commercial success of Jon M. Chu's Crazy Rich Asians in August 2018, Disney CEO Bob Iger was quick to snatch up the film's celebrated screenwriter, Adele Lim. In October 2018, reports began to surface Lim had been signed by Disney to pen a fantasy animated film centred on a female Asian protagonist. After Lim secretly spent nine months sketching out a draft screenplay, Walt Disney Animation Studios' Chief Creative Officer Jennifer Lee officially announced Raya and the Last Dragon during the studio's panel at the D23 Expo in August 2019.

During the presentation, Lee also introduced the film's co-directors Paul Briggs and Dean Wellins, who would be making their directorial debuts after working as story artists on previous Disney productions including Big Hero 6, Moana, and Frozen. Lee also announced Canadian actress Cassie Steele would voice titular protagonist Raya, while Crazy Rich Asians breakout star Awkwafina would voice the role of Sisu, a magical dragon with a wacky personality.

In late 2019, Briggs, Wellins, and key members of the production crew spent several weeks touring Thailand, Vietnam, Cambodia, Indonesia, the Philippines, and Laos to draw inspiration from all corners of the region for the film's characters, locations, and designs. Given a major theme of Lim's screenplay centred on the connection between Raya and her father, the group spent time with local families to view their interactions and customs to instil into the film. Just a few months after their trip, the entire world changed dramatically.

After the animators spent months storyboarding the entire film from Lim's screenplay, the production was ready to commence in February 2020. It was soon completely upended in March by the COVID-19 pandemic that was beginning to sweep across America. With Disney's animation studios in Burbank, California forced to close and its staff required to work exclusively from home for the foreseeable future, the creation of Raya and the Last Dragon was now in serious jeopardy.

To alleviate the mounting pressure on the production team, Lee, Walt Disney Animation Studios President Clark Spencer, and Disney CEO Bob Iger made the decision to delay the release of Raya and the Last Dragon from November 25, 2020 to March 12, 2021. As the entire production crew packed up their desks and fled to the safety of their homes, no one within Disney really knew if it was even possible to remotely produce a feature-length animated film, especially given Disney productions were known for being highly collaborative efforts typified by frequent in-person workshop meetings, brainstorming sessions, and test screenings.

In a desperate attempt to recreate that collaborative environment, Disney utilised its existing video conferencing system Streamboat, which had been used in past productions like Frozen II to allow New York-based songwriters Kristen Anderson-Lopez and Robert Lopez to virtually collaborate with the Burbank production team. Streamboat allowed users to communicate via video calls while also sharing the production's images and videos in high resolution to ensure the quality and clarity wasn't affected. Due to the tremendous (and sudden) increase in usage of their network, Disney were forced to exponentially increase their bandwidth capacity to avoid any dip in streaming quality during video conferences, as even the slightest lag or pixelisation of imagery could alter the viewer's perception of what they were being shown.

While the animators adjusted to their new working stations at home, playwright Qui Nguyen joined the production to further develop Lim's characters and bring his own personal knowledge of Asian culture into the film. To further strengthen the film's authenticity, the production team created the Southeast Asian Story Trust, an assemblage of various experts on Southeast Asian culture including writers, artists, linguists, professors, anthropologists, and architects. In a first for Disney, the film was overseen by an all-female technical leadership team led by technical supervisor Kelsey Hurley and her associate technical supervisors Gabriela Hernandez and Shweta Viswanathan.

After several months of production, Lee began to feel the film had significantly evolved beyond its original vision, particularly its characterisation of Raya, its visual aesthetic, and its narrative themes. In August 2020, she made the decision to hand directorial duties over to Don Hall, the Oscar-winning director of Big Hero 6 and Moana, and Carlos López Estrada, whose 2018 directorial debut Blindspotting was a critically acclaimed indie darling. Briggs would remain as one of two co-directors alongside John Ripa, who had worked as a story artist on films including Tangled and Zootopia. Wellins departed the production altogether and will instead direct an upcoming untitled animated film for the studio.

But the biggest change came with the difficult decision to recast the voice role of Raya. While the production team were entirely satisfied with the work Steele was producing, they felt Raya was no longer the same character she was when the actress was cast. After Nguyen's rewrites to Lim's screenplay, Raya was now more vulnerable and warm, which weren't characteristics found in Steele's performance. As such, Kelly Marie Tran was cast to replace Steele, namely due to her breakthrough performance in Star Wars: The Last Jedi where she similarly played a complex character who was both incredibly strong and endearingly vulnerable. Tran also impressed the production team with her keen comedic timing, which played well with the humour of Lim and Nguyen's script.

Drawing inspiration from the numerous countries visited during the production team's research trip, the fictional world of Kumandra would be an amalgamation of many Southeast Asian lands. Raya's fighting skills were directly inspired by the Malaysian martial arts style Pencak Silat, while the combat style of her adversary Namaari was influenced by Muay Thai and Krabi-krabong from Thailand. Raya's weapons were similar to those found in the Filipino's stick fighting martial arts Kali and Arnis, while her sword is a kris, an asymmetrical dagger with distinctive blade patterning often found in Thai and Indonesian culture. Authentic Asian food is a constant presence in the film, which was instilled into the screenplay by head of story Fawn Veerasunthorn, who saw food as a metaphor for community and harmony.

With Hall and Estrada now in charge of a large team of 450 artists and over 900 Disney employees in total, the mammoth task of completing the film before its impending March release date was now underway. In total, the animation team would create over 72,000 animated elements including over 18,000 human characters and 35,000 non-human characters (one underwater sequence featured over 18,000 animated fish). The team utilised editing and rendering software programs such as Maya, Houdini, and Nuke, while the program Splash was employed for the film's water sequences.

Given Tran, Awkwafina, and the ensemble cast of voice actors were also stuck in their homes, Disney sent microphones and other recording equipment all over the globe for the dialogue recording sessions. To ensure the correct acoustics, Tran constructed a fort in her living room from chairs and blankets, while Awkwafina was sent a purposely crafted sound tent to set up in an office space in Sydney, Australia where she was filming Marvel Studios' Shang-Chi and the Legend of the Ten Rings. Young actor Izaac Wang found the best place to record was inside his parent's bedroom wardrobe. Each actor recorded their sessions with Hall, Estrada, and other key production members watching via Streamboat to offer their direction.

During the lockdown period, composer James Newton Howard wrote his original score for the film inspired by a mix of storyboards, rough animated sequences, and character sketches provided virtually through Streamboat. This marked the fourth time Howard had scored a Disney animated film, having previously composed the scores of Dinosaur, Atlantis: The Lost Empire, and Treasure Planet. To capture the traditional sound of the Southeast Asian region, Howard crafted a score that included skin drums, hand drums, rattles, gongs, flutes, and plucked instruments. The score was recorded in October 2020 when studios were given permission to reopen. However, there were strict social distancing restrictions in place, meaning the orchestra was limited to just 40 members at a time. In an ingenious move to make the orchestra sound bigger than it actually was, Howard simply doubled the recordings of each instrument for a fuller overall result.

Raya and the Last Dragon was released on March 5, 2021, through a unique release strategy. As cinemas were still either closed or only partially open in many regions of the world and audiences were potentially reluctant to leave the safety of their homes, the film debuted simultaneously in theatres and on Disney's streaming service, Disney+ for an additional "Premier Access" fee. This style of release would become a staple for Disney's theatrical titles in the first half of 2021. Its potential implications on their releases for the future remains to be seen.

The film received overwhelmingly positive reviews from film critics with a current Rotten Tomatoes score of 95%. Peter Travers of ABC News called the film a "wild, animated wonder ride from Disney that radiates female empowerment," Ben Travis of Empire magazine hailed the film as "a vibrant action-fantasy epic with another heroine who feels legitimately revolutionary," and Inkoo Kang of The Hollywood Reporter simple stated, "This is a film that knows how to soar."

Given Raya and the Last Dragon was released at a time when box office figures were nowhere near what they had been 12 months earlier, the film has naturally not earned a box office result similar to previous Disney animated titles. In its opening weekend in the U.S., the film debuted in 2,000 theatres, which is less than half the number of screens that showed Frozen II in late 2019. Two major cinema chains, Cinemark and Harkins, refused to run the film after declining Disney's rental terms, which they felt asked for an unacceptable profit share figure. Many suspected this was also a subtle protest of the film's simultaneous release on Disney+. The film debuted at #1 with an opening weekend box office of $8.6 million in the U.S. and a final worldwide gross of $121.6 million.

Raya and the Last Dragon was ultimately the breath of fresh air we all desperately needed after months of lockdown. With all the hallmarks of classic Disney animation, it's a dazzling, entertaining delight that gifts the world a courageous new Disney heroine for the ages and a hilarious, loveable sidekick who takes her place amongst the best there's ever been. Much like films like Mulan, Frozen, and Moana, Nguyen and Lim followed that classic Disney formula of taking a gutsy female protagonist and teaming them with a wise-cracking sidekick to provide lashings of levity. Sure, we may have seen this conceit numerous times now, but nobody does it quite like the House of Mouse.

From the moment Sisu bursts onto the screen, Awkwafina's sublime performance grabs your attention and refuses to let go. Overflowing with endless humour and gorgeous heart, Awkwafina's sensational vocal work is reminiscent of the late, great Robin Williams in Aladdin. Much like Genie, Sisu is a deeply empathetic soul, filled with a sweet naivete, crushing loneliness, and an insatiable spirit that's impossible to resist. Selecting the comedian as the goofy water dragon is a piece of ingenious casting perfection.

Voiced with the perfect balance of strength and vulnerability by Tran, Raya is a fresh, intelligent new icon for young viewers to emulate. And she's totally kick-ass to boot. Blessed with impressive fighting skills and natural ability with a sword, Raya swashbuckles her way through numerous thrilling set-pieces, overflowing with exciting fight choreography that taps into ancient martial arts with impressive precision. While she may have been woefully underused in those Star Wars films, Tran showcases her deft ability to lead a film with tremendous energy and endless warmth. Her earnest chemistry with Awkwafina is gorgeous, with Raya and Sisu forming a charming kinship that's the film's true heart.

As the group forms a rag-tag family of sorts, the true pertinent message of Raya and the Last Dragon is revealed. Kumandra tore itself apart through selfishness and xenophobia that saw once-civil lands now view each other as enemies. It's a timely reminder of the follies of isolationism that feels practically ripped from the headlines without ever feeling preachy or "woke." The path to peace can only be achieved through trust and solidarity against their common villain. It's a powerful theme cemented by Raya's ongoing battle with Namaari.

The film is a visually masterful creation that's one of the most stunningly animated films Disney has ever crafted. The photorealistic animation of Kumandra's landscapes is mind-blowingly authentic to the point you'd swear you were watching live-action footage. Each land is wildly unique, offering the animators the opportunity to dabble with contrasting environments that evoke the startling juxtapositions of Southeast Asia.

Terrifically entertaining, and entirely loveable, Raya and the Last Dragon is an absolute gem. It may occasionally tread familiar ground, but it still strides its own confident path with unique characters, stunning visuals, and a heartwarming narrative rooted in the power of trust, community, and friendship. And, of course, it features an ending that's unlikely to leave a dry eye in the house.

Is Raya and the Last Dragon a Disney Classic? It's only been four months since its release, so it's naturally far too early to know if this film will take a place as a true Disney Classic. But it has all those classic Disney magic elements and it arrived at a time when something so entertaining, engaging, and charming was achingly needed. We may yearn to forget much of what happened over the last 18 months, but this gorgeous film was one of the few bright points in a dark period in history.