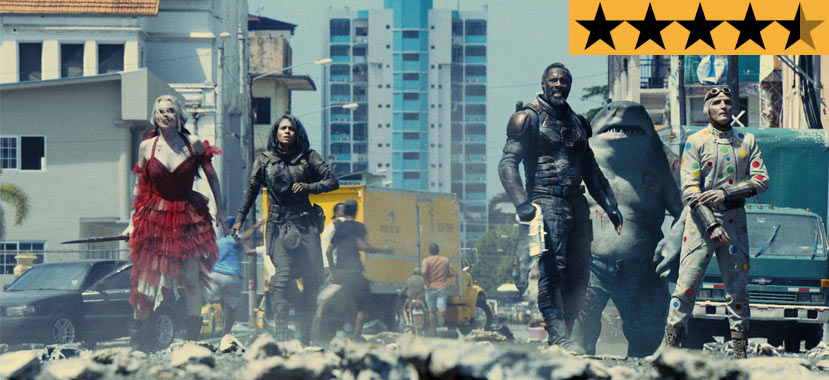 02 Aug

REVIEW – 'The Suicide Squad' is a giddily violent, gory, and outlandish romp that will leave you richly satisfied

If most films earned $746 million at the worldwide box office and walked away with an Academy Award, you'd likely call them a roaring success. Yet, you'd be hard-pressed to find many who consider anything about 2016's Suicide Squad particularly successful besides its introduction of the magnificence that is Margot Robbie's Harley Quinn. Whether it was the rumoured studio intervention of director David Ayer's vision or just poor execution all around, this muddled, hyper-coloured mess left a sour taste in the mouths of both fans and critics alike.

As the old saying goes, a change is as good as a holiday and this saga was clearly in desperate need of fresh blood. Enter Guardians of the Galaxy writer/director James Gunn who joined the DC Extended Universe after being unceremoniously dumped from the Marvel Cinematic Universe when Disney became spooked by some "controversial" old tweets. While the House of Mouse has rightly come to their senses and rehired Gunn for 2023's Guardians of the Galaxy Vol. 3, the filmmaker is DC's tremendous gain and the right man to get this franchise back on track.

A giddily violent, gory, and outlandish romp that will leave you richly satisfied, The Suicide Squad reaches a new pinnacle for the DCEU. Visually delicious, spectacularly weird, and tremendously fun, Gunn is clearly having the time of his life creating utter chaos seemingly without any boundaries. While the film is loaded with laughs, Gunn also wisely serves up a charming dose of heart and humanity to create one of the most fully rounded comic book adaptations in recent memory.

Part soft-reboot, part sequel but very much its own standalone beast, Gunn wastes little time plonking his audience right in the thick of the action. On the shore of a South American island called Corto Maltese, the unscrupulous director of A.R.G.U.S Amanda Waller (Viola Davis) has dumped two teams of Task Force X for a potential suicide mission. Once again, each member has been implanted with a microchip bomb that Waller will detonate if they attempt to escape their task.

On one side of the island, the noble Rick Flag (an impressive Joel Kinnaman) is leading a team that includes returning members firecracker Harley Quinn (a typically sublime Margot Robbie) and unhinged Aussie thief Captain Boomerang (Jai Courtney) plus new ring-ins T.D.K. (Nathan Fillion), Blackguard (Pete Davidson), Javelin (Flula Borg), Mongal (Mayling Ng), Savant (Michael Rooker), and a bug-eyed, six-foot-tall weasel (Sean Gunn). Yes, you read that last part correctly. As the film's tagline suggests, don't get too attached to any of these characters…

Meanwhile, on another beach, a second unit is taking advantage of Flag's group unknowingly being utilised as a diversion. After being recruited by Waller in typically despicable fashion, assassin-for-hire Bloodsport (Idris Elba) fronts a group consisting of the fiendishly patriotic Peacemaker (John Cena), the mournful Ratcatcher 2 (Daniela Melchior) and her pet rat Sebastian, the introverted Polka-Dot Man (David Dastmalchian), and the man-eating great white shark-human hybrid Nanaue aka King Shark (gloriously voiced by Sylvester Stallone).

When the surviving members of Flag's team join forces with Bloodsport and co., they're tasked with destroying Jotunheim, a Nazi-built prison at the centre of the island where nefarious villain The Thinker (Peter Capaldi) tinkers on something called "Project Starfish" and a giant weaponised pink alien starfish named Starro. Yes, you also read that correctly. It's best to just go with it, okay?

A self-confessed fan of the comics who has long dreamed of adapting this beloved DC property, Gunn's deep adoration for The Suicide Squad runs through every single frame of this film. It's so abundantly clear Warner Bros. have given the filmmaker free rein to do whatever the hell he wants. Gunn takes that freedom and runs with it to create one of the most downright entertaining films of the year. While Ayer's ambition was admirable, the predecessor was an unfortunate jumble of ideas and tones that simply didn't come together. Thankfully, everything fits together perfectly in the sequel.

Much like his work on the Guardians films, Gunn innately understands the absurdity of this premise and wisely leans heavily into the silliness and strangeness without ever crossing over into dumb territory. He's crafting absolute chaos, but it's all so meticulously planned that every time this film threatens to careen out of control, Gunn knows precisely how to pull it back from the edge. He gives reverence to this world and its characters, but knows the series of events of his narrative are utterly ridiculous. It's an impressive balancing act where a filmmaker is completely in sync with everything he's laying down.

Gunn's screenplay is an absolute dream and highlights why comic book adaptations rarely work when five or six screenwriters play a part in its creation. Injected with irreverent humour, sight gags and physical comedy, The Suicide Squad is one of the funniest superhero films ever made. Do all the jokes land? Of course not, but Gunn keeps proceedings moving so quickly that you won't even notice. Gunn takes full advantage of the comedic timing of his ensemble cast, particularly in moments where bickering characters are forced to team together.

With such a gargantuan roster of characters, it would take an eternity to sing the praises of each actor. There isn't a weak link in the chain here and it's another brilliant ensemble piece from a filmmaker who deftly knows how to get the best out of his cast. In her third outing as the manic villainess with a heart of gold, Robbie now inhabits Harley like a second skin. It's the role she was born to play, and, yet again, she effortlessly owns this film. Gunn wisely offers Robbie the film's best lines and one outrageously fabulous sequence in which Harley massacres a swarm of goons where their blood splatters turn into explosions of bubblegum-coloured flowers is the closest this film gets to high art.

As the film's straight man, Elba constantly grounds the film back to reality, even if his backstory and persona are painfully similar to that of Will Smith's Deadshot in the original film. Oozing charisma and action star stoicism, Elba leads the film with confidence and there's a pleasing level of depth to a character who could easily have been nothing but a one-note tough guy. Cena's Peacemaker feels like a cross between Marvel's heroic Captain America and The Boys' right-wing, morally bankrupt Homelander. While his goofy delusions are played for laughs, there's a surprisingly pertinent underbelly to a character who ultimately represents everything wrong with American imperialism.

In the history of DC comics, Polka-Dot Man has always been something of a running joke of a supervillain. His inclusion in this sequel may initially feel odd, but Gunn and Dastmalchian shrewdly turn the role into a tragic, empathetic figure with a genuinely affecting backstory and superpowers that actually cast the character as unexpectedly powerful. As the true heart and soul of the film, a terrific Melchior steals focus as the endearing Ratcatcher 2 who forms a charming connection with Bloodsport that taps into themes of legacy and redemption. Seven years ago, Gunn made audiences fall in love with a walking, talking tree and he does it again with a shark-human hybrid. Blessed with the gutturally deep voice of Stallone, Nanaue is an absolute delight whose sweet naivete is beyond loveable.

And that's the true success of The Suicide Squad. For all the outlandish action and insane violence occurring around his characters, Gunn never loses focus on the humanity of his piece. He invites his audience to give a damn about these people (and creatures), even if he often takes giddy delight in dispatching them in the most gruesome of methods. The fact I found myself genuinely connecting with a rat, a talking shark, or a man with glowing polka-dots on his face is some sort of cinematic miracle. Gunn doesn't play by the rules of superhero films. Or even cinema in general. At the end of the day, he's just a filmmaker having fun, and that ultimately becomes entirely infectious on an audience.

This review is already getting too long, so let me just also add praise for the bizarrely beautiful cinematography of Henry Braham, the sublime costume designs of Judianna Makovsky, and the myriad of people who had a hand in creating the film's spectacular visual effects, particularly a series of titles cards and overlays crafted in the most unique of ways. The soundtrack may not be filled with Guardians' Awesome Mix-type bops, but at least it avoids the ghastly, awkward needle drops found in the first film. And full credit to Gunn for wholly embracing the hard R-rating with lashings of gore, blood, and dismemberment to delight fans of truly adult cinema.

If there's a minor quibble to be made and something that stops this film from achieving a perfect score, it's in the final stretch where the conclusion falls into the "big, bad monster smashes up buildings" trope. With a running time of more than two hours, there's a touch too much excess that could have been trimmed and the finale feels like something we've seen too many times before. In saying that, the sight of a kaiju-esque starfish running amok is deliciously outrageous and Gunn knows how to pull the film back to its emotional core before it completely succumbs into the familiar.

You'll be hard-pressed to find a film this year as spectacularly fun as The Suicide Squad. It's an absolute f**king blast. The cheeky title is correct. This is the definitive adaptation of this comic book series that retcons everything wrong with its predecessor. We know Gunn has a penchant for making the weird entirely endearing, but what he achieves here is simply remarkable. Gunn embraces his B-movie sensibilities and mixes bizarre concepts with loveable characters to craft something both entertaining and engaging. What a gift it is to have Gunn play in both the DC and Marvel sandboxes. May he be allowed to continue competing for both teams for years to come.





Distributor: Warner Bros.
Cast: Margot Robbie, Idris Elba, John Cena, Joel Kinnaman, Viola Davis, Daniela Melchior, David Dastmalchian, Sylvester Stallone, Peter Capaldi
Director: James Gunn
Producers: Peter Safran, Charles Roven
Screenplay: James Gunn
Cinematography: Henry Braham
Production Design: Beth Mickle
Costume Design: Judianna Makovsky
Editors: Fred Raskin, Christian Wagner
Music: John Murphy
Running Time: 132 minutes
Release Date: 5th August July 2021 (Australia)