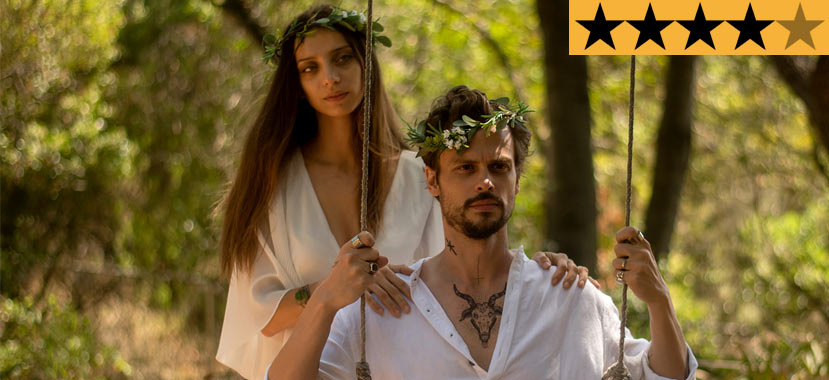 09 Aug

FANTASIA FESTIVAL REVIEW – 'King Knight' is a surprisingly feel-good movie that's not in Richard Bates Jr.'s usual wheelhouse

From writer/director Richard Bates Jr., King Knight centres on Thorn (Matthew Gray Gubler), the High-Priest of a modern-day Californian Wiccan coven he runs with his adoring wife, Willow (Angela Sarafyan). The pair have made a peaceful community for their clan of fellow Wiccans, which also doubles as the headquarters for Thorn's fledgling online birdbath business. The coven is busy planning for the upcoming Pagan holiday of Beltane, which celebrates fire, fertility, and the arrival of summer with numerous rituals and a large bonfire party that Thorn hopes will culminate in the creation of his first child.

Amongst the group are brewery owner Angus (Nelson Franklin) and his social justice writer girlfriend, Echo (Emily Chang), anti-government retail worker Percival (Andy Milonakis) and his pregnant social media influencer wife, Rowena (Kate Comer), and postman Neptune (Josh Fadem) and his cinema-loving life partner, Desmond (Johnny Pemberton). When Thorn isn't busy constructing birdbaths, he's serving as a relationship therapist for the numerous problems of the members of his coven.

The peace and harmony of Thorn's coven are unexpectedly shattered when Willow learns a dark secret from her husband's past he's been desperately attempting to keep hidden. After losing the trust of the entire group, Thorn ventures off on a voyage of self-discovery that will force him to confront his youth and uncover a path that will hopefully lead him back to Willow and his beloved fellow Wiccans.

A surprisingly feel-good movie that's not in Bates Jr.'s usual wheelhouse, King Knight may disappoint those familiar with his typically cynical work. But this is a filmmaker evolving to interesting new places while still retaining his trademark sharp satire, biting wit, and shrewd social commentary. Bates Jr. is gleefully poking fun at the absurdities of New Age sensibilities without ever falling into a manner that would be considered cruel or nasty.

That's not to suggest his screenplay doesn't take opportunities to make playful jokes of the "political correctness in overdrive" nature of Wiccan culture  (the coven has named their dog "Women's Rights"), but Bates Jr. actually presents Wiccan culture as something quite beautiful and misunderstood. The coven may dress exclusively in black, but Thorn explains that's merely because it "flatters every skin tone." And, sure, they may wear flower crowns, dance around a bonfire, and drink wine, but how is that really any different to what the kids get up to at Coachella? Satire only works when it treats its subject matter with respect, and that's why Bates Jr.'s subversive screenplay works so damn well.

While Bates Jr. serves up a hefting helping of silliness (including an inanimate pine cone and rock voiced by Aubrey Plaza and AnnaLynne McCord, respectively, a fantastical acid trip animated segment, and a hallucinatory sequence featuring Ray Wise as Merlin the wizard), there's deeper meaning bubbling beneath the surface. For all its satirical hilarity, at the heart of King Knight is a charming message of confronting your past and learning to accept yourself. Nobody's perfect and running from your faults only creates deeper problems. It's a film that also plays on the notion of how family can often be those we choose and not those we're connected to by blood.

The entire ensemble cast all get their moments to shine, but King Knight ultimately belongs to Gluber and Sarafyan whose chemistry is earnest and their love story is really quite delightful. Gubler is terrifically deadpan and endearingly empathetic as the effortlessly cool Thorn. There's initially an air of arrogance to his performance, but Gubler slowly peels that away as Thorn evolves throughout the narrative. Sarafyan is terrific as the waifish Willow whose calm, nurturing demeanour is tested by Thorn's deception, allowing the actor to play with light and shade in a fully rounded character.

On its surface, King Knight is a goofy, stoner comedy that takes a sharp poker to the world of Wicca. Those elements are absolutely here, but it's also a refreshing detour from Bates Jr. into something far more sincere and optimistic than his previous work. He balances the absurdity with heart and humanity to deliver a genuinely heartwarming film about self-discovery and self-love. Who would have thought?





Cast: Matthew Gray Gluber, Angela Sarafyan, AnnaLynne McCord, Nelson Franklin, Emily Chang, Johnny Pemberton, Josh Fadem, Kate Comer, Andy Milonakis, Ronnie Gene Blevins, Shane Brady, Barbara Crampton, Ray Wise
Director: Richard Bates Jr.
Producers: Richard Bates Jr., Robert Higginbotham, Colin Tanner
Screenplay: Richard Bates Jr.
Cinematography: Shaheen Seth
Production Design: Leigh Poindexter
Costume Design: Adriana Lambarri, Anthony Tran
Editor: Brit DeLillo
Music: Steve Damstra II
Running Time: 81 minutes