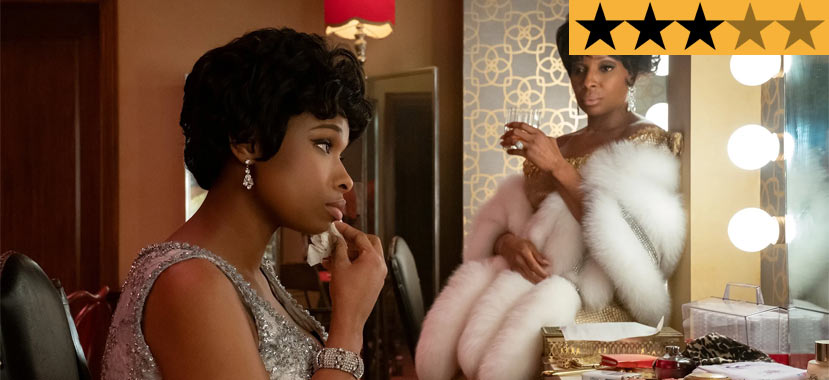 09 Aug

REVIEW – 'Respect' feels far too conventional for a woman who was anything but

Last year, it was Billie Holiday and Ma Rainey. The previous year, it was Judy Garland and Elton John. This year, it's the Queen of Soul. Hollywood's recent obsession with Oscar-bait biopics centred on infamous divas of music finally reaches the late, great Aretha Louise Franklin. A film that's been cooking around in development since early 2018, Respect is a paint-by-the-numbers biography that feels far too conventional for a woman who was anything but.

Saved by the magnificent performance of Jennifer Hudson, impeccable production values, and the jukebox soundtrack Hudson brings to life like only she can, Respect is a crowd-pleaser that ends on a tremendous high. But the film's unwillingness to explore the deeper complexities of Franklin's character and the passive style it breezes through key moments of her life fails to dig into the soul of this complicated icon.

Beginning in 1950s Detroit, we meet a ten-year-old Aretha Franklin (a terrific Sky Dakota Turner), whose miraculous voice is already stunning everyone around her. Pushed by her stern Baptist minister father, Clarence (Forest Whitaker) to entertain guests at his parties (including "Aunt Ella and Uncle Duke") and the members of his congregation, Aretha dutifully does as she's told. But the true love of Aretha's life is her adoring mother, Barbara (a brief but typically great Audra McDonald), who fled an abusive marriage and occasionally visits her daughter to warn of Clarence's controlling ways.

As Aretha (Hudson) blossoms into a demure young woman, Clarence uses his connections to ensnare his daughter a recording contract with Colombia Records under the guidance of music producer Jerry Wexler (Marc Maron). While her early recordings of jazz standards and blues covers earn Aretha minor success, she's stuck without any hits or sound of her own; something music legend Dinah Washington (Mary J. Blige) blisteringly points out when Aretha dares to sing one of Washington's songs at a club show.

Everything changes when Aretha meets street hustler Ted White (a miscast Marlon Wayans), who encourages the singer to break away from her controlling father and let him manager her career instead. Upon demanding Wexler find original songs for Aretha to record, her career finally begins to soar and the hits keep coming. But it soon becomes apparent Aretha has replaced her father with an equally manipulative and domineering man whose jealousy and insecurity threaten to derail her success.

After being hand-picked for the role by Franklin back in 2018, Respect is a full-circle moment for Hudson, who burst onto the scene in 2004 with a now-ironic audition of Franklin's "Share Your Love with Me" on American Idol. While Hudson shockingly finished 7th on the show, she hasn't looked back since that unfathomable decision. An Academy Award in 2006 for Dreamgirls. A Grammy in 2009 for her self-titled debut album. And now she's playing a woman who's clearly always been an inspiration.

A role she was clearly born to play, the sublime Hudson shines as the legendary soulstress whose bold, confident on-stage persona was ultimately a mask for tremendous, deep-seated trauma. What begins as an understated performance with minimal dialogue soon evolves into the story of a fierce woman taking charge of her life while falling into the grips of an obsessive work ethic to avoid facing the demons plaguing her. It's a layered performance with Hudson required to capture Franklin's initial shy, obedient nature, the diva attitude that came with success, and the confidence of a woman finally standing on her own two feet. Unsurprisingly, she never falters.

Hudson inhabits Franklin like a second skin with an innate ability to channel her voice and mannerisms without ever falling into caricature. As expected, her powerhouse performance truly comes alive when Franklin is in the studio or on stage with a roster of needle drops that cover Aretha's biggest hits. While Hudson has wisely chosen not to completely mimic Franklin's cadence and tone (it still sneaks in occasionally), she effortlessly captures the emotion and soul Franklin instilled in every song. Call it Oscar bait if you must, but she's banging on the Academy's door for a nomination come awards season.

It's just a shame such a wonderful performance is trapped within an aggressively average film. In her directorial debut, Liesl Tommy crafts a film that does little more than laboriously move through the motions of every tired biopic cliché in the book. While Tommy's style is confident and clean, she takes little to no risks as she drifts down a Wikipedia-style checklist of Franklin's life. Everything is presented in bullet point fashion with the narrative jumping from moment to moment without any true flow. It follows convention and audiences may lap that up, but those who yearn for a biopic to break tradition and dabble with introspection will surely walk away disappointed.

The screenplay by Tracey Scott Wilson never stops to truly explore anything, even with an exhaustive running time of two-and-a-half hours. The best biopics accept it's impossible to cram too much of an icon's life into one film without feeling shallow and ineffective. While Respect doesn't cover Franklin's entire life story, it still stretches too far and attempts to capture too much. Key elements of Franklin's life like her debilitating battle with alcoholism and her unsung activism work with Martin Luther King Jr. (Gilbert Glenn Brown) are only touched upon briefly as if Tommy assumes an audience is only interested in hearing Hudson sing.

Much like many music biopics of recent times, Respect wraps up with a showstopping musical number in an attempt to fool an audience into forgetting everything that preceded it. Bohemian Rhapsody had the Live Aid performance. Judy had "Over the Rainbow." And Respect goes for the heartstrings with Franklin's iconic rendition of "Amazing Grace" inside Los Angeles' New Temple Missionary Baptist Church. Hudson is simply astonishing in this moment, even if it all feels terribly manipulative. If that wasn't enough, the credits feature footage of Franklin's infamous fur coat-dropping performance of "(You Make Me Feel Like) A Natural Woman" at the 2016 Kennedy Center Honors. If nothing else, it will certainly have you leaving the cinema with a smile on your face and a tear in your eye.

With sumptuous period costume designs by Clint Ramos (in his first major feature film, no less) and lush vintage production design by Ina Mayhew, Respect is a gorgeous visual feast. The soundtrack takes full advantage of Hudson's heavenly vocal stylings and her ability to belt like few others. But this is ultimately just a jukebox musical without the true soul of the diva it's celebrating. The award-worthy performance of Hudson is worth the price of admission alone, but Respect can't rise above its unfortunate status of a conventional biopic that doesn't have anything new or interesting to say.





Distributor: Universal Pictures
Cast: Jennifer Hudson, Forest Whitaker, Marlon Wayans, Audra McDonald, Marc Maron, Tituss Burgess, Saycon Sengbloh, Hailey Kilgore, Skye Dakota Turner, Tate Donovan, Mary J. Blige
Director: Liesl Tommy
Producers: Harvey Mason Jr., Scott Bernstein, Jonathan Glickman, Stacey Sher
Screenplay: Tracey Scott Wilson
Cinematography: Kramer Morgenthau
Production Design: Ina Mayhew
Costume Design: Clint Ramos
Editor: Avril Beukes
Music: Kris Bowers
Running Time: 145 minutes
Release Date: 13th August 2021 (U.S.), 19th August 2021 (Australia)