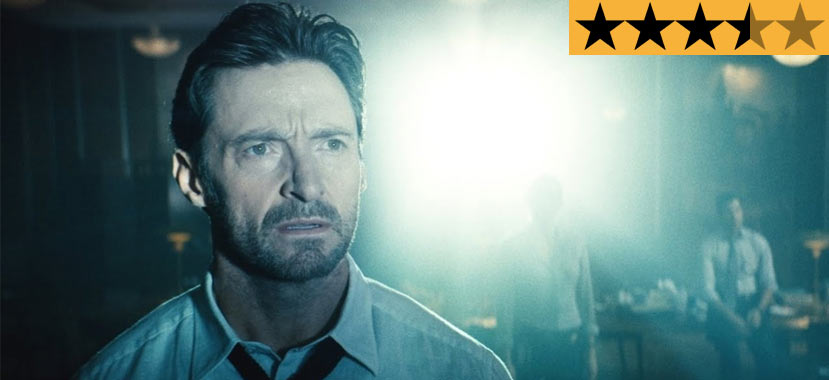 19 Aug

REVIEW – 'Reminiscence' is a film with boundless potential but unfortunate execution

There's always trepidation when an Emmy-nominated television writer/director makes the leap into feature films. While a television series has multiple episodes and potentially several seasons to weave the creator's vision, a piece of cinema is naturally far more confined. It's these limitations that create unfortunate issues for Westworld co-creator Lisa Joy's directorial debut Reminiscence, a film with boundless potential but unfortunate execution.

While Joy's scope is impressive and her ambition is hugely admirable, Reminiscence can't break free of the shackles of homage or limit its focus within the confines of a two-hour picture. An exposition-heavy screenplay plays to the strengths of the noir genre, but often seeks to merely (and lazily) repeat beats and tropes seen elsewhere. Saved by a committed ensemble cast and the occasional thrilling set-piece, Reminiscence frustratingly can't seem to find its own identity.

Set in the not-too-distant future, Reminiscence lays its scene in Miami, which has become a Venice-style river city after rising water levels finally began to swallow the streets. Climate change has also forced the city into a semi-nocturnal state where most citizens only leave their homes in the cooler temperatures of the night. While the rich and powerful "barons" snapped up the glamourous properties in "the drylands," the poorer residents are relegated to the seedy district known as the Sunken Coast where anything goes. Welcome to Joy's unsettling vision of tomorrow.

In the midst of such dystopian times, nostalgia has become a way of life with people desperate to revisit the past to escape their dreary present. Navy veteran turned "private investigator of the mind" Nick Bannister (a typically charismatic Hugh Jackman) and his long-time partner Watts (Thandiwe Newton) are on hand to allow their clients to utilise a new technology that taps into the brain and allows participants to literally re-live their most cherished memories.

Nick's world is thrown upside down late one night when seductive lounge singer Mae (a sensational Rebecca Ferguson) comes knocking on his door. At first, her request seems simple; she needs Nick's services to help locate her missing keys. But the mysterious Mae is hiding more than a few secrets, and a love-sick Nick is soon thrust into a world of corruption, conspiracies, and confusion.

A neo-noir thriller with heavy inspiration from classics like Double Indemnity and The Maltese Falcon and modern takes including Blade Runner and Minority Report, Reminiscence is a boldly ambitious undertaking for a directorial feature debut. Fans of Westworld will be keenly aware of Joy's deft ability to create a rich, detailed world for her characters to play in. That skill effortlessly translates to the big screen and her disturbing vision of Miami makes for a fabulous wonderland to set such a dirty tale. It also helps Joy has Ramin Djawadi on board to provides a spectacular, booming score that Hans Zimmer would be proud of.

But with so many intricate details and complex foundations to lay from Joy's complex screenplay, the first half of Reminiscence drowns in endless exposition before the action of her storyline can finally begin. It's the kind of film that suggests a limited series may have been a better path for such a complicated narrative. The pulpy dialogue is typically noir, as is Jackman's gravelly voiceover, but this stilted approach does often keep an audience at a distance. Joy also presents everything so damn seriously, leaving her writing to feel mechanical and rote.

With a twist-filled narrative rooted in corruption, greed, and class warfare, the opportunity for Reminiscence to say something interesting or pertinent on these themes mostly goes begging. It's a setup with no real payoff. The idea of a city literally being split into the haves and have-nots mostly seems to exist to merely allow production designer Howard Cummings the opportunity to create juxtaposing worlds. It's visually interesting but narratively hollow, which is surprising given the sharp themes Joy has tackled in Westworld.

The construction of Reminiscence ultimately flows almost like a video game, as we follow Nick plod around the open-world layout of Miami like we're pushing the D-pad to move our protagonist from A to B before cutscenes of wooden dialogue that often lead to chaotic fight sequences. At one point, a memory scene even places the audience in the POV of a drug dealer, which is rather baffling given none of the other reminiscence sequences are stagged in such fashion. It's an interesting stylistic choice, but one of numerous that don't quite cohesively come together.

It's left to Jackman, Ferguson, and Newton to save this film from itself. Thankfully, they mostly succeed. Jackman turns on the charm as a haunted hero determined to crack a puzzle where the pieces consistently fail to fit together. His chemistry with Ferguson is as electric as it was in The Greatest Showman, and, frankly, I'd be happy to watch the two pair together in another dozen films. A deliciously sultry and endearingly vulnerable Ferguson expertly plays the femme fatale archetype and she finds depth in a character that could have been nothing but a dull damsel in distress.

But it's Newton who steals this one as the only character willing to call Nick out on his bullshit and consistently proves to be the hero in his hour of need. It's a thankless sidekick role and a subplot involving Watts' estranged daughter goes absolutely nowhere, but the endlessly talented Newton spins it into something far more memorable. And bonus points for a brief but wonderful appearance from Roma breakout star Marina de Tavira as a squirrelly widow with secrets to unfurl. Please put her in more films, Hollywood.

Joy has crafted an elaborate, fascinating world of the future, but you can't help feeling there's so much more to explore than a two-hour film can cover. She pays deep homage to the noir genre and she clearly has a bright future as a filmmaker, but Reminiscence ironically leaves you fondly remembering those films that did this style of cinema more effectively. There are flourishes of genuine brilliance (an underwater sequence is truly stunning to behold) and this film comes agonisingly close to being something special. All the parts are here and there's still plenty to enjoy, but it's a film that's too busy paying tribute rather than blazing her own path.





Distributor: Warner Bros.
Cast: Hugh Jackman, Rebecca Ferguson, Thandiwe Newton, Cliff Curtis, Daniel Wu, Brett Cullen, Marina de Tavira
Director: Lisa Joy
Producers: Lisa Joy, Jonathan Nolan, Michael De Luca, Aaron Ryder
Screenplay: Lisa Joy
Cinematography: Paul Cameron
Production Design: Howard Cummings
Costume Design: Jennifer Starzyk
Editor: Mark Yoshikawa
Music: Ramin Djawadi
Running Time: 116 minutes
Release Date: 19th August 2021 (Australia)