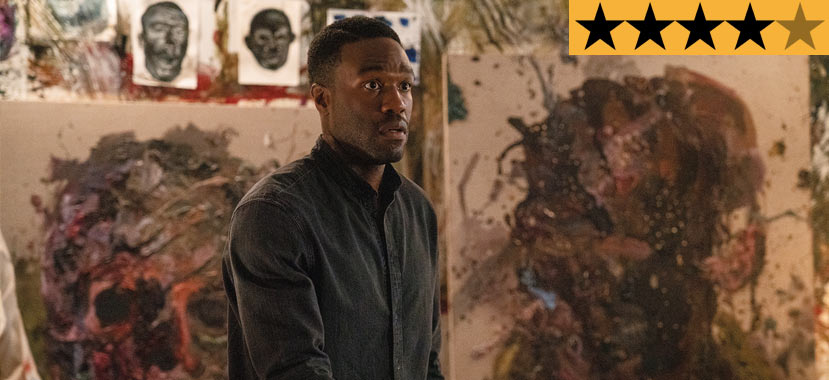 26 Aug

REVIEW – 'Candyman' has something to say and you best sit up and pay attention

Way back in 1992, a horror film delivered a slasher killer whose motivations were far more interesting than just plain psychotic. After years of villains who maimed and murdered hapless victims for no reason, Bernard Rose's Candyman presented a racially charged film whose killer represented everything America would rather forget. This boogeyman's revenge was entirely justified and the film drew parallels between the past and present in ways the horror genre had rarely dared touch.

Almost 30 years later, America may proudly declare its progress, yet it prefers to ignore the racism that still permeates in the shadows. The time is right for the return of a villain whose name demands to be said once again. Five times, in fact. With a sequel that's as unflinchingly relevant as its predecessor, Candyman brings plenty of horrifying terrors, but its raw power comes from a screenplay that blisteringly captures America's history of systemic racism and the unbreakable cycle of generational trauma.

In late 1970s Chicago, one-armed Sherman Fields (Michael Hargrove) was falsely accused of planting razor blades inside children's candy, leading to his brutal torture and murder at the hands of the racist police force. Sherman's violent death soon turned him into the vengeful urban legend figure with a hook for a hand known as "Candyman" who will murder anyone who summons him by daring to say his name five times while looking into a mirror.

In the present day, the myth of Candyman has been seemingly swept away by the gentrification of the former housing projects of Cabrini-Green. In one of the neighbourhood's newly-constructed swanky apartment buildings lives artist Anthony McCoy (Yahya Abdul-Mateen II) and his art gallery director girlfriend, Brianna Cartwright (Teyonah Parris). While Anthony's bright career was once flourishing, he's currently suffering a debilitating bout of painter's block.

Upon hearing the ghost story of Candyman from Brianna's brother, Troy (a scene-stealing Nathan Stewart-Jarrett), Anthony investigates the history of Cabrini-Green for artistic inspiration. This leads to a fateful encounter with local laundromat owner William Burke (Colman Domingo) who claims to have been visited by Candyman as a child and details the true story of folklore's origins.

When Anthony infuses the legend of Candyman into a work entitled "Say My Name," he unwittingly unleashes the murderous spirit back into the world with deadly consequences. As Anthony becomes obsessed with exploring the dark details of Cabrini-Green's past, his unexpected connection to Candyman begins to take over his life.

If there are any readers who are unsure if Candyman is a reboot, a remake, or a sequel, it's most definitely the latter, so a rewatch (or first-time watch) of the 1992 original may be wise before sitting down for this one. DaCosta wisely offers enough information about the predecessor for those entirely uninitiated, but she connects the films in such an interesting fashion and the immense impact of that connection will only hit harder for those familiar with what's come before.

Co-written by director Nia DaCosta with Win Rosenfeld and Jordan Peele (who also serve as producers), Candyman is a film that will undoubtedly launch a thousand think pieces. And I mean that as the highest possible compliment. There are lashings of subtext, metaphors, and allegories to be found within its narrative. Some are shrewdly subtle. Others are brutally obvious. For this reason, I must implore you to seek out the reviews of Black film critics. Please.

The subjects, themes, and topics discussed in this film are their stories. Practically everything DaCosta is presenting will hit Black viewers in ways white audiences can never fully understand. And while I will do my best to analyse what I believe DaCosta is saying with this superb film, my words are hollow compared to those who understand Black history with the kind of intimacy that only comes from first-hand experience.

You will likely hear many compare Candyman to Peele's Get Out or Us. Sure, it's similarly a horror film daring to tackle the topic of race and presenting the Black experience in modern-day America, but this is DaCosta's film and her deft touch is often more texturised than Peele's. The constantly evolving myth of Candyman is DaCosta's metaphor for the neverending cycle of depravity, racism, trauma, and pain inherited by each generation of Black Americans.

It's a legacy they cannot escape and Candyman is the mythological manifestation of generations of injustice that dwells in the bowels of somewhere like Cabrini-Green. Gentrification is a bullish method of tidying up the sins of the past, but DaCosta highlights how fancy new buildings and landscaped gardens are still built on the foundations of decades of historical racism that can never be swept clean. It's this collective trauma that ultimately binds Anthony to Candyman and forces him to reconcile with his own history.

For all its powerfully impressive social messages (and, again, Black critics will have far more to say on that), DaCosta weaves her intentions through a genuinely thrilling horror film that will consistently keep you on your toes. Horror fans will be richly satisfied with the film's gory death scenes which are wonderfully crafted through moments where you can and cannot see who is causing the bloodshed. While it may not be inherently "scary," DaCosta knows how to serve up brutal and unsettling murders that are as ingenious as they are disturbing.

DaCosta's sharp direction is only further elevated by the evocative cinematography of John Guleserian and the haunting, atmospheric score of Robert A. A. Lowe. Candyman begins with a gorgeous composition of shots on the streets of Chicago in what is a mesmerising tour of buildings against foggy skies from ground level looking up. Guleserian constantly plays with angles and often utilises mirrors to terrifyingly capture the violence DaCosta has crafted, while Lowe's menacing score deftly undercurrents every horrifying moment.

But it's DaCosta's inclusion of shadow puppet sequences to retell the historical stories of Candyman that prove the horror genre is a place that offers 21st-century filmmakers the opportunity to make unique artistic choices. There's something so hypnotically beautiful about using a vintage storytelling method like paper puppets to relay important information to an overall narrative. It's wildly clever and strikingly bold, yet still retains the emotional impact as if the sequences were being shot through live-action methods.

At the centre of Candyman is another remarkable performance from Abdul-Mateen whose career continues to go from strength to strength. His screen presence is simply magnetic and you cannot take your eyes off him through every scene. As his connection to Candyman strengthens, Anthony becomes an unreliable protagonist and DaCosta toys with an audience's perception of his motivations. But Abdul-Mateen finds the pathos in a complicated character, leading an audience to completely follow his every move and actually root for him to succeed.

The chemistry between Abdul-Mateen and Parris is sensational and the relationship between Anthony and Brianna never once feels anything but earnest. While Parris isn't given all that much to do, her character truly comes alive in the film's climax and she holds her own when given the opportunity. Domingo is typically commanding, particularly in moments when William is educating Anthony on the trauma of his people he seems blind to. As Brianna's caustic, sarcastic little brother, Stewart-Jarrett brings a much-needed dose of levity, especially one genuinely hilarious line I dare not spoil.

It's rare these days to complain a film is too short, but, at just 91-minutes long, Candyman leaves you yearning for more. That may be wise to leave audiences salivating for a follow-up, but it causes DaCosta to hastily rush through her finale in a rather haphazard style. However, the final moments of this film are simply breathtaking, so it's easy to overlook the manic way DaCosta arrives there. What's less easy to excuse is the occasional ghastly line of stilted dialogue, particularly those found in a sequence set in a high school bathroom that feels wildly inauthentic and almost out of place amongst the rest of the film.

Candyman is a film that not only innately understands the legacy of its origin story but the importance of capturing the shameful history of the nation in which it lays its scene. The brilliant DaCosta has something to say and you best sit up and pay attention. It's uncomfortable viewing for numerous reasons, but therein lies this film's immense power. With her sophomore effort, DaCosta has cemented herself as a filmmaker to watch with the confidence to not only deliver something artistically interesting but narratively relevant. The real horror of Candyman is not the blood that's being spilt, but the generations of bloodshed that preceded it.





Distributor: Universal Pictures
Cast: Yahya Abdul-Mateen II, Teyonah Parris, Nathan Stewart-Jarrett, Colman Domingo, Vanessa Estelle Williams, Rebecca Spence, Michael Hargrove
Director: Nia DaCosta
Producers: Ian Cooper, Win Rosenfeld, Jordan Peele 
Screenplay: Jordan Peele, Win Rosenfeld, Nia DaCosta
Cinematography: John Guleserian
Production Design: Cara Brower
Costume Design: Lizzie Cook
Editor: Catrin Hedström
Music: Robert A. A. Lowe
Running Time: 91 minutes
Release Date: 26th August 2021 (Australia)