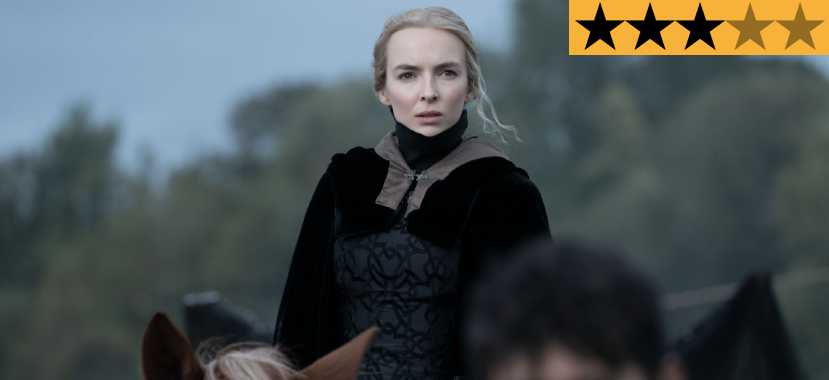 20 Oct

REVIEW – 'The Last Duel' is more of a medieval soap opera than a scathing critique of misogyny

As the old saying goes, there are two sides to every story. But in the case of Ridley Scott's latest Middle Ages epic The Last Duel, there are actually three. A film that admirably attempts to dabble in the #MeToo movement but gets somewhat lost along the way, this is more of a medieval soap opera than a scathing critique of sexism and misogyny. Whether that's a compliment or a criticism will be entirely up to the viewer.

Impeccably crafted and brilliantly acted, The Last Duel runs long and doesn't truly take off until its final chapter. Its ambitious narrative style of presenting the same story from three differing perspectives is impressive and the third act is rather masterful. But clunky dialogue abounds and the repeated use of a woman's trauma as a plot device feels disingenuous in a film bumblingly attempting a sharp critique of female prejudice.

Based on Eric Jager's 2004 nonfiction book of the same name, The Last Duel is told in three chapters from the viewpoints of our protagonists. Set in 14th century France, the film centres on valiant knights Jean de Carrouges (Matt Damon) and Jacques Le Gris (Adam Driver). While the two begin the film as close friends and allies on the battlefield, they are soon torn apart when the manipulative Count Pierre d'Alençon (Ben Affleck) selects Le Gris as his personal squire and appoints the knight to the captaincy of a fort de Carrouges' family had held for generations.

In an attempt to restore his finances and reputation, de Carrouges marries Lady Marguerite de Thibouville (a mesmerising Jodie Comer), the daughter of the wealthy but disgraced Sir Robert de Thibouville (Nathaniel Parker). After fighting in Scotland, de Carrouges returns home to learn Le Gris brutally raped Lady Marguerite while she was left alone in their castle. Knowing d'Alençon would never allow a fair trial against his own squire, de Carrouges uses a legal loophole to challenge Le Gris to a deadly duel. If he wins, it will be seen as "God's will" and thereby prove Lady Marguerite's claims. But should he lose, she will be seen as a treacherous liar and promptly burned at the stake.

Co-written by Damon and Affleck with Nicole Holofcener, The Last Duel is constructed over three chapters, each titled "The Truth According to" Carrouges, Le Gris, and Marguerite. As the title cards appear before each chapter, the words "the truth" linger longer on one particular section, suggesting it's the one we should really be accepting as fact. In a wise move, Holofcener is responsible for writing Marguerite's chapter, blessing her story with the female authenticity it requires. Unsurprisingly, the third act is where the film really shines.

It's a curious conceit to present essentially the same storyline from different points of view, albeit one that can prove rather tedious. It allows the audience to not only see how events can be uniquely interpreted but also how each character views themself and those around them. This is most noticeable when viewing the chapters of de Carrouges and Le Gris where the former views himself as a brave hero defending his wife's honour and the latter sees himself as an innocent man wrongly accused of a crime.

With a running time of over two-and-a-half hours, you can't shake the feeling the two male chapters could have been combined and the end result would still be the same. For this reason, it's rather odd the tagline ("The true story of a woman who defied a nation and made history") and marketing for The Last Duel focus so heavily on Marguerite, yet the film takes an exhaustive amount of time to allow Comer to rightfully take the reigns. By the point she does, the viewer may have already checked out.

When viewed through Marguerite's gaze, we see her husband for the insecure, petulant, and unloving man he really is. It's a stark contrast to how de Carrouges views himself and his actions, creating a fascinating juxtaposition that highlights how this story is more complex than it first appears. We're allowed to see Marguerite for the strong, intelligent woman she really is, which only amplifies our empathy towards her plight in life.

But where the film wades into murky waters is the inescapable feeling Marguerite's ordeal is almost being exploited for the sole purpose of narrative conflict that will lead to the titular final battle between two unlikable male protagonists. Scott, Affleck, and Damon clearly had the best of intentions in presenting a story that showed how the shameful treatment of women in the 14th century disappointingly still has pertinency today. And they've enlisted Holofcener to avoid the film being seen entirely from the male gaze. Yet, their avenue of proving Marguerite's innocence is to subject the audience to graphically witness her rape not once, but twice.

You may be thinking that's to highlight how Le Gris' views his actions in a less predatory manner than Marguerite's version of events. You'd be wrong. The sequence is played in an almost identical fashion in both chapters, leaving no room for any misinterpretation that he's not guilty of sexual assault. It serves no narrative purpose to repeat this scene, especially given its length and brutal nature. Yes, it highlights the egregious crime committed against an innocent woman, but brandishing it in the faces of an audience gives the impression Scott doesn't trust an audience to put the pieces together themselves.

There will no doubt be some who applaud Scott for refusing to shy away from the brutality of this narrative, but there's a fine line between realism and exploitation. It's a film that wants applause for daring to portray a female's experience in an age where they had no voice. Sadly, it lacks the ability to capture that in an effective manner. On the surface, the titular duel may appear to be centred on one man's quest to vindicate his wife who refused to sit quietly. In reality, Marguerite is merely being used as a pawn in de Carrouges' game to slaughter his enemy, save his lagging image, and satisfy his childish ego.

The Last Duel is the first blindingly obvious example of Oscar bait this season. From cinematographer Darius Wolski and editor Claire Simpson to production designer Arthur Max and costume designer Janty Yates (and, of course, Scott, Damon, Driver, and Affleck), practically everyone involved in this film has either won an Academy Award or been nominated. Max and Yates are likely to be mentioned for awards season consideration for their dazzling, intricate period creations. Likewise with Wolski and his sumptuous visuals and the epic score by Harry Gregson-Williams that perfectly underplays the bombastic elements Scott has crafted.

As for the cast, a mullet-clad Damon is typically solid as the cantankerous protagonist whose true demeanour is only unveiled in the closing chapter. Driver is perfectly cast as the smarmy squire whose duplicitous charm hides the nefarious villain within. A platinum-blonde Affleck chews the scenery as the hedonistic Count whose manipulation of the players ultimately drives the narrative. It's an often silly, camp performance but it injects some much-needed levity into an otherwise dour film. But the film ultimately belongs to the magnificent Comer, who instils Marguerite with grace and guts in a stellar performance that would have benefited from more screentime.

The final battle is expectedly violent, bloody, and unflinchingly brutal, reminding us of Scott's deft skill to create fight sequences that are equal parts thrilling and horrifying. If action and war were the sole focus of The Last Duel, it would be a glorious success. But it reaches for a grander message of prejudice and sexism without the gravitas or nuance to hit its intended target. It wants to highlight the female experience, but can't take its focus off the men who make said experience so painful.





Distributor: 20th Century Studios
Cast: Matt Damon, Adam Driver, Jodie Comer, Ben Affleck, Harriet Walter, Marton Csokas, Nathaniel Parker, Adam Nagiatis, Alex Lawther, Zeljko Ivanek
Director: Ridley Scott
Producers: Ridley Scott, Kevin J. Walsh, Jennifer Fox, Nicole Holofcener, Matt Damon, Ben Affleck
Screenplay: Nicole Holofcener, Ben Affleck, Matt Damon
Cinematography: Dariusz Wolski
Production Design: Arthur Max
Costume Design: Janty Yates
Editor: Claire Simpson
Music: Harry Gregson-Williams
Running Time: 153 minutes
Release Date: 21st October 2021 (Australia)