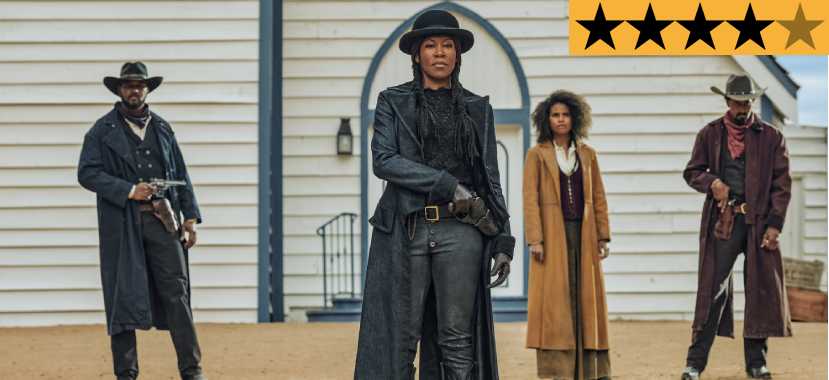 23 Oct

REVIEW – 'The Harder They Fall' is the coolest Western in years

In 2020, we were served a throwback classic Western in the form of Paul Greengrass' charming News of the World. In 2021, co-writer-director Jeymes Samuel is here to give the genre one almighty shake with the coolest Western in years. A brutal, bloody affair that finally places an ensemble cast of actors of colour at the forefront of such a narrative, The Harder They Fall is stylish as hell, hugely entertaining, and uproariously fun.

An ambitious directorial debut that announces the arrival of a bold new filmmaking talent, The Harder They Fall is Samuel's love letter to the Western genre in his own delectably delicious style. Blessed with a stellar cast and loaded with numerous thrilling action sequences, it's a supremely enjoyable ride that breathes new life (and blood) into the Old West. Buckle up for this one. It's an absolute firecracker.

Set in the post-Civil War South and based on real Black cowboys (though not necessarily true events), the film begins with an unmerciful prologue showing the murder of the parents of young Nat Love (Anthony Naylor Jr.) at the hands of ruthless outlaw Rufus Buck (Idris Elba). Still sporting the crucifix scar Rufus left on his forehead, a now-adult Nat (Jonathan Majors) has dedicated his life to avenging his parents and punishing those responsible for their death.

When Nat learns Rufus has somehow received parol from his life prison sentence, his quest for vengeance may finally be completed and two rival gangs are set for an epic showdown. Nat's crew includes fast-talking and even-faster-shooting Jim Beckwourth (RJ Cyler), expert sniper Bill Pickett (Edi Gathegi), tiny-but-tough saloon bouncer Cuffee (a breakthrough performance from Danielle Deadwyler), and fiery stage singer "Stagecoach" Mary Fields (Zazie Beetz). In Buck's posse, there's "Treacherous" Trudy Smith (Regina King) and quickdraw Cherokee Bill (Lakeith Stanfield) plus an army of goons who fall in line under his strongarm.

Throw in the ever-reliable Delroy Lindo as Bass Reeves and Deon Cole as Wiley Escoe, two of the first Black deputy U.S. Marshalls in American history, and Samuel has amassed one of the year's best ensemble casts to bring his blood-soaked screenplay to life. From rising stars like Majors and Beetz to veterans like Lindo, Elba, and King, there isn't a weak link in this chain. After a string of great film and TV work, Majors continues to prove he's a superstar in the making. He's got the swagger to effortlessly lead this Western, but digs deeper into his complex and flawed protagonist to offer something entirely compelling. And his chemistry with Beetz is off the charts.

Elba's penchant for menacing villains makes him the perfect choice for someone as cruel, unforgiving, and intimidating as Rufus. He plays the villain as unsettlingly calm and cool until a moment demands he unleash his terrifying true nature. But nothing can prepare you for his gripping, emotion-drenched final monologue, which, frankly, could be enough to earn him awards season consideration. Stanfield, Gathegi, and Cyler each get their moment in the sun, even if their supporting characters do feel a touch undeveloped.

While the film inherently belongs to the epic rivalry between Nat and Rufus, it's incredibly pleasing to find Samuel craft a Western with fully-rounded female characters who are integral to the overall plot and ultimately call the shots, even if their male counterparts remain blissfully unaware of their secret power over them. Beetz's Mary could have easily been a throwaway love interest or a damsel in distress archetype. Sure, she plays both roles at certain moments in the film, but Mary is blessed with independence and intelligence to elevate the character beyond a tired cliche.

Dripping with poise and dignity that masks her deadly temper, King is typically transcendent. Trudy's death stare could melt the flesh from your face, and King is clearly having a ball playing it bad. When Trudy and Mary come to blows in a climactic battle, the result is absolute magic. But the real scene-stealer proves to be Deadwyler as the gender-fluid Cuffee. She's an enigma of a character, but Deadwyler's endless charm and wildly endearing nature create such a loveable supporting player who constantly threatens to run away with the entire film. If anyone deserves a spin-off, it's Cuffee.

Co-written with Boaz Yakin, Samuel's screenplay follows familiar plot points and tropes of the Western genre. Its narrative is inherently conventional and noticeably basic, but when the characters are this genuinely engaging, it hardly matters. And Samuel and Yakin throw in a doozy of a twist in the final stages that adds tremendous emotional resonance to everything that preceded it. What the film may lack in substance, it more than makes up for in style.

There will be inevitable comparisons to the unique style of Quentin Tarantino's Django Unchained, and there's no doubt Samuel has been influenced by the auteur's entire body of work. From the heavily saturated colour palette and Mihai Malaimare's lively cinematography to Martin Whist's dazzling production design and Antoinette Messam's gorgeous costume work, The Harder They Fall is a genuinely beautiful film to behold. And one that's so damn entertaining to boot.

The action sequences are bursting with energy, momentum, and, of course, drenched in blood. The fight choreography is swift and frenetic and Malaimare never shies away from capturing every brutal blow with occasionally inspired angles like filming proceedings through the reflection of a dying man's eye. As a musician himself, Samuel litters the film with a brilliant soundtrack of hip-hop, reggae, and funk needle drops somehow perfectly blend with a classic Western score Ennio Morricone would be proud of. It's this fusion of old and new that makes Samuel's film so gloriously refreshing.

Samuel's love for the Western genre is everywhere you look in The Harder They Fall. But it's his determination to honour both the underrepresented Black cowboys of the Old West and Black culture in general that's far more impressive. Unlike a Tarantino film, you won't hear the N-word uttered by the characters here. The notion of racism and injustice bubbles under the surface, but Samuel is more concerned with empowering and elevating his heroes (and anti-heroes) and celebrating their powerful existence in a white-dominated society.

A sensational debut from Samuel and a fine example of what can occur with the right cast, The Harder They Fall is a total blast. Beautifully crafted and impeccably acted, it's a rousing crowd-pleaser full of charm, thrills, and blood splatters. It's a bold reinvention of the Old West we simply haven't seen before. It may follow familiar traditions, but it also blazes its own unique path with a style all its own and an energy that's genuinely palpable.





Distributor: Netflix
Cast: Jonathan Majors, Idris Elba, LaKeith Stanfield, Regina King, Zazie Beetz, Delroy Lindo, Danielle Deadwyler, Edi Gathegi, RJ Cyler, Damon Wayans Jr., Deon Cole
Director: Jeymes Samuel
Producers: James Lassite, Lawrence Bender, Jeymes Samuel, Shawn Carter
Screenplay: Jeymes Samuel, Boaz Yakin
Cinematography: Mihai Malaimare
Production Design: Martin Whist
Costume Design: Antoinette Messam
Music Supervisor: Jeymes Samuel
Editor: Tom Eagles
Running Time: 137 minutes
Release Date: 21st October 2021 (Australia), 3rd November 2021 (Netflix)