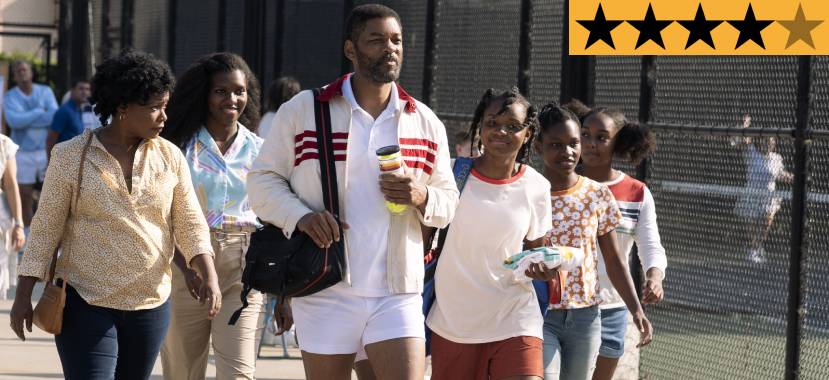 04 Nov

SYDNEY FILM FESTIVAL REVIEW – 'King Richard' is a rousing crowd-pleaser that will leave you feeling so damn good

From Brad and Denzel to Angelina and Nicole, you know an actor has really hit the big time when they're known by just their first name. In the sports world, there are two instantly recognisable first names that have dominated the cultural zeitgeist for more than two decades; Venus and Serena. That's why it may seem strange Hollywood's first attempt to capture their life in an Oscar-bait biopic bears the moniker of their father. After viewing King Richard, you'll completely understand why.

An entirely rousing crowd-pleaser that will leave you feeling so damn good, King Richard may not be the most revolutionary of sports biopics, but it's certainly one of the most enjoyable. An award-worthy Will Smith delivers a terrific performance that will surely elicit the actor plenty of attention this awards season. The film can be a touch too schmaltzy, but it's rather impossible not to be swept away by it.

Set in the early 1990s, King Richard follows the journey of Richard Williams (Smith), a brash father who is unshakably convinced his two young daughters, Venus (Saniyya Sidney) and Serena (Demi Singleton) are the next great tennis superstars. Living in the rough California neighbourhood of Compton with his wife, Brandi (a stellar Aunjanue Ellis) and her three daughters, Tunde (Mikayla LaShae Batholomew), Isha (Danielle Lawson), and Lyndrea (Layla Crawford), Richard spends his days coaching Venus and Serena while working exhausting night shifts as a security guard to make ends meet.

A man with a detailed plan for success, Richard has been training his daughters for years with the assistance of Brandi, but even someone as confident as this devoted father realises the girls need professional coaching if they're ever going to crack the big leagues. With homemade pamphlets and an amateur sales video in tow, Richard manages to woo high-profile tennis coaches Paul Cohen (Tony Goldwyn), the coach of John McEnroe and Pete Sampras, and Rick Macci (a terrific Jon Bernthal), the man behind 90s wunderkind Jennifer Capriati. But when Richard continues to bullishly demand both coaches follow his methods, questions arise whether Venus and Serena's father is a help or a hindrance to their burgeoning careers.

While the title carries his name and the film is told from his perspective, King Richard is still inherently centred on Venus and Serena's path to future glory. As much as everything in the Williams' lives revolves around tennis, it wouldn't even feel right to call this a sports movie. Director Reinaldo Marcus Green has crafted an intimate familial drama that just happens to focus on one of the most famous sporting families in history. It's a testament to how one's family can spurn success in sport, particularly when you have a patriarch like Richard Williams.

For those who were around in the early 90s, you may already be familiar with Richard and his infamous antics. He was known to argue with the press, pontificate his daughters' abilities to anyone who would listen, and generally draw as much attention to himself as possible. It was all supposedly in the name of promoting Venus and Serena to the world, but it cast him as a divisive figure who was equally adored and maligned. The film rightly refuses to shy away from Richard's often bombastic, stubborn behaviour while offering a more rounded depiction of a man who really did seem to just want the best for his family.

As a Black man in a white world, Richard is someone who's never been taken seriously and faced both mental and physical attacks at every turn. As a father, he refuses to allow his children to suffer the same fate, particularly from a luxury sport drowning in casual racism and white privilege. Richard can be frustratingly pig-headed and blinded by ambition, but never cruel or vicious to his daughters. He's not some evil tyrant bullying his children to succeed. He encourages as much as he disciplines. But he can be entirely contradictory, like teaching his children the value of humility while frequently failing to control his own braggadocious behaviour.

In other words, Richard Williams is human. And it's pleasing to see a biopic reject the notion a film of this nature has to completely deify its protagonist. It also helps to have someone as empathetic and charismatic as Smith bringing this complex character to life. In the best performance he's delivered in well over a decade, Smith completely inhabits the role he was clearly born to play. A complicated mix of charming politeness and raging determination, Richard is as confident as he is insecure. Smith delivers a nuanced turn that innately understands this man is flawed but completely well-intentioned. While there's a long way to go to Oscar night, Smith is widely being touted as a frontrunner for Best Actor at this year's Academy Awards, and it's easy to see why.

This is naturally a great showcase for Smith to shine, but he's surrounded by a terrific supporting cast who each do their utmost to steal focus when they can. Ellis makes her mark as a long-suffering wife and mother who continually bites her tongue until she can no longer remain silent. And when Brandy unleashes, you best get out of her way. In what could have been nothing more than a thankless supportive partner role, Ellis delivers a balanced performance that highlights how a wife's devotion has its limits but when it comes to loving her family, her loyalty knows no bounds. Expect to hear Ellis' name come awards season too.

Venus and Serena may not always be the focus of their own story, but Sidney and Singleton each get their moments. Sidney is given the meatier storyline, particularly as Venus' devotion to her father begins to run in contradiction to her own potential success. But the real surprise package is Bernthal as an eccentric coach whose boundless energy and passion for tennis inject some levity and light into the film, especially during moments of exacerbation at Richard's stubbornness. Bernthal is known for more gruff, monotone roles, so it's wonderful to see the actor succeed with something wildly different.

Green and screenwriter Zach Baylin can't help but tap into practically every biopic trope in the book. It's a film that has a tendency to waddle into overly maudlin territory, but it works for the story being told and the audience Green appears to be targeting. There are a few saccharinely sweet (and mildly unbelievable) cliché moments that rob the film of its authenticity, particularly the final scene which is saved by a phenomenal new original track "Be Alive" from Beyoncé playing over footage and photos of the real Williams family that will undoubtedly also be part of awards chatter. When the narrative settles into its family drama groove and stops focusing too heavily on the Wikipedia facts of the Williams' lives, it breaks away from the biopic mould it could have become trapped within.

With sweeping cinematography from Robert Elswit and sharp editing from Pamela Martin, the tennis sequences are electric, but you will be yearning for more of them. That being said, King Richard is not a tennis movie. It's the inspiring tale of two staggeringly talented young females and the man who brought their greatness from Compton to Centre Court. Sure, this biopic doesn't exactly break new ground, but it's happy to serve its audience a crowd-pleaser that will make them smile, cheer, and maybe even shed a tear or two. Its heart is hard to resist and Smith's sublime performance is its ace to play.





Distributor: Warner Bros.
Cast: Will Smith, Aunjanue Ellis, Jon Bernthal, Saniyya Sidney, Demi Singleton, Tony Goldwyn, Noah Bean, Kevin Dunn, Erika Ringor, Mikayla LaShae Bartholomew, Danielle Lawson, Layla Crawford
Director: Reinaldo Marcus Green
Producers: Tim White, Trevor White, Will Smith
Screenplay: Zach Baylin
Cinematography: Robert Elswit
Production Design: Wynn Thomas, William Arnold
Costume Design: Sharon Davis
Music: Kris Bowers
Editor: Pamela Martin
Running Time: 158 minutes
Release Date: 19th November 2021 (U.S.), 13th January 2022 (Australia)