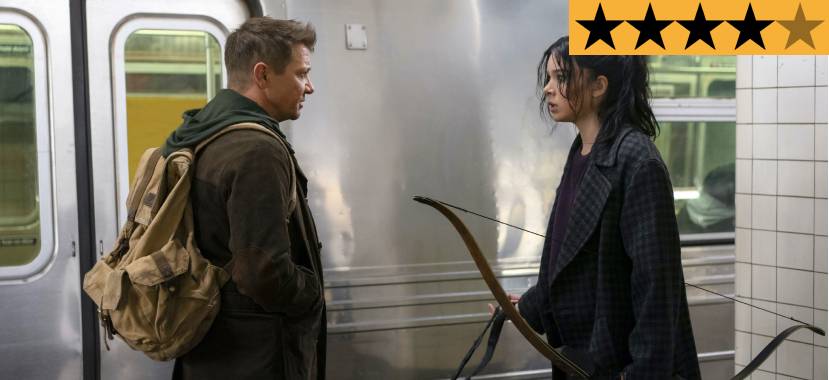 24 Nov

REVIEW – 'Hawkeye' is a refreshing, low-stakes change from the grandiosity of other Marvel programs

After 18 months completely devoid of new content from Marvel Studios, producer Kevin Feige has certainly wasted no time packing as much into 2021 as possible. Three feature films and four spin-off Disney+ TV series later and it's time to wrap up the year with a bow…and an arsenal of arrows. Yes, that loveable gruff rogue Clint Barton is finally getting his chance in the spotlight with his very own TV show. But he's going to have to share that limelight with a plucky young protégé and a one-eyed dog who loves pizza.

Welcome to the surprisingly wonderful world of Hawkeye, a refreshing, low-stakes change from the grandiosity of other Marvel programs. Rooted in character development yet still dotted with the action MCU fans clamour for, Hawkeye soars on the sparkling dynamic between its two leads. Its sprightly, playful tone is hugely entertaining, but a looming sense of danger breaks the levity and keep you on your toes. Two episodes down and I'm shocked at how heavily invested I am in a series I didn't think we needed.

Set in the aftermath of Avengers: Endgame, Hawkeye finds Clint (Jeremy Renner) back in New York City for a quick Christmas family vacation with his children, Lila (Ava Russo), Cooper (Ben Sakamoto), and Nathaniel (Cade Woodward) while his wife, Laura (Linda Cardellini) remains back at their Missouri farm. In town for the premiere of Rogers: The Musical, a big, lavish Broadway retelling of the life of Captain America, Clint is still grappling with the loss of his beloved best friend Natasha Romanoff and the difficult duality of being both a family man and an Avenger.

Meanwhile, scrappy college student Kate Bishop (a terrific Hailee Steinfeld) has returned home to Manhattan for the holidays where her wealthy socialite mother, Eleanor (Vera Farmiga) and her smarmy new boyfriend, Jack Duquesne (Tony Dalton) await. A champion in archery, fencing, and martial arts, Kate has idolised Hawkeye since the day he essentially saved her life in 2012 during the infamous Battle of New York.

When Kate stumbles upon a black market auction attempting to sell the costume of Clint's former alter ego Ronin, she snatches the outfit and dishes out some vigilante justice to a series of goons from the so-called "Tracksuit Mafia." Naturally, this immediately puts a target on Kate's back, forcing Clint to send his kids back to their mother and begrudgingly help the new apprentice he's inadvertently taken under his wing. As the two join forces, Clint must confront the enemies of his past and hopefully fulfil his promise to be home in time for Christmas Day.

Hawkeye is a street-level chapter in the Marvel universe and that's by no means a criticism. After the complex multiverse madness found in Loki and What If…?, it's a pleasing change of pace to view something with decidedly low stakes. This isn't about saving the planet or the universe. It's ultimately centred on a father who wants to spend Christmas with his family and a young woman trying to find her place in the world.

While the first two episodes feature hints of a potentially grander scheme of the Tracksuit Mafia, these introductory instalments are more concerned with introducing Kate as someone who seems destined to inherit the Hawkeye mantle from the beleaguered Clint who appears to be on the brink of retirement. Renner has remained coy on his future involvement in the MCU, so as much as Hawkeye is Clint's first solo adventure, it's clear this is also the vehicle to warm audiences to his replacement.

Thankfully, the endlessly endearing Steinfeld proves to be a sensational addition to the world of Marvel. Steinfeld completely shines in this role, bringing such vivacious energy and humour to the wide-eyed Kate whose thirst for mystery and crime-fighting constantly find her getting into trouble. With the naivete of youth, she's completely unaware of the danger she's willingly placing herself in, putting her at odds with an exacerbated Clint who would love nothing more than to settle down in a quiet life of peace.

When forced together, Clint and Kate are a classic buddy cop pairing. He's the jaded, exhausted hero with one eye on the exit out of this chaotic life. She's the unpredictable newcomer who sees the best in her idol and longs to be taught everything he's learnt. Born from the charming chemistry between Renner and Steinfeld, the contradictory dynamic between Clint and Kate is the show's true strength. Their playful banter consistently feels authentic and Renner is wonderful as the worn-out superhero whose curmudgeonly demeanour hides a heart of true gold.

Besides offering Clint a goal to work towards, there's no inherent reason this show is set at Christmas. Regardless, New York City in the midst of festive joy is always a beautiful sight to behold. This isn't a grim, gritty Manhattan crime drama. It's NYC at its brightest, liveliest time of year, offering this series a glossy aesthetic and an occasionally jolly score from Christophe Beck. And the addition of a pizza-guzzling, one-eyed stray dog named Lucky only amplifies the show's light tone.

The show's breezy vibe is naturally punctuated by thrilling action sequences with electric fight choreography and, of course, plenty of arrows soaring through the air. But the first two episodes of Hawkeye are far more concerned with cementing the foundations of its characters and the charming ying-yang partnership of Clint and Kate. It's brimming with heart and humour to create something quite modest by comparison to what's come before but no less interesting and engaging. If Steinfeld is the future of the Hawkeye narrative, we're in very good hands.





Distributor: Disney+
Cast: Jeremy Renner, Hailee Steinfeld, Tony Dalton, Vera Farmiga, Linda Cardellini
Directors: Rhys Thomas, Bert & Bertie
Executive Producers: Kevin Feige, Louis D'Esposito, Victoria Alonso, Trinh Tran, Brad Winderbaum, Rhys Thomas, Jonathan Igla, Alex Lalonde
Head Writer/Creator: Jonathan Igla
Cinematography: Eric Steelberg, James Whitaker
Production Design: Maya Shimoguchi
Costume Design: Michael Crow
Music: Christophe Beck
Running Time: 6 episodes, averaging 45 minutes each
Release Date: 24th November 2021 (Episode 1 & 2 and then weekly)