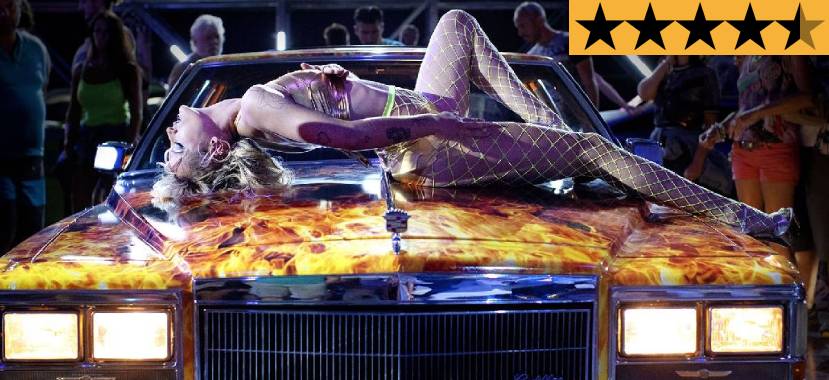 25 Nov

SYDNEY FILM FESTIVAL REVIEW – 'Titane' is truly unlike anything else you will see in 2021

It's not often I find a film that leaves me truly speechless. Then again, it's not every day a film like Julia Ducournau's staggeringly audacious Titane comes along. It may be the most utterly insane film I've seen all year and I sincerely mean that as a compliment of the highest order. Provocative and unnerving but also strangely tender and beautiful, Titane is truly unlike anything else you will see in 2021.

Ducournau's unwavering confidence radiates in every single frame of this boldly original body horror tale that's as disturbingly shocking as it is wildly impressive. Its extremities won't be for everyone (there were walk-outs and at least 13 people fainted at my Sydney Film Festival screening), so consider yourself warned. This one isn't for the faint-hearted. But if you can open your mind to this twisted, macabre masterpiece, the rewards are definitely worth it.

The distributor has been purposely vague on the plot details, so I will try my hardest to follow suit. It's best to head into Titane as cold as possible on what Ducournau has cooked up. As a young child, Alexia (Agathe Roussell) survived a car accident that left her with a titanium plate inserted into the side of her skull that has seemingly given her a particular fetish for cars. Working as a dancer at sleazy car shows allows Alexia to fulfil the sexual pleasure she elicits from skin-on-metal contact. This also makes Alexia a target for predatory men who inflame her violent tendencies with bloody results.

Meanwhile, lonely fire chief Vincent (Vincent Lindon) is still clinging to the hope that his son, Adrien will be found despite the fact he disappeared more than a decade earlier. When the manipulative Alexia takes advantage of Vincent's depressed state, the two begin to form a unique bond based on mutual pain. But Alexia is quite literally hiding a dark secret that threatens both her life and the web of lies she's spun to her newfound surrogate father.

It's killing me not to go into more detail with the constantly zig-zagging screenplay Ducournau has written, but it truly is better to allow you to discover everything for yourself. What Ducournau has crafted feels reminiscent of Bong Joon Ho's work in 2019's Parasite where you truly never know where this film is heading and therein lies the thrilling fun. On one hand, this is an unsettling horror film loaded with graphic violence and brutal imagery. On the other, it's a surprisingly warm portrait of two lost souls finding an unlikely connection in the strangest of circumstances.

With her directorial debut in 2016's cannibal coming-of-age horror Raw, Ducournau proved she wasn't a filmmaker who shied away from the nastier side of the horror genre. With Titane, she continues to push the boundaries. The violence will initially make you uncomfortable, but there's a twisted sense of cathartic humour consistently running alongside Alexia's outlandish actions. Maybe it says something about my cinematic sensibilities that I found myself chuckling at a simple murder that spirals out of control, but whatever wavelength Ducournau is riding, I'm right there beside her.

But for all its shocks and horrors, Titane is grounded by its intimate character study of an unpredictable young woman experiencing both a physical and emotional metamorphosis. Rousselle delivers one hell of a star-making debut performance you truly cannot take your eyes off. Roussell projects such a magnetic presence that she's able to elicit your sympathy for Alexia even in the face of unspeakable acts. Alexia is a brash, fearless wild child who will genuinely do anything to survive. She's destructive and chaotic, but when she meets Vincent, she regresses under his fatherly care. He's able to tame the unruly beast with the love she's never known.

Lindon brings a complex mix of masculinity and fragility to his raw, sorrowful performance. Vincent may be a macho fireman who injects steroids into his rear and flexes in front of a mirror, but he wears his heart on his sleeve and his kindness knows no bounds. Whether Vincent comprehends the truth about Alexia is ultimately irrelevant. He's found a kindred spirit and Lindon's empathetic work makes every action completely authentic. Vincent brings some much-needed soul to the film after its bloodthirsty first act. The growing chemistry between Roussell and Lindon is bizarre in nature, but somehow makes perfect sense.

Titane is a film that will get under your skin and just keep burrowing. You won't shake it from your mind for days on end. It might disgust you, but maybe that's entirely what Ducournau wants. It's the kind of cinema that would make David Cronenberg stand up and cheer. Amidst all the grotesque imagery, Ducournau presents a nuanced, warts-and-all portrait of humanity that deftly dances along the line between vulgar and beautiful. An astonishing achievement from a filmmaker in total control of her unique vision, Titane is one of the best films of the year.





Distributor: Kismet
Cast: Agathe Rousselle, Vincent Lindon, Garance Marillier, Lais Salameh, Bertrand Bonello, Dominique Frot
Director: Julia Ducournau
Producers: Jean-Christophe Reymond
Screenplay: Julia Ducournau
Cinematography: Ruben Impens
Production Design: Laurie Colson, Lise Peault
Costume Design: Anne-Sophie Gledhill
Music: Jim Williams
Editor: Jean-Christophe Bouzy
Running Time: 108 minutes
Release Date: 25th November 2021 (Australia)