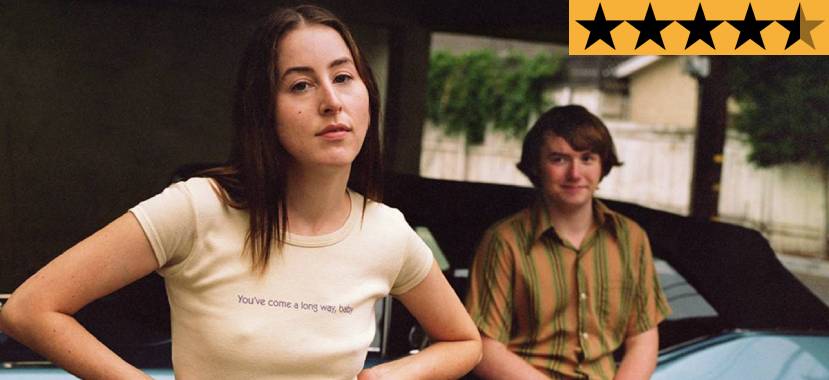 19 Dec

REVIEW – 'Licorice Pizza' is so effervescently joyous that it will likely leave you floating out of the cinema

The films of writer-director Paul Thomas Anderson typically feature a dark streak bubbling beneath the surface. From the seedy underbelly of the world of pornography in Boogie Nights to the twisted romance of Phantom Thread, Anderson is a filmmaker who isn't afraid of life's nastier elements. Perhaps given the miserable events of the last two years, Anderson has decided to take a refreshingly different route with Licorice Pizza; a film so effervescently joyous that it will likely leave you floating out of the cinema.

A wistfully nostalgic portrait of Los Angeles in the 1970s and a charming coming-of-age comedy, Licorice Pizza is Anderson's ode to New Hollywood and an age of innocence and reckless abandonment. Led by star-making turns from Alana Haim and Cooper Hoffman and meticulously crafted with deliberate pacing and an intoxicating tone, it's a pleasure to spend 133 minutes with one of the best films of the year.

Set in the San Fernando Valley in the early 70s, Licorice Pizza follows uber-confident 15-year-old Gary Valentine (Hoffman aka son of the late, great Philip Seymour), a mildly successful child actor with the soul of an entrepreneur well beyond his years. While waiting in line for his annual high school photo, Gary spots 25-year-old Alana Kane (Haim in a spectacular debut performance), an effortlessly cool flower child working as the photographer's assistant.

Instantly smitten, Gary strikes up a conversation with Alana and bumblingly attempts to ask her out on a dinner date. Given their age difference, Alana laughingly turns him down, but Gary's infectious charm leaves an impact and she offers her friendship instead. After Alana agrees to chaperone Gary on a New York press tour for his variety show with ageing star Lucy Doolittle (Christine Ebersole), the duo soon form a tight connection.

From here, the pair will work together on Gary's new business selling waterbeds and cross paths with hairstylist and wannabe film producer Jon Peters (Bradley Cooper), brooding movie star Jack Holden (Sean Penn), and City Councilman and candidate for Los Angeles Major Joel Wachs (Benny Safdie). While their bond grows ever stronger, Gary's desire for more than just a friendship won't die. Even as Alana takes paths that lead her away from Gary, she can't help but gravitate back to him. But is this a romance or just a platonic kinship?

There have already been some online rumblings regarding the ten year age gap between our two protagonists. And, sure, there's some minor discomfort in viewing a May-December relationship through a 21-century gaze. Thankfully, Anderson isn't presenting Alana and Gary's burgeoning connection as some sort of grand love story. Their partners-in-crime style friendship is awkward and clumsy, and ultimately just two lost souls finding solace in the other's presence. Alana isn't some sort of monstrous predator looking to corrupt a teenager. While Alana welcomes the opportunity to spend time with someone who makes her still feel like a kid, she constantly rejects his advances to progress their relationship to anything further. He's got a crush on her. The feeling ain't mutual.

Gary represents a typical child star who's been treated like an adult and placed in very adult situations, causing him to grow up at an exponential rate to the point he sees nothing wrong with attempting to date a 25-year-old female. He's a slick, smooth-talking hustler whose dogged persistence is as grating as it is charming. His baby face appearance is a total contradiction to his wildly assured demeanour. There's almost a smudge of tragedy here where the proximity to Hollywood has robbed this teenager of his innocence. And perhaps Alana is the only one who can ground Gary back to some semblance of reality.

Neither of these potentially irritating characters would work in the hands of the wrong performers. That's why it's rather staggering Anderson has entrusted these roles to two total newcomers. Unsurprisingly, he knows exactly what he's doing. Rock star Haim isn't a fresh face to those familiar with her stellar Grammy-nominated music career in the eponymous band she fronts with her sisters, Danielle and Este (who cameo in the film along with their father, Moti and mother, Donna). But as far as acting goes, Haim delivers one of the greatest debut performances you will ever see. She has that electrifying x-factor you can't teach. And you simply won't be able to take your damn eyes off her. A (movie) star is born.

With the kind of radiant confidence that's usually only exuded from veteran performers, Haim is astonishingly great. She makes it all look so effortless and natural like she's been working on movie sets for decades. Maybe it helps HAIM have always felt like a band plucked straight from the 70s, allowing Haim to slot into this era as if she's always been there waiting for this very moment. Haim nails Alana's breezy spirit but also taps into her terrified insecurities of a young woman doing everything she can to resist transitioning into adulthood. She's magnetic in every single scene and launches straight into consideration for this year's battle for Best Actress at the Oscars.

Given the illustrious career of his acclaimed father, Hoffman could easily fall under the weight of the mantle he's inherited. You can occasionally see his late father's mannerisms, but he's playing a character the elder Hoffman simply didn't touch in his early years. Philip Seymour's inherent coolness didn't come until later in his career. Much like Haim, Cooper already has it in spades. From the moment Gary swaggers on screen, Hoffman exudes beguiling energy you can't resist. Is he cocky? Absolutely. Pompous? A little. But, somehow, Cooper makes it so unbelievably lovable that you can easily see how everyone around Gary gets pulled into his orbit, especially Alana.

Anderson constructs Alana and Gary's unexpected friendship through a series of episodic moments where members of his stellar ensemble cast each pop in for what's really just an extended cameo. Dressed in a white jumpsuit and sporting a perfectly coiffed hairstyle, Cooper has a ball chewing the scenery as the deliciously unhinged and unpredictable Peters. It's barely eight minutes of screen time, but it's so fabulously memorable that it could be enough to capture the Academy's attention.

Ebersole is glorious as tempestuous Hollywood starlet clearly modelled on Lucille Ball. Penn is typically solid as the drunken actor with a penchant for danger and pontificating about the past. Harriet Sansom Harris almost steals the entire film with one single scene as a talent agent whose evaluation of Alana is brutally relevant and downright hilarious. But a running gag featuring John Michael Higgins as a casually racist restaurant owner pal of Gary's falls flat on its face. He may be an accurate product of this era, but his racism just feels dreadfully out of place in such a bubbly narrative.

Anderson's gorgeous writing and direction is a dream. He's crafting everything here with so much warmth and love, which isn't his usual wheelhouse, but it works wonders. Much like Quentin Tarantino's work in Once Upon a Time in Hollywood, it's Anderson's love letter to an era that clearly means a lot to him. It's romantic and nostalgic with a personal touch we haven't really seen from him before. Aided by lush cinematography from Anderson and Michael Bauman and perfectly vintage creations from costume designer Mark Bridges and production designer Florencia Martin, its sultry visual aesthetic is as inviting as its narrative. And, naturally, it features a needle-drop heavy soundtrack sprinkled alongside a minimal yet blissful score from Jonny Greenwood; his third (!) offering this year after Spencer and The Power of the Dog.

You'd be hard-pressed to find a more delightful film this awards season. Licorice Pizza is tender, hilarious, and giddily entertaining. It flows with an infectious vibe you can't help but groove along with. Anderson deftly captures the mood of adolescence where freedom abounds and anything is possible. Haim and Hoffman make for a terrific pairing with the kind of lightning-in-a-bottle chemistry we only see once or twice a year. Much like your carefree younger days, you'll genuinely be sad to say farewell to them. Almost immediately after meeting Alana, Gary prophesies, "I'm never going to forget you." And the sensational Haim does everything she can to make sure her audience won't either.





Distributor: Universal Pictures
Cast: Alana Haim, Cooper Hoffman, Skyler Gisondo, Mary Elizabeth Ellis, John Michael Higgins, Christine Ebersole, Harriet Sansom Harris, Sean Penn, Tom Waits, Bradley Cooper
Director: Paul Thomas Anderson
Producers: Sara Murphy, Adam Somner, Paul Thomas Anderson
Screenplay: Paul Thomas Anderson
Cinematography: Paul Thomas Anderson, Michael Bauman
Production Design: Florencia Martin
Costume Design: Mark Bridges
Music: Johnny Greenwood
Editor: Andy Jurgensen
Running Time: 133 minutes
Release Date: 26th December 2021 (Australia)