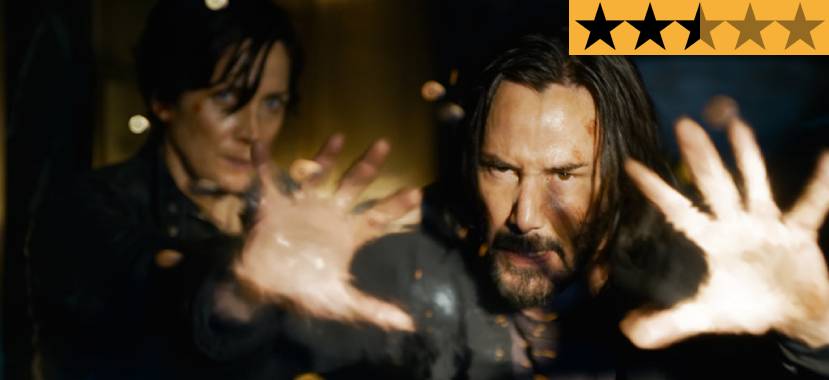 22 Dec

REVIEW – 'The Matrix Resurrections' stands as more of a tribute to the past than its own unique entity

In 1999, The Wachowski's The Matrix was a genuine game-changer. It broke new ground with its stunning visuals and time-bending action sequences and captured the cultural zeitgeist like few other films in the pre-millennium era. Two disappointing sequels followed and the franchise has laid dead for over two decades. It's surprising a sequel has taken this long to get off the ground, particularly from a studio like Warner Bros. whose penchant for eliciting as much as it can from existing IP is only surpassed by the House of Mouse.

In 2021, Lana Wachowski's The Matrix Resurrections is more of a tedious game you feel like you've played too many times before. It's nostalgia cinema that focuses too heavily on the past without pushing towards a new direction into the future. That may please those who prefer sequels to stick to the program. For anyone expecting something exciting and new, this relatively unnecessary sequel will prove terribly disappointing.

Set roughly 20 years after the events of the original trilogy, The Matrix Resurrections finds humans and machines reigniting their previously dormant battle for control of the world. Now living in San Francisco, Neo (Keanu Reeves, still as effortlessly cool as he was two decades ago) is back to his old moniker Thomas Anderson. Thomas is now a video game designer who created an extremely popular game trilogy called "The Matrix" based on the "visions" that have plagued him for years that suggest he lived a previous life as a messiah figure known as The One. Of course, we know they're not really visions. Wink, wink.

When his money-hungry business partner Smith (Jonathan Groff) informs Thomas a sequel is going to be made by their distributor Warner Bros. whether they're involved or not (ba-dum tish!), he's forced to workshop ideas for a follow-up, causing his hallucinations to become worse. While his analyst/therapist (Neil Patrick Harris) continues to dismiss Thomas' concerns and pump him full of blue pills, he can't shake the feeling something isn't right, particularly after a chance encounter with a woman named "Tiffany" (Carrie-Anne Moss) who he feels as though he's met before.

Thomas' world is flipped upside down once again when a new younger version of Morpheus (Yahya Abdul-Mateen II) comes offering that infamous red pill and a chance to reopen his eyes to the real world. While Thomas is initially hesitant, Tiffany is soon dragged into the conflict, forcing him to get involved. The duo join forces with plucky blue-haired gunslinger Bugs (Jessica Henwick) and a team of new recruits to quash the new machine uprising.

In the initial stages, The Matrix Resurrections is deliciously dry and meta-aware. It takes cheeky jabs at the very nature of lazy reboots and corporate interference in artistic license while also self-deprecatingly acknowledging how overexposed "The Matrix" became in the pop culture zeitgeist. Just the fact that Wachowski and co-writers David Mitchell and Aleksandar Hemon have the nerve to name drop Warner Bros. in a conversation about studios gobbling up IP and doing with it as they please is gloriously impressive. It's fabulously ironic timing, given Warner Bros. bastardised The Matrix just a few months ago in the over-bloated mess that was Space Jam: A New Legacy.

It's rather disappointing that the film then loses total focus of its self-awareness and ultimately falls into the tired reboot tropes it was so cleverly satirising. Much of what follows feels like generic rehashings of elements from the previous films that Wachowski attempts to convey as throwbacks or homage. While the action is still entirely exhilarating and exciting to view, the set-pieces follow so many of the same beats and even shot constructions that this almost stands as more of a remake of the original than a reboot of the franchise. Wachowski splices in numerous flashes of clips from the original trilogy, which is clearly meant to spark your memory of past events. However, it ultimately merely highlights the surprising replicated nature of this sequel.

Regardless of the action sequences feeling like retreads, they're still crafted with impeccable special effects and energetic fight choreography. The infamous "bullet-time" effect is heavily on display in scenes using multiple time speeds to wildly dramatic effect. The fast-paced action we know and love from this franchise is served up in spades, particularly the grandiose finale that's loaded with explosions, bullets, and extras and scenery flying all over the place. Does it all feel very familiar? Sure, but at least it livens up the film after lengthy periods of exposition-heavy conversational scenes.

That being said, there is naturally a charming nostalgic warmth to that familiarity, particularly for those of us who were wide-eyed, sci-fi-loving teenagers back in 99. It's a joy to see Reeves and Moss together again after all these years. Their chemistry remains as solid as it was two decades earlier and they're both fully committed to Neo and Trinity's love story as they are the film's action sequences. But, again, the film relies too heavily on audiences already being invested in their grand romance than presenting any new information or character arcs regarding why they're destined to be together.

Given the transition journey of both Wachowski sisters, we now fully realise The Matrix was their allegory for the trans experience. In retrospect, it's easy to see how a journey of self-discovery where an individual embraces their true identity ultimately represented their own gender dysphoria. And those metaphors are on display again in this sequel. Yet, this time, we recognise them much more easily.

Thomas and Tiffany are separated from their true identities as Neo and Trinity, respectively. They're both miserable in their fake lives with a yearning desire for some form of transformation. Once again, Morpheus' red pill allows them to become who they truly are. This kind of queer subtext (and casting two openly gay actors as our potential antagonists) has to be celebrated, even if the original films tapped into similar themes.

Look, I fully appreciate there will be few attending this film without some existing connection to this franchise, so it's hitting its target audience with the beats and nostalgia they'll be clamouring for. And there will be those who adore this film and consider my views completely "wrong." If you're satisfied with something that stands as more of a tribute to the past than its own unique entity, you'll certainly have a very good time with The Matrix Resurrections. For me, this sequel did little to prove its necessity. It cynically mocks the idea of lazy sequels, but then becomes one itself. Ironically, there's a cat in this film named Déjà vu. And, really, that's all this movie feels like.





Distributor: Warner Bros.
Cast: Keanu Reeves, Carrie-Anne Moss, Yahya Abdul-Mateen II, Jessica Henwick, Jonathan Groff, Neil Patrick Harris, Priyanka Chopra Jonas, Jada Pinkett Smith
Director: Lana Wachowski
Producers: James McTeigue, Lana Wachowski, Grant Hill
Screenplay: Lana Wachowski, David Mitchell, Aleksandar Hemon
Cinematography: Daniele Massaccesi, John Toll
Production Design: Hugh Bateup, Peter Walpole
Costume Design: Lindsay Pugh
Music: Johnny Klimek, Tom Tykwer
Editor: Joseph Jett Sally
Running Time: 148 minutes
Release Date: 26th December 2021 (Australia)