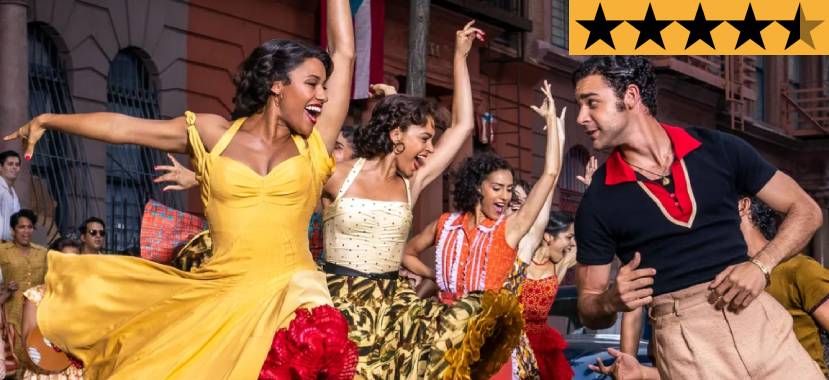 22 Dec

REVIEW – 'West Side Story' is an exhilarating reimagining that's pure cinematic magic

A film that won ten Academy Awards (the outright second-highest tally in history) including Best Picture is hardly something you would think requires a remake. Remember how well that 2016 update of Ben-Hur went? To be fair, Steven Spielberg's take on West Side Story is officially an adaptation of Jerome Robbins' 1957 stage musical and not a reimagining of Robert Wise and Robbins' 1961 Oscar-winning classic. Regardless, comparisons will inevitably be drawn. Lucky for us, Spielberg has crafted a gorgeous new interpretation that practically leaps off the screen. In short, it's utterly spectacular.

Set during the gentrification of New York City in the late 1950s, West Side Story focuses on the Upper West Side turf war between two rival gangs of different ethnic backgrounds. Consisting of the descendants of white European immigrants, The Jets are led by quick-tempered Riff (a terrific Mike Faist), who feels as though everything around him is "getting sold or wrecked or being taken over by people that I don't like."

Riff lays the blame for the loss of his neighbourhood squarely on Puerto Rican immigrants and directs his anger at The Sharks, a squad led by patriotic Bernado (David Alvarez), who refuses to fully assimilate with American culture. When Riff proposes a rumble between the two groups, he begs his best pal and former Jet member Tony (Ansel Elgort) to join the fight. After recently spending time in jail for assault, Tony wants nothing to do with the skirmish.

While at a local interracial dance, Tony locks eyes with Bernardo's younger sister, Maria (a wonderful debut from Rachel Zegler) and instantly fall in love. Hey, it's a musical. Just go with it. Blissfully unaware of how dangerous their potential union could be, Maria is quickly advised to stay away from Tony by everyone around her, particularly Bernardo's America-loving girlfriend, Anita (a phenomenal Ariana DeBose). But as Tony and Maria's love grows, a war is brewing between both factions with catastrophic consequences on the horizon.

For all his many, many accomplishments, Spielberg has never dipped his toe into the world of movie musicals. After witnessing what he's crafted with West Side Story, it's clear the filmmaker not only adores this genre of cinema but should consider directing more musicals in the future. Spielberg and screenwriter Tony Kushner wisely don't attempt to completely reinvent this beloved classic of both stage and screen. They rightly pay deep respect to what's come before while still blazing their own path to present something that feels both familiar and fresh.

The deepest connection to the past appears in the form of the legendary Rita Moreno (who also serves as one of the film's executive producers), who won an Oscar for Best Supporting Actress back in 1961 for her dazzling performance as Anita. In this version, Moreno plays Valentina, the widow of "gringo" drugstore owner Doc, who gives Tony the fresh start he's looking for and acts as the wise conscience he needs to avoid another stint in prison. Naturally, Valentina's own interracial romance provides a ray of hope that Tony and Maria might have a fighting chance.

Valentina is the film's true soul and Morena unsurprisingly knocks it out of the park with her deeply touching and endlessly warm turn. In a major shift from previous incarnations, Kushner has Valentina perform the film's iconic love ballad, "Somewhere" that's normally reserved for Tony and Maria. Sitting alone in the drugstore, Moreno sings the track in a quiet tone that perfectly captures the yearning emotion of the late Stephen Sondheim's lyrics. Bring the tissues. It's one of the film's numerous highlights.

The most obvious push towards the present lies with the reimagining of the character Anybodys (Iris Menas), the androgynous wannabe Jet, who, much to their chagrin, constantly hovers around the gang begging to be given a chance to join their ranks. In previous adaptations, this character was referred to as a "tomboy" who still identified as a female. Here, Kushner rewrites Anybodys as a non-binary character who defiantly rejects this label. Some may dismiss this as a gimmick, but Kushner ingeniously utilises Anybodys' gender fluidity as a means to allow the character to stealthily observe the behaviour of the Sharks, which ultimately proves to be an asset to their mission. It's a remarkable reimagining of a role whose existence was previously nothing more than a punchline. Now Anybodys gets to be a hero.

There will be those with valid reservations surrounding a white director handling a film seeking to capture the Latinx immigrant experience. But Spielberg understands the responsibility of such a piece and handles the film's cultural depictions with deft respect and attention to detail. In a move that will likely ruffle some feathers, numerous scenes featuring Spanish dialogue do not feature English subtitles. Frankly, I found this incredibly refreshing. While English-speaking audiences may not understand the words, they feel the emotion of every word. For something that could easily create confusion, it actually makes perfect sense. For Spanish-speaking audiences, it's a special element Spielberg has included just for them. What a concept.

Kushner's brilliant screenplay doesn't shy away from the racist stain that was (and still is) gentrification and the prejudice and xenophobia that permeated the streets of New York City during this period. He draws a direct parallel with America's past and present without the narrative feeling preachy or the dirty word that is "woke." West Side Story is inherently a tale of racism and Kushner isn't afraid to lean into that whenever he can. America is more divided than ever, so it seems fitting Spielberg is delivering a tale of the pain and tragedy that occurs when lines are drawn in the name of patriotism.

For all its illustrious reputation, the 1961 adaptation hasn't aged well due to the white-washing of the film's Latinx characters, especially the now-unfathomable casting of Natalie Wood as Maria. Spielberg rights this wrong by seeking out actors of Hispanic descent to ground the film in the authenticity lacking from its predecessor.  After an open casting call that elicited over 30,000 applicants, newcomer Zegler scored the role of a lifetime as our starry-eyed protagonist. And it's an opportunity she's doesn't waste. From her heavenly soprano voice to her sweet soul, Zegler is a revelation. She captures Maria's delicate naivete without falling into foolishness and you genuinely cannot take your eyes off her.

After a terrific film debut last year in The Prom, DeBose continues to prove she's a superstar in the making. And one that could genuinely repeat Moreno's success with a Best Supporting Actress Oscar of her own. DeBose makes the role of Anita entirely her own, which is a miracle given the iconic status of Moreno's performance. DeBose unashamedly radiates sensuality with a fiery energy that's truly palpable. She dances up a storm in the showstopping highlight "America" that's bursting with so much passion you almost want to jump up and pirouette in the aisles along with Anita. But it's when tragedy strikes and the light in Anita's eye vanishes that DeBose's work becomes something else entirely. She's breathtaking to watch in one of the year's finest performances.

But the real scene-steal is Tony-nominee Faist who effortlessly makes the transition from stage to screen with a magnetic performance as spitfire Riff. Faist brings true gravitas and depth to this role that simply doesn't exist in previous versions. In the hands of a lesser performer, Riff would be nothing but a racist bigot who causes chaos wherever he steps. And that's still entirely true of Faist's take on the character, but he reaches deeper to find the pathos beneath this tragic lost soul who refuses to take accountability for his lot in life. It's strange to feel sympathy for such a detestable character, but Faist pulls it off.

The only real misfire here is the casting of Elgort, who never matches the energy of everyone around him. Perhaps it's not entirely the actor's fault, as Tony has always been a rather dull character by unfortunate comparison to his compatriots. If this is a true reimagining, another performer may have seen the faults in past performances of Tony and sought to breathe new life into the character and capture Tony's fraught desperation over the complicated plight he's unwittingly found himself in. But the noticeably bland Elgort brings nothing unique to this role in a performance that feels completely phoned in and stops this film from reaching true perfection.

On a technical level, West Side Story is a masterful achievement of sight and sound. While he has a penchant for too many lens flares, Janusz Kaminski's soaring, painterly cinematography is stunning. The camera genuinely glides fluidly alongside the musical numbers to capture Justin Peck's thrilling choreography with expert precision. Peck's work pays deep homage to Robbins' iconic dance moves, but still claims its own fresh groove. The period production design from Adam Stockhausen is astonishing, providing a smorgasbord of locations for Spielberg to craft the spectacular performances. From the back alleys between apartment blocks and their fire escape stairwells to a dark salt warehouse bathed in shadows, these locations supply Kaminski with numerous opportunities to create shots that could be framed as works of art.

Few would have thought a classic like West Side Story would ever need another film adaptation. We should learn to never doubt the masterful skills of someone like Spielberg. It was utter madness to take on such a project, but the result is an exhilarating reimagining that's pure cinematic magic. This is a story that's sadly still abundantly relevant and Spielberg knows it. But rather than just present a lazy shot-for-shot remake, Spielberg crafts this adaptation with an intoxicating new life all of its own. What a picture.





Distributor: 20th Century Studios/Disney
Cast: Ansel Elgort, Rachel Zegler, Ariana DeBose, David Alvarez, Mike Faist, Brian d'Arcy James, Corey Stoll, Josh Andrés Rivera, Rita Moreno
Director: Steven Spielberg
Producers: Steven Spielberg, Kristie Macosko Krieger, Kevin McCollum
Screenplay: Tony Kushner
Cinematography: Janusz Kaminski
Production Design: Adam Stockhausen
Costume Design: Paul Tazewell
Music: Leonard Bernstein
Choreography: Justin Peck
Editor: Michael Kahn, Sarah Broshar
Running Time: 156 minutes
Release Date: 26th December 2021 (Australia)