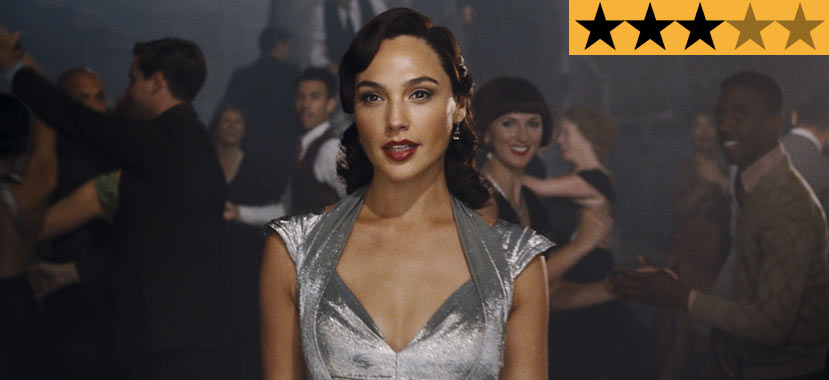 08 Feb

REVIEW – 'Death on the Nile' is a decadently glamourous tale of murder and mystery

Way back in January 2020 (aka the good ol' days), Disney released a series of Asian-inspired posters to celebrate Chinese New Year and promote their entire slate of 2020 theatrical releases. You can see the irony, right? Just two months later, a virus originating from China would see that very release schedule completely wiped clean and every single title either dumped on Disney's streaming platform or postponed for 12-18 months. One film caught up in this chaos was Kenneth Branagh's Death on the Nile, but it was just the beginning of the troubles for this beleaguered production.

In a terrible twist of fate, Death on the Nile was originally scheduled to be released in late 2019 where it would have avoided the cinema shutdown of 2020. When Disney acquired 20th Century Fox in March 2019, they rescheduled the film to October 2020 to allow additional production time. From there, it would be delayed a further four times, which may or may not have been enflamed by the multiple sexual assault allegations against Armie Hammer and the disastrous publicity surrounding Letitia Wright's controversial statements on vaccinations. Honestly, it's a miracle this film even made it to cinemas.

But enough about the perilous path it took to get to this point. Death on the Nile has finally arrived and Branagh has delivered a delicious and decadently glamourous tale of murder and mystery with a mammoth ensemble cast to bring it to life. Branagh follows the old "if it ain't broke, don't fix it" adage and applies the exact same formula of his 2017 surprise $350 million box office smash, Murder on the Orient Express. If you enjoyed that train-bound puzzle, you'll equally appreciate this dry Egyptian whodunnit.

Adapted from Agatha Christie's 1937 novel of the same name, Death on the Nile finds world-renowned Belgian private detective Hercule Poirot (Branagh) enjoying a peaceful drink at a swanky London nightclub. While quietly observing the club's patrons, Poirot witnesses the reunion of ridiculously wealthy heiress Linnet Ridgeway (Gal Gadot) and Jacqueline de Bellefort (Emma Mackey), who can't wait to introduce her old school pal to her new beau, Simon Doyle (Hammer). As it turns out, this will be a big mistake.

Six weeks later, we're whisked off to the Cataract Hotel in Assouan, Egypt where Linnet and Simon are honeymooning after their recent wedding. After bumping into his old pal Bouc (Tom Bateman) while taking in the sights of the pyramids, Poirot is invited to the hotel to join in the celebrations. Also in attendance are Bouc's overly protective mother, Euphemia (Annette Bening); Andrew Katchadourian (Ali Fazal), Linnet's cousin and lawyer; Linus Windlesham (Russell Brand), an aristocratic doctor and Linnet's former fiancé; Linnet's socialite godmother, Marie Van Schuyler (Jennifer Saunders) and her nurse Mrs. Bowers (Dawn French); and Linnet's lady's maid Louise Bourget (Rose Leslie).

As the group are being entertained by American jazz singer Salome Otterbourne (Sophie Okonedo), whose business manager/niece, Rosalie (Letitia Wright) attended school with Linnet, the wildly jealous Jacqueline crashes the party. In an attempt to distance themselves from Simon's unpredictable jilted lover, the newlyweds procure the paddleboat steamer the S.S. Karnak for a private cruise down the Nile for their guests. But when one of the passengers is murdered in cold blood, it's left to Poirot to solve another mystery and uncover who's responsible.

Everyone aboard the Karnak is connected to the victim in some fashion, meaning they each have their own potential motive for murder. Branagh takes his time introducing this eccentric group of players in an earnest attempt to have his audience give a damn when one of them is brutally dispatched, which surprisingly doesn't occur until a good hour into the film. To be honest, the identity of the killer is hardly the greatest surprise. You get the feeling Branagh knows it, but he tries his utmost to keep the intrigue high with misdirections and twists aplenty.

What truly keeps you engaged is Poirot's intricate and methodical process in eliminating each suspect by utilising his impeccable gift of observation. There's a concerted effort from screenwriter Michael Green to flesh out Poirot's character as more than just a quirky detective with a gargantuan moustache. The film begins with a black and white flashback to 1914 and Poirot's experiences during the First World War. It's an earnest attempt to add some tragedy to Poirot's past, but it's ultimately just an awkwardly unnecessary backstory to the origin of his infamous moustache. Yes, it's evidently not just a bold fashion choice.

Branagh continues to prove Poirot is the role he was born to play. If he wants to keep burning his way through Christie's back catalogue of Poirot novels, I'm happy to continue giving this franchise my time. Branagh is worth the price of admission alone, which is saying something considering the ensemble surrounding him. He's still delivering the campy qualities that make Poirot such an engaging protagonist. But there's a deeper introspection into the pain and tragedy that the detective appears to be running from. This chance encounter with a group of strangers forces Poirot to confront the demons of his past.

As for the rest of the cast, the luminous Okonedo manages to outshine everyone around her with a vampy, slinky performance as the sultry songstress who challenges Poirot's perceptions of love and human connection. Green has altered Christie's novel to bring Bateman's Bouc back into Poirot's sphere. Thanks to Bateman's engaging turn, it's a pleasing adjustment. Bening is typically solid and she has fun playing with the light and shade of her morally ambiguous maternal figure. With a captivating mix of confidence and vulnerability, Mackey steals focus at every turn with her bitter turn as a woman scorned.

Branagh curiously casts Brand, French, and Saunders in decidedly unfunny roles, which seems like a dreadful waste of their impeccable comedic skills. It's a nice change to see Brand tackle something tonally serious, but he rarely looks anything other than uncomfortable. It's always a treat to see French and Saunders reunite, but the latter struggles with maintaining an unnecessary American accent. Gadot looks stunning in Paco Delgado's elegant period costume designs, but she's tragically miscast here and her presence merely feels like stunt casting.

Maybe it's rather fitting Hammer is playing a character who's little more than a smarmy sleazeball undeserving of one woman's affections, let alone two. He lacks genuine chemistry with either Gadot or Mackey, proving you can't just stick beautiful people together on screen and expect sparks to fly. Linnet and Jacqueline both deserve better than Simon, and maybe that's entirely the point. As for Wright, she's constantly working hard to maintain Rosalie's Southern drawl, leaving her performance to feel entirely forced and devoid of any authentic emotion.

Shot with 65mm Panavision cameras by Branagh's perennial collaborator Haris Zambarloukos, there are occasional moments of visual brilliance in Death on the Nile, particularly when sequences involve Jim Clay's staggering physically-crafted production design. But when the film leans back on visual effects to fill in the gaps, the garish CGI is dreadfully distracting. The exotic markets of Assouan and the lush grandeur of the Cataract Hotel make for spectacular settings for Branagh to lay his action. It's just a shame the Karnak is such a bland location by unfortunate comparison to what precedes it.

It's a rarity to experience a good dose of old school charm in a cinema these days. And we should be thankful this wasn't relegated to streaming like most of us presumed it would be. Death on the Nile takes too long to truly set sail, but once it does, it's easy to be swept along for the journey. It's a joy to watch Branagh slip back into Poirot and most of his supporting players make this murder mystery worth your time. It's light and bubbly with a sinister streak of darkness for good measure.





Distributor: Disney/20th Century Studios
Cast: Kenneth Branagh, Tom Bateman, Annette Bening, Russell Brand, Ali Fazal, Dawn French, Gal Gadot, Armie Hammer, Rose Leslie, Emma Mackey, Sophie Okonedo, Jennifer Saunders, Letitia Wright
Directors: Kenneth Branagh
Producers: Ridley Scott, Kenneth Branagh, Judy Hofflund, Kevin J. Walsh
Screenplay: Michael Green
Cinematography: Haris Zambarloukos
Production Design: Jim Clay
Costume Design: Paco Delgado
Music: Patrick Doyle
Editor: Una Ni Dhonghaile
Running Time: 127 minutes
Release Date: 10th February 2022 (Australia)