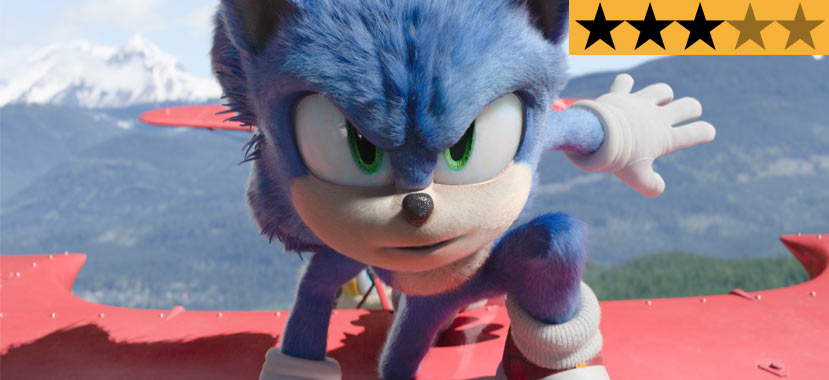 29 Mar

REVIEW – 'Sonic the Hedgehog 2' is every bit as goofy, silly, and loud as its predecessor

Against all the odds and early vicious online vitriol, 2020's Sonic the Hedgehog was a surprise smash hit to the tune of more than $300 million worldwide. And, I'll admit, I certainly enjoyed it more than I thought possible. The film luckily snuck into cinemas just before a global shutdown and its sequel arrives as life (and box office figures) appear to be returning to normal. Every bit as goofy, silly, and loud as its predecessor, Sonic the Hedgehog 2 is good harmless fun that kids and fans of the classic games will undoubtedly eat up.

After crashing on Earth and finding a new home in Green Hills, Montana, superfast blue hedgehog Sonic (voiced brilliantly by Ben Schwartz) is now living comfortably with his adoptive human parents, Tom (James Marsden) and Maddie (Tika Sumpter). But Sonic is still searching for his purpose in life and the path to use his powers for the good of humanity. As such, he sneaks out at night to act as a Batman-like vigilante named Blue Justice who ends up causing more damage than the criminals themselves.

Meanwhile, Dr. Robotnik (Jim Carrey, just as unhinged as the first film) is still stuck in exile on the mushroom planet and plotting his revenge on Sonic. He's soon saved by the arrival of Knuckles (voiced by Idris Elba), the last of the red warrior echidnas. Blessed with superstrength and fueled by vengeance, Knuckles is on a quest to find an all-powerful Master Emerald that happens to be hidden on Earth. The two form an alliance to venture to our planet and locate the gem.

As we saw in the predecessor's mid-credits scene, the adorable two-tailed Miles "Tails" Prower (voiced by Colleen O'Shaughnessey) has also landed on Earth on a mission to locate Sonic and help him guard the stone his guardian, Longclaw (voiced by Donna Jay Fulks) died protecting. When the newly formed duo learns of Dr. Robotnik and Knuckles' plan to snatch the Master Emerald for themselves, they set off to stop it from falling into the wrong hands.

At this point, I feel it necessary to inform parents Sonic the Hedgehog 2 inexplicably stretches beyond two hours, which is almost half an hour longer than the first film. I appreciate this film is not crafted exclusively for children, but they're certainly the target audience. That kind of running time is going to test their patience, especially given so much attention is given to a bafflingly pointless subplot involving Tom, Maddie, her sister, Rachel (a hilarious Natasha Rothwell), and a Hawaiian wedding that feels like it's from an entirely different film altogether.

The tropical island setting plays a part in the bombastic finale and these scenes offer the magnificent Rothwell the chance to genuinely challenge Carrey for the film's funniest lines. But this story thread is far too complicated for children to properly grasp and ultimately adds very little to the broader narrative. Director Jeff Fowler seems to understand no one is all that interested in most of the human characters this time, leaving Marsden and Sumpter with very little to do. That just makes it so unfathomably odd we're forced to spend so much time with their dull storyline in Hawaii.

In another scenery-chewing performance, Carrey's maniacal Dr. Robotnik is obviously in a different league than his other human contemporaries. After the events of the first film, the moustache-twirling doctor is even more deranged in the sequel and Carrey brings boundless zany energy and perfect physical comedy to this nutty role he clearly was born to play. Carrey understands the assignment and harkens back to the outrageous comedic schtick that made him a star in the mid-90s.

The first film found Tom taking on the role of mentor to the unpredictable Sonic. It was centred on Sonic finding a family to call his own. In the sequel, Sonic takes on that mentorship mantle with his new young yellow fox pal and the narrative focus this time is on the power of friendship. The burgeoning kinship between Sonic and Tails is rather gorgeous and adds a hefty dose of heart amongst all the chaotic action. There's also a dash of the old Spider-Man adage, "With great power comes great responsibility" with Sonic treading a path towards understanding how to effectively use his powers for good.

Schwartz continues to prove he was the perfect casting choice to voice the snarky, brash hedgehog. His Red Bull-level energy rarely diminishes (which may prove grating to some), but he imbues Sonic with such a loveable spirit that's hard to resist. O'Shaughnessey has been voicing Tails in the video games since 2014, so she knows this character like the back of her hand. She's adept at capturing Tails' charming heart and undying loyalty to create a delightful new addition to this franchise.

Elba brings his typical dignified gravitas to Knuckles to craft a "villain" who's far more than meets the eye. While Knuckles has partnered with the film's true evildoer, he's a complicated soul with a past filled with trauma and loss. Knuckles has more in common with Sonic than he realises and it's rather engaging to watch these two enemies eventually appreciate their mutual pain. Knuckles is the straight man to Sonic's goofy oddball and it's quite a wonderful juxtaposition to view.

After the disastrous initial reaction to the character designs of our titular protagonist, the visual effects team have put those horrible memories to rest with terrific design work on Sonic, Tails, and Knuckles. These new additions both truly resemble their SEGA game counterparts, which will surely delight fans who've cherished the video game series for more than 30 years. Sonic and Knuckles face off several times throughout numerous elaborate set pieces and that's where the film truly comes to life. The action sequences are nothing groundbreaking, but they do add dizzying thrills and spills that will light up the eyes of younger viewers.

Sonic the Hedgehog 2 follows a similar narrative path to its predecessor, and that's fine. Fowler and his trio of screenwriters have taken what audiences loved about the first film and amplified those elements with a bigger budget and new anthropomorphic animal characters for Sonic to bounce off. Much like the original, this film knows what it is and rarely tries to be something it's not. Tighter editing would have removed the frustrating moments that noticeably lag, but it's still a total blast for the most part. And be sure to stick around for a mid-credits tease for the already-greenlit threequel.





Distributor: Universal Pictures
Cast: James Marsden, Jim Carrey, Ben Schwartz, Tika Sumpter, Idris Elba, Colleen O'Shaughnessey, Natasha Rothwell, Adam Pally, Lee Majdoub, Shemar Moore
Director: Jeff Fowler
Producers: Neal H. Moritz, Toby Ascher, Toru Nakahara, Hitoshi Okuno
Screenplay: Pat Casey, Josh Miller, John Whittington
Cinematography: Brandon Trost
Production Design: Luke Freeborn
Costume Design: Debra McGuire
Music: Junkie XL
Editor: Jim May
Running Time: 122 minutes
Release Date: 31st March 2022 (Australia)