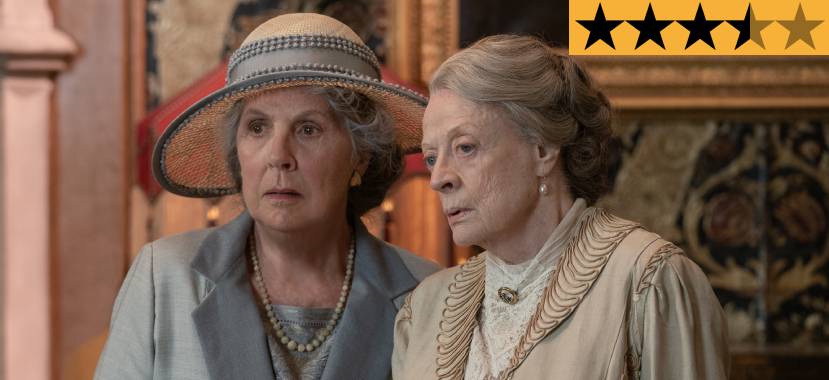 28 Apr

REVIEW – 'Downton Abbey: A New Era' is another richly satisfying serving of twee sentimentality

The sweeping British melodrama Downton Abbey represents one of the last great successes of broadcast television before the advent of streaming services changed the way programs were consumed. From 2011 to 2015, millions of viewers tuned in each week for the upstairs-downstairs exploits of the aristocratic Crawley family and their domestic servants. A feature film followed in 2019 as a way to bookend the popular series. But strong reviews and a worldwide box office of almost $200 million mean it's time to venture back to Downton for an unexpected follow-up.

Another richly satisfying serving of the twee sentimentality that became a cornerstone of the series, Downton Abbey: A New Era sticks to its formula and caters almost exclusively to its loyal fanbase. If you're not already onboard the Downton train, this sequel is unlikely to change that. As someone who has devoured every piece of Downton content for the last decade, it was just the blissful escapism I was craving.

Set in 1928, this lavish continuation opens with the nuptials of the Crawleys' widowed son-in-law Tom Branson (Allen Leech) and his new sweetheart Lucy (Tuppence Middleton). As the celebrations wind down, the Crawleys are flabbergasted by the news the Dowager Countess (Maggie Smith, still in deliciously biting form) has inherited an extravagant villa in the French Riviera from a man she briefly knew in her youth.

Determined to get to the bottom of his mother's mysterious past, Robert (Hugh Bonneville) accepts an offer from the man's son (Jonathan Zaccaï) to visit France and honour the Dowager's wishes to transfer the deed to Tom's daughter, Sybbie (Fifi Hart). Along for the journey are the newlyweds Tom and Lucy, Lucy's mother, Lady Bagshaw (Imelda Staunton), Robert's wife, Cora (Elizabeth McGovern), their daughter, Lady Edith (Laura Carmichael) and her husband, Bertie (Harry Hadden-Paton), and a small selection of the Downton staff including curmudgeonly butler Mr. Carson (Jim Carter).

Meanwhile, back at the Abbey, Lady Mary (Michelle Dockery) has reluctantly accepted an offer from Hollywood producer/director Jack Barber (an effortlessly charming Hugh Dancy) to shoot a silent movie on location at the luxurious manor. While her father disapproves of the proposal, the production will inject some much-needed cash to help return Downton to its former glory. The film shoot sends the downstairs staff into a frenzy, particularly after the arrival of dashing leading man Guy Dexter (Dominic West) and his peroxide-blonde ingenue co-star Myrna Dalgleish (Laura Haddock).

While Downton Abbey: A New Era still plays like an extended episode of the series or another Christmas special without the festive theming, the plot is more engaging than that of its slightly stodgy predecessor, particularly the lively happenings at the manor. Call it homage or a rip-off, but screenwriter Julian Fellowes takes heavy inspiration from Singin' in the Rain when Barber's film production is thrown into turmoil over the rising popularity of "talkies" and his haphazardous decision to turn his picture from a silent movie into one with sound.

Given the film's target audience would be abundantly familiar with the Gene Kelly classic, it's rather odd to see Fellowes essentially bastardise that film's plot so shamelessly. But the storyline of silent movie actors desperately attempting to remain relevant worked in 1952 and it works again here. And one could argue it's an allegory for the Crawleys themselves as they navigate the ever-changing times and the decline of the age of aristocracy. It injects plenty of energy and levity into proceedings, especially moments involving cockney-voiced Myrna, whose burgeoning career as an actress seemingly relied on her being seen and not heard.

The same can't quite be said of the Crawleys' sojourn in France. It's always a risky move to change locations in a big-screen adaptation (just look at the ghastly Sex and the City 2), especially when the vacation ultimately feels rather pointless. Fellowes attempts to add plenty of intrigue and mystery into the past of the Dowager, but it's not nearly as interesting as the film seems to think it is. The screenplay runs in circles around the unknown reasoning behind the Dowager's odd bequeathment before a final reveal that proves rather flat. Still, it's a nice change of scenery and legendary French actress Nathalie Baye steals focus as the wonderfully icy widow who refuses to oblige her dead husband's wishes.

But the true strength of the Downton franchise has always been its gargantuan ensemble cast whose intoxicating and earnest chemistry is just as gorgeous as it was when the series began over a decade ago. While it's undeniable some characters are given more screentime than others, Fellowes and director Simon Curtis make an admirable effort to give everyone some semblance of a purpose amongst the dualling narrative threads. They bounce off each other in perfect harmony as we continue our voyeuristic look at the lives of the haves and have-nots. After working together for so long, this cast now innately understands how to make this all look so easy.

As expected, Smith can't help but completely steal the show with another deliciously dry performance as the now-iconic Dowager. Her penchant for stingy barbs and one-liners ("I'd rather earn my living down a mine," she spits when asked her opinion of acting) is as fresh as ever in a role that still fits the great Dame like a glove. But it's the quieter, more poignant moments the Dowager shares with her beloved granddaughter, Mary and old sparring partner, Isobel (the ever-reliable Penelope Wilton) where Smith's performance truly shines.

There are many storylines I could highlight, but I'll give particular praise to Fellowes' continued effort to portray a queer narrative in a cruel era for those we now consider to be from the LGBTQ+ community. Even a decade ago, it was bold of Fellowes to plonk a gay character like footman-turned-butler Thomas Barrow (Robert James-Collier) in the midst of a period drama aimed at a potentially less progressive older audience. Barrow's character arc has been one mostly filled with misery, but this sequel offers him the chance at a life he never thought possible. Is it saccharinely sappy? Sure, but lord knows the man deserves some damn happiness.

Despite its title, Downton Abbey: A New Era seems content to mostly just offer more of what has come before. For those already enamoured with Fellowes' particular brand of costume drama, that will be perfectly fine, especially after the misery of the last two years. While it may not seek to break new ground, it's still breezily entertaining and beautifully charming with lashings of classic dry British wit. Like a hot cup of tea on a cold winter's day, the Downton crew always bring the kind of endearing warmth that's good for the soul. It's a syrupy fantasy, to be sure, but one that's easy to become lost in.





Distributor: Universal Pictures
Cast: Hugh Bonneville, Jim Carter, Michelle Dockery, Elizabeth McGovern, Maggie Smith, Imelda Staunton, Penelope Wilton, Nathalie Baye, Hugh Dancy, Laura Haddock, Alex Macqueen, Dominic West, Jonathan Zaccaï, Samantha Bond, Laura Carmichael, Raquel Cassidy, Brendan Coyle, Kevin Doyle, Michael Fox, Harry Hadden-Paton, Robert James-Collier, Sue Johnston, Allen Leech, Phyllis Logan, Sophie McShera, Tuppence Middleton, Lesley Nicol, Douglas Reith, David Robb, Charlie Watson, Fifi Hart
Directors: Simon Curtis
Producers: Gareth Neame, Liz Trubridge, Julian Fellowes
Screenplay: Julian Fellowes
Cinematography: Andrew Dunn
Production Design: Donal Woods
Costume Design: Anna Mary Scott Robbins
Music: John Lunn
Editor: Adam Recht
Running Time: 123 minutes
Release Date: 28th April 2022 (Australia)