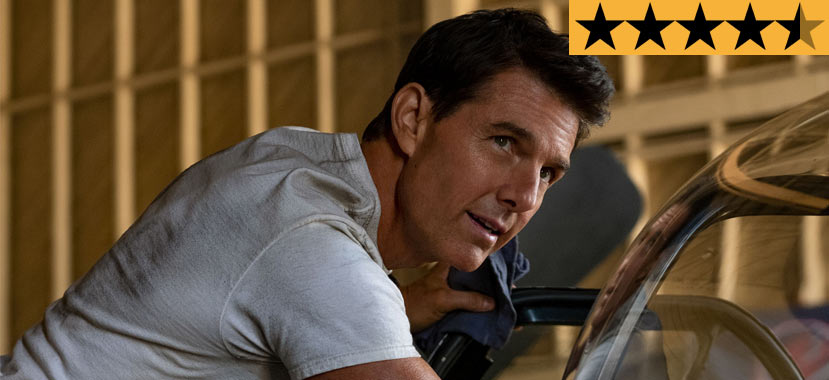 20 May

REVIEW – 'Top Gun: Maverick' is a textbook example of how a legacy sequel should be made

After millions of fans spent more than three decades pining for a sequel to the seminal 80s action classic Top Gun, that dastardly global pandemic meant the wait for Top Gun: Maverick became even longer. With more covid-induced release date delays than you can count on one hand, the highly-anticipated sequel finally arrives in cinemas 36 years after its predecessor. For those watching the record books, that's the second-longest gap between a movie and its sequel in cinema history (Mary Poppins Returns pips it by a few decades). As it turns out, the wait was absolutely worth it.

One of the greatest summer blockbusters of all time and quite possibly the most ridiculously entertaining film of the year, Top Gun: Maverick is a textbook example of how a legacy sequel should be made. It delivers all the nostalgic feels and emotional beats fans are seeking but offers a fresh narrative that completely stands on its own two feet. It pushes the boundaries of action filmmaking with electrifying sequences that demand to be seen on the biggest screen possible. And, yet again, Tom Cruise proves why he remains one of the last bonafide movie stars. Yes, folks. We have that ultra-rare instance where a sequel manages to soar past its predecessor.

Set 30-odd years after the events of the first film, Top Gun: Maverick finds Pete "Maverick" Mitchell (Cruise) right where we left him. Even after all this time, Maverick remains at the rank of Captain and has avoided the usually coveted promotions that would likely see him grounded in an office. His issues with defying authority also remain as strong as ever, as evidenced by Maverick's constant conflict with his superior Rear Admiral Chester "Hammer" Cain (Ed Harris).

Just as it seems like this old-timer has broken one too many rules, he's saved by his naval pal Admiral Tom "Iceman" Kazansky (Val Kilmer), who recruits Maverick to train a group of new Top Gun candidates for an extremely difficult assignment. A mission: impossible, you might say. Sorry, couldn't help it. Under the judgemental eye of Vice-Admiral Beau "Cyclone" Simpson (Jon Hamm), Maverick attempts to whip these young hot-shots into shape just two weeks before they're due to fly out.

The team of the best of the best pilots includes Jake "Hangman" Seresin (Glen Powell), Natasha "Phoenix" Trace (Monica Barbaro), Robert "Bob" Floyd (Lewis Pullman), and Bradley "Rooster" Bradshaw (Miles Teller), the son of Maverick's late best friend, Goose, whose accidental death still haunts the tortured Captain. As Maverick is forced to confront the demons of his past, he reconnects with former flame Penny (Jennifer Connelly), who just might be the best thing that's ever happened to him.

When this sequel opens to the refrains of Kenny Loggins' iconic rock anthem "Danger Zone" and the exact same title card as the original, you'd be remiss in thinking Top Gun: Maverick is merely another shameless cash grab follow-up that does little more than lazily rehash its predecessor. Sure, there are some familiar elements here. The macho rivalry between Rooster and Hangman echoes that of Maverick and Iceman. There's a sports scene filled with shirtless dudes, though it's far less homoerotic this time around. Much like Berlin's "Take My Breath Away," there's a weepy ballad (provided by the indomitable Lady Gaga) that underscores Maverick and Penny's love scene. And Harold Faltermeyer's infamous theme music makes more than a few appearances.

Thankfully, screenwriters Ehren Kruger, Eric Warren Singer, and Christopher McQuarrie create a fresh narrative that's far more engaging than that of the original film. There's a similar element of competition in regards to the 12 recruits fighting to be one of the six chosen for the task at hand. But this film is more focused on the mission itself and the seemingly impossible level of skill required to pull it off. In a curious and refreshing move, Kruger, Singer, and McQuarrie leave the enemy unidentified. Perhaps it's a shrewd move so as not to damage the potential box office in certain regions of the world, but it's a pleasing decision that doesn't demonise an entire race like many action films of the past.

While the sequel turns up the adrenalin on the action (we'll get there), its greatest achievement may be in its exploration of Maverick's character that's far deeper than anything the predecessor had to offer. It's the most vulnerable performance Cruise has delivered since Jerry Maguire, offering a captivating portrait of a man filled with regret and guilt he's been trying to outrun for three decades. The emergence of Rooster impels Maverick to reckon with Goose's death and assume the role of mentor he should have offered to the youngster years ago. Time hasn't affected Cruise's endless charisma, and when he flashes that movie star smile, it's still impossible not to be swept away by his boyish charm.

But it's Cruise's gorgeous scene with Kilmer that will really hit you directly in the heart. Much like Kilmer, Iceman has been affected by throat cancer, leaving him to communicate with Maverick through text in a pivotal juncture in the screenplay that reunites the two iconic characters in the most beautiful of ways. By all accounts, Cruise refused to make this sequel unless Kilmer was involved in some way, and the end result is handled so delicately in the most powerful moment in this film. Their chemistry remains as strong as ever and this terrific reunion deservedly led to rapturous applause from my cinema.

In his first big-screen performance in five years, Teller reminds us why he was pegged as the next big thing in Hollywood after his breakout role in 2014's Whiplash. Of all the young recruits, Rooster naturally has the meatiest character arc. The history between this pseudo-father-son duo provides Teller and Cruise with plenty of emotionally-charged scenes where the former more than holds his own against the latter. It's a shame there isn't enough focus given to fully develop the remainder of the new class of Top Gun, but Powell consistently steals focus with his all-American boy charm.

Since the mid-80s, big-budget blockbusters rarely use the kind of physical filmmaking Tony Scott utilised in the original Top Gun. Much like Maverick himself, Cruise is a relic of the past who steadfastly refuses to modernise. His determination to craft action sequences with minimal use of CGI and green screens is once again on display here. Director Joe Kosinski has crafted some of the most staggeringly exhilarating scenes ever seen on the big screen. Masterfully edited by Eddie Hamilton, these thrilling, high-octane aerial sequences will take your breath away. Sorry, it also had to be done.

Filmed with actual U.S. Navy planes with the cast right there inside the cockpits, this isn't actors in front of a green wall reacting to what they imagine will be surrounding them in post-production. This is as genuine as filmmaking gets and this kind of authenticity really makes all the difference. Claudio Miranda's tight cinematography puts the audience right there in the action with intimate close-ups of the pilots and wide shots of the chaos in the sky around them. It's a miracle Hamilton is able to edit everything together to create something completely cohesive, but there is never one moment where you're not able to follow everything Kosinski is whipping up, especially in the gripping final act which is a true masterclass in blockbuster filmmaking.

It now makes perfect sense why Paramount and Cruise bluntly refused to sell this film to a streaming service in the midst of the 2020 and 2021 cinema shutdowns. You simply would not have the same experience at home. Top Gun: Maverick deserves the theatrical treatment and needs to be seen on the largest cinema screen you can possibly find. This sequel successfully manages to avoid the doldrums of merely recreating its predecessor. There's naturally plenty of nostalgia here, but also so much more.

It wisely takes what made Top Gun great and rectifies its misgivings, particularly its narrative weaknesses. It's the perfect showcase to highlight why Cruise remains such a genuine star. Its visuals and action sequences are genuinely riveting, but its surprising emotional core is just as compelling. And it all wraps up with Gaga's mega power ballad "Hold My Hand" to have audiences exiting the cinema with a big smile on their face. This is one of the greatest films of the year. It's a triumph in every sense of the word and a reminder of the stupendous joy blockbuster films should bring to our lives.





Distributor: Paramount Pictures
Cast: Tom Cruise, Miles Teller, Jennifer Connelly, Jon Hamm, Glen Powell, Lewis Pullman, Charles Parnell, Bashir Salahuddin, Monica Barbaro, Jay Ellis, Danny Ramirez, Greg Tarzan Davis, Ed Harris, Val Kilmer
Director: Joseph Kosinski
Producers: Jerry Bruckheimer, Tom Cruise, Christopher McQuarrie, David Ellison
Screenplay: Ehren Kruger, Eric Warren Singer, Christopher McQuarrie
Cinematography: Claudio Miranda
Production Design: Jeremy Hindle
Costume Design: Marlene Stewart
Music: Lorne Balfe, Harold Faltermeyer, Lady Gaga, Hans Zimmer
Editor: Eddie Hamilton
Running Time: 131 minutes
Release Date: 26th May 2022 (Australia)