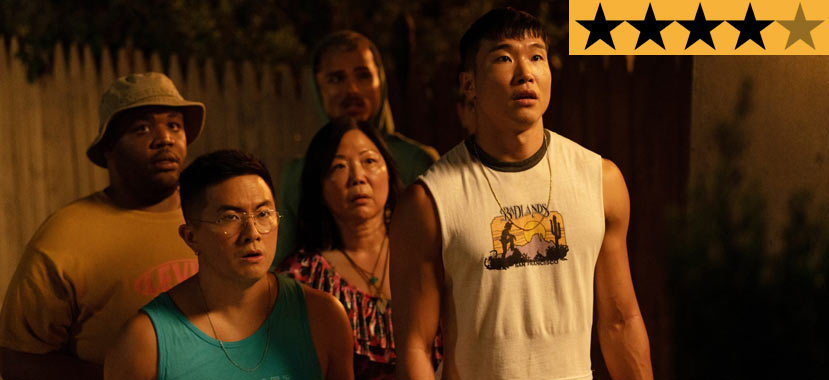 20 Jun

SYDNEY FILM FESTIVAL REVIEW – 'Fire Island' is one of the best gay rom-coms of recent times

Back in 1995, Amy Heckerling reimagined Jane Austen's Emma into one of the greatest teenage comedies of all time, Clueless. The film and Heckerling's quietly brilliant screenplay ultimately highlighted the timeless nature of Austen's writing and how her characters and narratives can be plonked into a modern setting and miraculously still work flawlessly. Taking a cue from Heckerling, stand-up comedian/actor Joel Kim Booster has taken Austen's Pride and Prejudice and deftly spun it into one of the best gay rom-coms of recent times.

A gorgeous ode to the power of friendship and a rom-com that's as genuinely funny as it is charmingly romantic, Fire Island is a total delight. Led by a stellar ensemble cast and elevated by a sharp, insightful screenplay, it's cheeky and saucy with a giant dose of heart and a good splash of fun. It's a refreshing spin on a classic tale that speaks to the very heart of the queer community and those we choose as our "family."

Set over the course of one week at the infamous gay vacation spot off the coast of New York state, Fire Island introduces us to Noah (Booster), a commitment-phobic thirtysomething who has long rejected Austen's notions of true love and romance in favour of meaningless one night stands. His hopeless romantic best friend, Howie (a typically sublime Bowen Yang) is the complete anthesis, leading to Noah making it his mission to find his pal some love (or at least some action) on their annual trip to the titular isle.

Along for the holiday are Noah and Howie's friends Luke (Matt Rogers), Keegan (Tomás Matos), and Max (Torian Miller), who are all shocked to discover the vacation home of their pseudo-mother Erin (Margaret Cho) is set to be sold after this summer, meaning this will be their last trip together. Determined to make this a week to remember, Noah's plans are quickly railroaded by Will (Conrad Ricamora), a straight-laced doctor who instantly spars with Noah, particularly after his best friend, Charlie (James Scully) takes a shining to Howie.

If you're familiar with Austen's classic novel, you'll immediately recognise the iconic characters this gaggle of instantly loveable gays is based on. Booster's screenplay wisely sticks close to the framework of Austen's work. It's a loving homage that still tackles the topic of societal status by virtue of the numerous attributes gay men use to superficially judge each other before they've even uttered a word.

From body type and race to wealth and the level of masculinity or femininity, it's fascinating how Austen's exploration of class still works so well when applied to the LGBTQ+ community. While Fire Island isn't exactly a furious condemnation of such frustrating rules and measures gay men apply to themselves and others, Booster knows exactly when to shine a light on how damaging and destructive these often cruel labels and vapid barometers can be.

As much as the queer community champions inclusion, acceptance, and equality, the world of gay men can still be full of hypocritical hierarchies and instant judgements. Will and Charlie's bitchy "friends" (played flawlessly by Nick Adams, Zane Phillips, and Michael Graceffa) are evidence of this, as they immediately mock and bully Noah and his pals for not quite measuring measure up to their shallow social standards.

While Fire Island certainly has plenty to say about these negative aspects of gay culture, it's mostly a wild, silly comedy that wisely steers away from the depressing "trauma porn" that so often permeates queer cinema. It's a timely reminder that gay movies can (and should) be fun too. We gays love a good party and this film offers up an endless series of debaucherous shindigs including one hilarious event where each member of the friend group takes a different "party favour" with wildly different effects.

It's ultimately the film's glorious ensemble cast that elevates Fire Island to the upper echelon of the gay genre. Booster and Yang make for a terrific pairing with their endearing friendship feeling entirely authentic and genuine. They're the yin to each other's yang. Noah is brash and confident with a devil may care attitude that's really just hiding his attempts to avoid making a connection with anyone for more than one night. Howie is the kind of gay man you can tell has been blocked, ghosted, and ignored on dating apps purely because of not fitting the stereotypical mould personified by the buff and beautiful men who flock to the titular location every summer. This offers Yang the chance to showcase his dramatic side, which he handles with aplomb.

The ever-reliable Cho offers a gorgeously warm and radiant turn as the boys' seasoned housemother with more than a few words of wisdom to impart. Ricamora is deliciously debonair as the stoic and occasionally frustrating Will. His chemistry with Booster is off the charts, which always works wonders in a "will they, won't they" romantic narrative. But the real scene-stealers are Matos and Rogers, who are truly hilarious together, particularly in one brilliantly funny scene where they both satirise and honour Marisa Tomei's Oscar-winning turn in My Cousin Vinny.

There's a lot about Fire Island that's revolutionary. The fact we're in an age where a mainstream film can be led by gay men is one thing, but to be fronted by gay men of colour is another milestone entirely. It's a film that doesn't shy away from frank discussions and depictions of gay culture that might be mildly shocking to some, but it's beats we've seen in heterosexual romantic comedies for decades, so it's about time we had this moment.

What makes Fire Island truly unique is how well it will work for all audiences, not just queer ones. Sure, some of the film's humour and the screenplay's references are very specific to the gay community, but maybe it's time the straights learned a thing or two about poppers, PrEP, and the art of "looking." At its core, this is a film about growing up, having fun, finding love, and realising the power of friendship. And those are universal themes that will always be relevant, no matter a viewer's sexual orientation. Take a fabulous trip to the isle of fire. You won't regret it.





Distributor: Disney+
Cast: Joel Kim Booster, Bowen Yang, Conrad Ricamora, James Scully, Matt Rogers, Tomás Matos, Torian Miller, Margaret Cho, Nick Adams, Zane Phillips, Michael Graceffa, Aidan Wharton, Peter Smith, Bradley Gibson
Director: Andrew Ahn
Producers: John Hodges, Tony Hernandez, Brooke Posch
Screenplay: Joel Kim Booster
Cinematography: Felipe Vara de Rey
Production Design: Katie Hickman
Costume Design: David Tabbert
Music: Jay Wadley
Editor: Brian A. Kates
Running Time: 105 minutes
Release Date: 17th June 2022 (Australia)