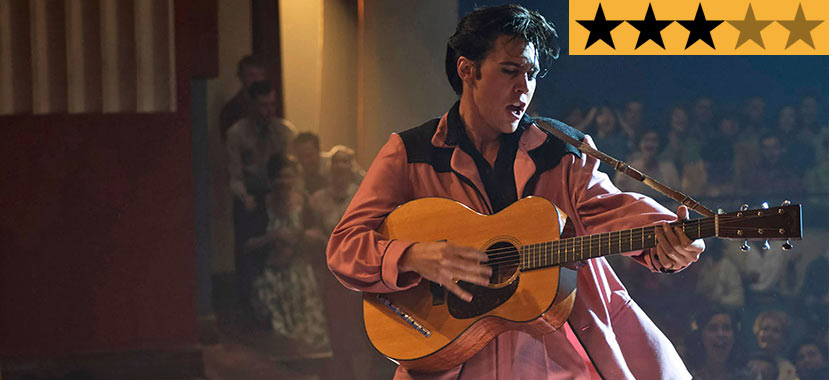 24 Jun

REVIEW – 'Elvis' is entertaining but not enlightening

The popularity of Elvis Presley has barely waned in the four decades since his untimely passing in 1977. That's why it's rather unfathomable it's taken this long for a big-budget biopic to come along. But the moment has finally arrived and how you react to Baz Lurhmann's Elvis will likely depend on your opinion of his past work. If you're a fan of Romeo + Juliet, Moulin Rouge!, and The Great Gatsby, this equally lavish extravaganza should be right up your alley.

For better or worse, Luhrmann has an auteurial brand that's always proven to be quite divisive. His penchant for films drenched in opulence is a natural fit for the cinematic recreation of a rhinestone-encrusted rock star like Presley. Luhrmann is a maximalist director. Presley was a maximalist performer. It should be a match made in heaven.

Much like the King himself, Elvis is excessive, gaudy, over-the-top, and outrageous. Luhrmann's frenetic style can prove exhausting and exacerbating and this film isn't exactly interested in delving too deeply beneath the surface of its protagonist. Regardless, it's never dull and the truly breathtaking performance of Austin Butler is worth the price of admission alone.

Oddly enough, Elvis is not told from the perspective of its titular namesake. Instead, Luhrmann places Presley's infamous manager Colonel Tom Parker (a hammy Tom Hanks obscured by a tonne of prosthetics) at the forefront of this true story. Playing like little more than a lazy retelling of a Wikipedia page, the film follows the rise of Presley (Butler) from his teenage years in Mississippi where he's discovered by the opportunistic Parker, who immediately books Presley on his travelling carnival show where he begins to steal focus from the headline acts.

It's seemingly not long before Presley is the biggest rock 'n roll star on the planet with an endless array of merchandise and a series of hugely successful movie musicals all organised by the unscrupulous Parker, who consistently puts his own greedy interests before the artist he's representing. After love arrives in the form of his wife, Priscilla (Olivia DeJonge in a thankless role) and his popularity starts to falter, Presley heads to Las Vegas for a residency to resurrect his lagging career. But the city of sin leads to pressures and pastimes we know will ultimately cost the singer his life.

Placing Parker at the helm of Elvis is a choice that would make sense if Luhrmann could determine if he wants us to see Presley's manager as the villain of the piece or the hero. He depicts Parker as a maniacal puppet master, a savvy businessman, and a loving pseudo-father. At one point, we're shown Parker pulling Presley back from the brink of death and pumping him full of drugs just to get him on stage. And, yet, we're also asked to swoon when Parker is there to comfort Presley in a moment of unspeakable grief.

The film also can't seem to decide if Parker should be exalted as the man responsible for Presley's success or the selfish aggressor who stopped him from reaching even greater achievements before his premature death. As such, Hanks is terribly miscast in a role that simply doesn't fit someone known for their warmth and decency. Sure, there's something to be said for actors attempting to break away from typecasting, but nothing about this performance works. It's a textbook example of why plonking a two-time Oscar winner into a role doesn't work if the writing isn't there.

It also doesn't help that Hanks is drowning in prosthetics and a fat suit while being forced to adopt a cartoonish Dutch (at least I think that's what it's meant to be) accent that stops him from finding any semblance of nuance with this farcical character. Yes, these elements are authentic to Parker's mysterious real-life persona, but Hanks gets completely lost in the absurdity. It's a foolish role that invariably takes your focus away from what you really came to see.

Thankfully, the deliriously wonderful Butler constantly steers Elvis back on track with one of the year's finest leading male performances. In a star-making turn that will surely draw attention come awards season, Butler absolutely shines in the role he was clearly born to play. He may not innately resemble Presley, but sublime hair and make-up work complement Catherine Martin's glorious costumes to complete the look. Butler has Presley's voice and cadences down pat without ever veering into the goofy caricature territory of most Elvis impersonators.

When Butler is on stage, he effortlessly captures Presley's electrifying performance presence that made the rock star so genuinely indomitable. He dances and gyrates like a reincarnation of the King himself. Butler nails Presley's mannerisms, movements, and that infamous pelvis shake that understandably sent fans into an absolute frenzy. And that intoxicating boyish charm radiates from the screen in every damn scene.

But Butler also finds Presley's innocence and sincerity that works as a fascinating juxtaposition to his intensity and confidence. It's a fully rounded performance that understands the difference between the man and the myth. Presley was addicted to the rush of the stage and the adoration of his fans. It's that addiction that ultimately leads to his tragic downfall, and Butler easily elicits an audience's sympathy with his engaging, star-making turn.

Co-written with Sam Bromell, Craig Pearce, and Jeremy Doner, Luhrmann's screenplay is messy and unfocused, as it furiously leaps from scene to scene like disjointed tableaux rather than a flowing narrative film. The script never bothers to dig too deeply beneath the surface of Presley's character to show the man behind the legend. It feels reminiscent of 2018's Bohemian Rhapsody as more of a celebration of Presley's life and accomplishments than an introspection into who he really was. Maybe that's entirely intentional and Luhrmann would prefer to keep the Elvis myth intact.

It's long been noted that Presley owes much of his career to the existing gospel and rhythm and blues music and the Black artists that came before him. Luhrmann appears quite emphatic in making a case against the idea that Presley stole from Black musicians and was merely "inspired" by their work. It's frustrating the film only gives lip service to artists like B.B. King (Kelvin Harrison Jr.), Big Mama Thornton (Shonka Dukureh), Mahalia Jackson (Cle Wooten), and Little Richard (Alton Mason). However, Lurhmann rightly doesn't deny that Presley's whiteness gave him an easier path than any Black rock 'n roller ever faced and he knew the debt he owed to the trail they had blazed for him.

On a visual level, Elvis is a triumph. Luhrmann's trademark gift for sumptuous production values is on display in every single frame. Working again with Martin, his wife and perennial collaborator, the film's lavish production designs (co-created with Karen Murphy) and elaborate costumes are stunning to behold. Martin deftly recreates Presley's dazzling array of outlandish outfits that leap off the screen, while also expertly capturing the garish decor of Presley's famous homestead of Graceland and 1960s/70s Las Vegas.

Much like his other film's Luhrmann furnishes the soundtrack with a sprightly selection of modern music from the likes of Doja Cat, Måneskin, and Eminem amongst the expected back catalogue of Elvis' greatest hits. Butler performs Presley's early works with great skill before moving into lip-synching mode for the latter part of the King's career. It's a wise move and Butler mimes along flawlessly. The performance sequences are wildly exhilarating and a testament to why Presley was (and still is) such an icon.

When Luhrmann takes a breath and allows his audience to really absorb a scene or performance, Elvis genuinely soars. It's just a shame these moments are few and far. Even with a running time of more than two-and-a-half hours, it skims along Presley's life with such furious speed and without any interest in pausing to properly investigate anything with the depth it deserves.

You will walk away from Elvis entirely entertained but not exactly educated or enlightened. And maybe that will be enough for some. Butler's phenomenal performance and the toe-tapping soundtrack of Presley's timeless music save this film from itself and Luhrmann's indulgent ways. It's an ambitious undertaking that often falls under the weight of its own excess. It's flawed and fabulous, which seems entirely fitting for a man who was an equal measure of both.





Distributor: Warner Bros.
Cast: Austin Butler, Tom Hanks, Helen Thomson, Richard Roxburgh, Olivia DeJonge, Luke Bracey, Natasha Bassett, David Wenham, Kelvin Harrison Jr., Xavier Samuel, Kodi Smit-McPhee, Dacre Montgomery
Director: Baz Luhrmann
Producers: Baz Luhrmann, Catherine Martin, Gail Berman, Patrick McCormick, Schuyler Weiss
Screenplay: Baz Luhrmann, Sam Bromell, Craig Pearce, Jeremy Doner
Cinematography: Mandy Walker
Production Design: Catherine Martin, Karen Murphy
Costume Design: Catherine Martin
Music: Elliott Wheeler
Editor: Matt Villa, Jonathan Redmond
Running Time: 159 minutes
Release Date: 23rd June 2022 (Australia)