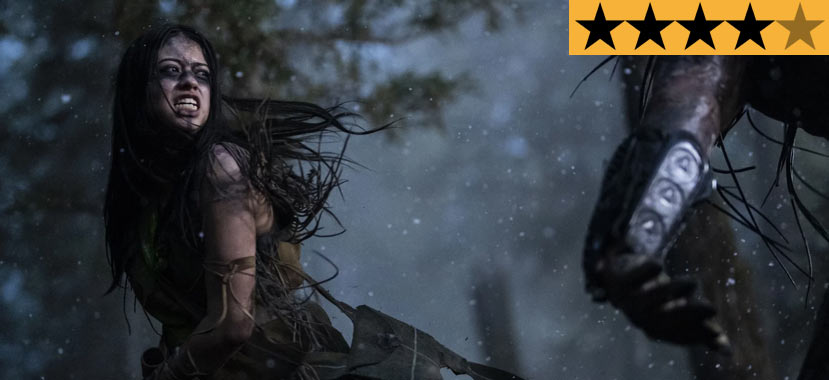 05 Aug

REVIEW – 'Prey' completely revitalises the sagging Predator franchise

For all intents and purposes, the Predator franchise was dead. For decades, many have tried earnestly to recapture the magic of the 1987 original. Every sequel and reboot has paled in comparison to what John McTiernan created 35 years ago. The final nail in this saga's coffin appeared to arrive in 2018 with Shane Black's surprisingly god-awful The Predator. But the folks at 20th Century Studios refused to let the alien beast rest in peace. Shockingly, it's proved to be the right decision.

Enter director Dan Trachtenberg and screenwriter Patrick Aison and a prequel nobody really asked for but one that offers the best Predator film since the original. A spiritual successor to everything McTiernan crafted, Prey is deliciously bloody, unapologetically violent, and genuinely thrilling. Trachtenberg innately understands what made the first film such a classic and delivers a fresh but familiar take that completely revitalises this sagging franchise.

Set in 1719 on America's Northern Great Plains, Prey lays its scene in the world of the Comanche Nation. Naru (a terrific Amber Midthunder) is a young female desperate to prove she's just as capable as any man. While Naru was raised to be a healer, she longs to be a mighty warrior like her older brother, Taabe (Dakota Beavers). What Naru lacks in physical strength she more than makes up for in strategy.

When Naru spots a strange craft in the sky and evidence of a large creature hunting animals across her homeland, she's mocked by the men of her tribe who refuse to listen to the warnings of their younger female cohort. But Naru is determined to track and kill whatever it may be and finally demonstrate her unappreciated skills. Little does she realise she's hunting an entity from another world with its sights set on destroying whatever (and whoever) crosses his path.

The previous Predator films all failed by overcomplicating the formula set by their predecessor. They fell under the weight of their admirable ambition to liven up proceedings by going bigger. It's a pitfall of practically every action franchise. Trachtenberg and Aison return to the winning simplicity of McTiernan's original. The plot works so damn well in this prequel because it's unadorned. It's hunter versus hunted. Pure, simple, and wildly effective.

It's a film that may seem to take too long to really get going, but Trachtenberg knows how to build the stakes and a palpable sense of tension. He wants us to patiently watch all the pawns fall into place before the real carnage truly begins. During that time, we're gifted the chance to connect with Naru and understand her intelligence and skill which will ultimately make her a formidable opponent for the ferocious alien. It helps he has someone like Midthunder leading the show.

In an electrifying performance you cannot take your eyes off, Midthunder knocks it out of the damn park. Midthunder offers a nuanced, layered turn that's an equal measure of heart and physicality. Naru is a capable young woman with an empathetic ache to rise above societal expectations. She's cunning and pragmatic, but these are gifts cruelly ignored by everyone around her. This is her moment to seize her destiny and become a mighty warrior. And watching her evolution is a thing of true beauty.

It's a mighty shame Prey is being relegated to streaming services, as its visuals are really quite breathtaking. Jeff Cutter's cinematography of the Canadian wilderness is simply gorgeous with several establishing shots up there with some of the best of the year. It's rare to see an action film understand the value of taking a moment to let the audience breathe between the chaos, but Cutter's imagery blesses this blockbuster with a tranquillity that's thoroughly unexpected.

Trachtenberg knows how to craft a gripping action sequence with energetic fight choreography and all the blood and gore that's a staple of this franchise. He's not holding any punches here and the end result is better for it. The character design of the Predator is as awe-inspiring as always. He's as nasty looking as always and the violence he enacts is deliriously fun to behold.

Maybe it helps that Prey is a film nobody was particularly clamouring for. It completely defies expectations and delivers one of the most supremely enjoyable action thrillers of the year. Trachtenberg takes everything back to basics and creates a wildly entertaining prequel that breathes new life into a seemingly dormant franchise. It takes what made its predecessor such a roaring success and refreshes it with a vitality and energy that's wonderfully intoxicating. There's still blood pumping in this three-decade-old saga and it's clear Trachtenberg is the man to lead it forward.





Distributor: 20th Century Studios
Cast: Amber Midthunder, Dakota Beavers, Dane Diliegro, Stormee Kipp, Michelle Thrush, Julian Black Antelope, Stefany Mathia, Bennett Taylor, Mike Paterson, Nelson Leis
Director: Dan Trachtenberg
Producers: John Davis, Jhane Myers, Marty Ewing
Screenplay: Patrick Aison
Cinematography: Jeff Cutter
Production Design: Kara Lindstrom
Costume Design: Stephanie Porter
Music: Sarah Schachner
Editors: Angela M. Catanzaro, Claudia Castello
Running Time: 99 minutes
Release Date: 5th August 2022 (Hulu/Disney+)