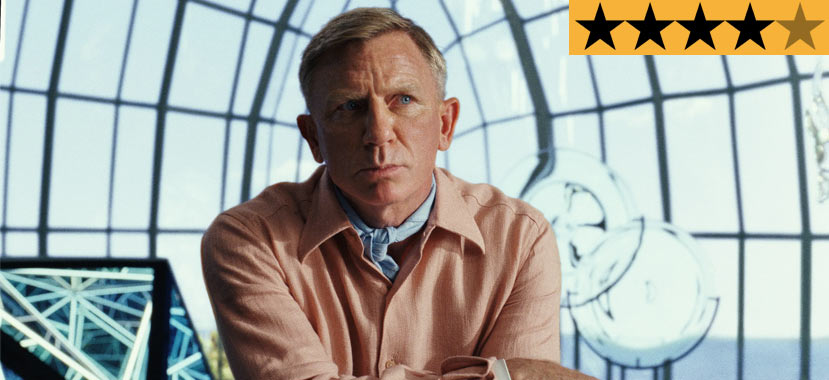 17 Sep

TIFF REVIEW – 'Glass Onion' is another bitingly sharp and beautifully crafted murder mystery from Rian Johnson

In 2019, writer-director Rian Johnson stole the show at the Toronto International Film Festival with Knives Out, one of the year's most deliriously entertaining surprises that soon became a sleeper box office smash. Johnson revived the lagging whodunit genre and earned a massive (and deserved) payday when Netflix came courting for the rights to two sequels to the tune of more than $400 million.

Three years and one global pandemic later and the time has arrived for the return of Detective Benoit Blanc (Daniel Craig) in Glass Onion: A Knives Out Mystery (that's its official marketing title, but that additional subtitle is nowhere to be found in the film itself), Johnson's equally enjoyable, bitingly sharp, and beautifully crafted murder mystery. With another embarrassment of riches ensemble cast and a twist-filled narrative that will keep you guessing, it's a pleasure to bathe in the tremendous fun Johnson gleefully serves up for a second time.

Taking place at the dawn of the covid-induced lockdowns of May 2020, Glass Onion begins with a group of five friends known as "The Disruptors" all being sent a mysterious wooden box by their billionaire tech genius pal Miles Bron (Edward Norton). After solving the quirky games inside, it seems the gang have all been invited to join Miles for a murder mystery party on his lavish estate in the Greek islands.

Setting sail for Miles' bash are ruthless Connecticut Governor and potential Senate candidate Claire Debella (Kathryn Hahn); vapid supermodel turned fashion designer Birdie Jay (Kate Hudson) and her beleaguered assistant Peg (Jessica Henwick); meathead men's rights activist Duke Cody (Dave Bautista) and his glamourous girlfriend Whiskey (Madelyn Cline); brilliant scientist Lionel Toussaint (Leslie Odom Jr.); and Miles' former business partner Cassandra "Andi" Brand (Janelle Monáe).

Then there's Detective Blanc, who isn't quite sure why he scored an invite to this private friends-only event, but still chose to attend in a bid to break the boredom of lockdown monotony. His presence is also a surprise to Miles, who doesn't appear to be the one who sent Blanc an invitation. Regardless, the eccentric sleuth will ultimately be the most important attendee when a real murder takes place and everyone on the island has a motive for their death.

Now that Craig has said farewell to the 007 moniker, he's quickly found another franchise and iconic character to sink his teeth into. And, frankly, I'm just as happy to see him play Benoit Blanc for as many years as he did James Bond. Much like the first film, Craig continues to chew the scenery with his goofy southern-fried accent and sharp observational wit that constantly rattles this group of rich, self-righteous snobs.

With such a gargantuan ensemble cast of wacky characters, each viewer will undoubtedly have their personal stand-out performances. Every cast member gets their moment to shine and they're all clearly having an absolute ball hamming it up with Johnson at the helm. For my money, this film ultimately belongs to the magnificent Monáe and a hysterically funny Hudson as much as it does Craig.

As Miles' aggrieved former business associate, Monáe is given the meatiest storyline that takes an unexpected turn after the first act. No spoilers here, but she's blessed with an opportunity to completely transform her character and this results in an empathetic and dazzling performance that Monáe absolutely nails. She delights in slowly unfurling the many layers of Andi and looks stylish as hell in the process, thanks to Jenny Eagan's gorgeous costume designs.

Johnson wisely takes full advantage of the impeccable comedic timing Hudson inherited from her mother. As a vacuous fashionista with a penchant for being cancelled for saying (or tweeting) the wrong thing, Hudson leans into the campy nature of her empty-head character and delivers her best performance in more than a decade. Comedy is where Hudson excels and it's pleasing to see her return to the genre that made her a star.

While its predecessor skewered those corrupted by old money, Glass Onion focuses its gaze on those with new money, be it via business success (legal or otherwise) or celebrity/influencer culture. Miles and his group of friends have all sold their souls in the name of becoming rich and powerful. Over the course of the film, those sins are finally coming back to haunt them. Much like seeing the Thrombey receive their overdue comeuppance in Knives Out, it's deliciously entertaining watching this detestable group of elitists being knocked down several pegs, especially at the hands of someone they least expect.

With a greater budget up his sleeve, Johnson has no problem delivering a sequel that's bigger and bolder in every conceivable way. Miles' Greek estate offers production designer Rick Heinrichs the chance to craft a disgustingly elaborate mansion filled with all manner of excessive and gaudy furnishings that play on the old adage that it takes a lot of money to look this cheap. Steve Yedlin's cinematography is bright and vibrant, while Nathan Johnson's charmingly old-school score is inspired work.

If there are any quibbles to be made, it's centred on the film's two-hour-plus running time. While it's true there are a lot of pieces to set in place before the real fun can begin, the first act lags as Johnson bends over backwards to explain every intricate detail of his complicated screenplay before allowing his audience to settle in for the ride. It's far from fatal and likely says more about how eager you'll be to see this puzzle start to come together in a way that only someone as crafty as Johnson can pull off.

There's so much at play in Glass Onion and most filmmakers would crumble under the weight of it all. Thankfully, Johnson is an expert at spinning multiple plates at once and never losing sight of his end goal. The first film set the bar tremendously high and Johnson reaches it again with this uproariously engaging sequel. May we continue to be treated to many more delectable Benoit Blanc murder mysteries to come.





Distributor: Netflix
Cast: Daniel Craig, Edward Norton, Janelle Monáe, Kathryn Hahn, Leslie Odom Jr., Jessica Henwick, Madelyn Cline, Kate Hudson, Dave Bautista
Director: Rian Johnson
Producers: Ram Bergman, Rian Johnson
Screenplay: Rian Johnson
Cinematography: Steve Yedlin
Production Design: Rick Heinrichs
Costume Design: Jenny Eagan
Music: Nathan Johnson
Editor: Bob Ducsay
Running Time: 139 minutes
Release Date: November 2022 (Select cinemas), 23rd December 2022 (Netflix)