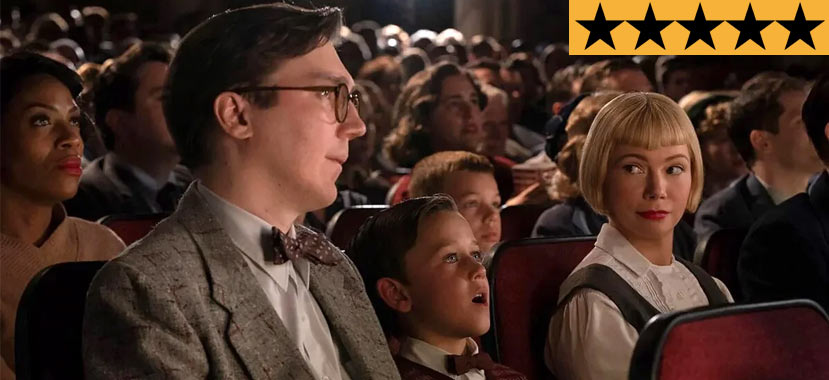 21 Sep

TIFF REVIEW – 'The Fabelmans' radiates with an unassuming and warm old-school charm that's impossible to resist

Let's get something clear right off the bat; Steven Spielberg is not retiring and The Fabelmans is not his final film. Those are the rumours that have been swirling ever since the auteur announced his latest sweeping epic was to be inspired by his own childhood and where his love of filmmaking began. It's not difficult to see why some thought this might be the filmmaker's way of saying farewell. As he took to the stage amid thunderous applause and a standing ovation at the recent world premiere, Spielberg was quick to emphatically dispel such talk.

Frankly, if Spielberg had chosen to call it a day after this gorgeous gem, he'd be leaving on a tremendous high. Following the lead of directors like Kenneth Branagh (Belfast), Paul Thomas Anderson (Licorice Pizza), and Alfonso Cuarón (Roma), Spielberg finds glorious success with his most personal work to date. Tender, sweet, and simple with a phenomenal ensemble cast, The Fabelmans radiates with an unassuming and warm old-school charm that's impossible to resist.

Set in the late 1950s and early 60s, The Fabelmans isn't entirely an autobiography of Spielberg's youth, but it's as close as it gets. The film begins in New Jersey with Mitzi (a transcendent Michelle Williams) and Burt Fabelman (Paul Dano) taking their young, Sammy (Mateo Zoryan Francis DeFord) to the cinema for the very first time; an experience that will have a profound impact on the wide-eyed youngster.

The sight of the infamous train wreck sequence in Cecil B. DeMille's Oscar-winning circus epic The Greatest Show on Earth initially leaves Sammy rather terrified, but he's soon attempting to recreate the images with a toy train set and his father's movie camera. Encouraged by his parents and close family friend "Uncle" Bennie (Seth Rogen), Sammy begins making amateur home movies with the assistance of his younger sisters, Reggie (Julia Butters), Natalie (Keeley Karsten), and Lisa (Sophia Kopera).

When Burt receives a promotion from General Motors, he uproots the family and heads for Phoenix with Bennie also in tow at the insistence of Mitzi, who can't bear to see her husband's best friend left behind. As ten years pass, teenage Sammy's (Gabriel LaBelle) passion for filmmaking only grows stronger and he's now recruiting an entire crew of pals to create wild Westerns and war pictures. But Sammy will soon discover the camera can capture what the human eye misses and a familial revelation looms that could tear the Fabelmans apart.

Co-written with perennial collaborator Tony Kushner, Spielberg connects with his past and grapples with the moments that made him the man he is today, especially those centred on the struggles he witnessed between his parents. From E.T.: The Extra-Terrestrial and Close Encounters of the Third Kind to Catch Me If You Can and War of the Worlds, so much of Spielberg's filmography is filled with squabbling parents, split families, and absent fathers. Now we're finally seeing the root of where that grief was born.

It's not that Burt is a "bad father" per se. He's career-focused and ambitious, but rarely at home and completely oblivious to his family's true needs and his son's burgeoning passion that's clearly so much more than just a "hobby." Mitzi selflessly abandoned her career as an endlessly talented concert pianist to be a stay-at-home mom and allow Burt to chase his dreams. It's this love of the arts that tightly binds mother and son, but it's also what is beginning to drive a wedge between husband and wife.

Spielberg clearly has mixed feelings about his parents and upbringing, but he's wise to never demonise either Burt or Mitzi or cast them as the villains of this film. He sees them as flawed individuals who both made dreadful mistakes, yet he understands parents have to juggle their own interests with the demands of their children. No mother or father ever gets it completely right, and The Fabelmans is obviously a cathartic experience for Spielberg to finally accept and forgive the past and appreciate his mother and father as their own individuals.

In an understated, subtle performance, Dano is superb as a man caught between his dreams and his family. Dano finds the pathos and dignity in a father who had the best of intentions but was clearly blinded by his unrelenting ambition and inability to truly understand either his son or his wife. It's far from a showy performance, but one that should finally net Dano his long-overdue first Oscar nomination.

But it's Williams who truly shines in one of the year's finest performances and one that pushes the four-time Oscar nominee to the front of the pack in the Best Supporting Actress race. Williams begins the film as a free-spirited mother who seemingly has it all. But as we learn of how much she's sacrificed in the name of her family, Williams slowly reveals the layers of a complicated woman on the verge of a total breakdown.

When the family moves to California, Mitzi falls into a crippling depression and Williams' performance becomes something else entirely. Her heart simply can't take it anymore and she's finally beginning to appreciate her own happiness is just as important as anyone else's. In the hands of a lesser performer, Mitzi could be seen as rather selfish and uncaring, but Williams evokes Meryl Streep's sublime turn in Kramer vs. Kramer and the result is nothing short of heartbreaking and empathetic.

As the pseudo-Spielberg, LaBelle is a terrific discovery who will hopefully parlay this performance into a bright career. There are shades of the infamous director in his cadence and mannerisms, but LaBelle makes Sammy a completely original character whose entirely loveable and someone you will cheer for. His love for movies and filmmaking is infectious, but it's his desire to keep his family together and make sense of the crumbling world around him that will really win your heart.

It's ultimately Judd Hirsch who steals this film in a short but memorable turn as Mitzi's long-lost Uncle Boris. Boris arrives for an unplanned visit with plenty of truth bombs to deliver including a lengthy monologue about the entertainment industry that's one of the best moments you'll see on screen this year. Kudos also to young Chloe East who injects some much-needed levity into the film as a budding romance for Sammy whose devotion to Jesus knows no bounds.

As always, Spielberg assembles a crack team of technical wizards to bring his vision to life. Janusz Kaminski provides the perfect wistful cinematography to give The Fabelmans a painterly, dreamlike quality. Costume designer Mark Bridges and production designer Rick Carter craft the pitch-perfect vintage aesthetic. And, of course, John Williams is on hand to offer a stirring and sweeping score that will likely score the iconic composer his 53rd (!) Oscar nod.

A gorgeous ode to a filmmaker's childhood and the birth of his passion for film, The Fabelmans is truly beautiful stuff from a master of cinema. Spielberg is truly laying himself and his heart bare on the big screen and portraying both the highs and lows of his life. He's making peace with the past and sharing it for the world to see. You really can't ask for more from a filmmaker than to deliver something so deeply personal.

Richly intimate, wonderfully entertaining, and undeniably touching, The Fabelmans is one of the best films of the year. Spielberg has blessed us with some of the greatest movies ever made, and he's added another masterpiece to that oeuvre. What a joy it is to see a filmmaker still able to touch your soul after all these years. Bless you, Steven.





Distributor: Universal Pictures
Cast: Michelle Williams, Paul Dano, Seth Rogen, Gabriel LaBelle, Judd Hirsch
Director: Steven Spielberg
Producers: Kristie Macosko Krieger, Steven Spielberg, Tony Kushner
Screenplay: Steven Spielberg, Tony Kushner
Cinematography: Janusz Kaminski
Production Design: Rick Carter
Costume Design: Mark Bridges
Music: John Williams
Editors: Sarah Broshar, Michael Kahn
Running Time: 149 minutes
Release Date: 11th November 2022 (US)