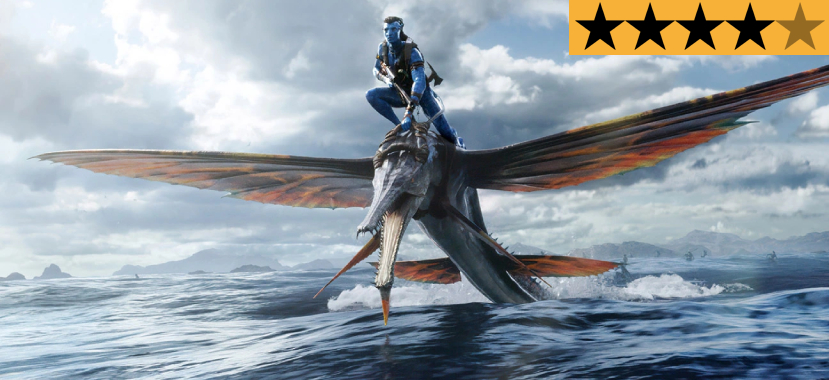 14 Dec

REVIEW – 'Avatar: The Way of Water' is a masterclass in spectacle filmmaking

For some unfathomable reason, James Cameron is a filmmaker who many have seemingly underestimated for practically his entire career. No one thought he could match the thrilling fun of The Terminator, and yet Terminator 2: Judgment Day proved to be one of the greatest sequels ever made. Titanic was destined by the media to be a spectacular box office flop, and yet it went on to earn more than $1.8 billion and win 11 Academy Awards including Best Picture. And then there was 2009's Avatar; another film preordained to presumably fail, and yet it went on to become the highest-grossing film of all time.

Despite Cameron continually proving the doubters wrong, there are naturally several question marks surrounding the long-awaited (and much-delayed) release of the film's sequel. After 13 years, will audiences flock to the cinema to return to Pandora? Did he wait too long and this is heading to flopsville? Can he really strike gold again? With an emphatic thumbing of the nose to every single cynical naysayer, Cameron delivers a masterclass in spectacle filmmaking with the terrifically entertaining Avatar: The Way of Water.

Visually mind-blowing with numerous thrilling action sequences, this marvellous sequel is brilliant popcorn cinema with an unexpected emotional edge that evolves this franchise into something else entirely. Much like most of Cameron's filmography, it's let down by a generic screenplay that favours style over substance. But when that style is so impeccably crafted, it's hard to care. You came here to be dazzled and dazzled you shall be.

Set more than a decade after the events of its predecessor, Avatar: The Way of Water finds Jake Scully (Sam Worthington) and Neytiri (Zoe Saldaña) living peacefully in Pandora as the patriarchs of a large family. Their eldest son, Neteyam (Jamie Flatters) is a fierce warrior growing up to be very much his father's son. The same can't be said for Neteyam's younger brother Lo'ak (Britain Dalton), who's constantly making mistakes and feels like a disappointment to his parents. Precocious eight-year-old Tuk (Trinity Jo-Li Bliss) is the apple of her mother's eye, while Jake and Neytiri have also adopted teenager Kiri (Sigourney Weaver), the Na'vi/human hybrid daughter of the late Dr. Grace Augustine (also Weaver).

While most humans were expelled from Pandora at the conclusion of the previous film, a few have remained behind including Spider (Jack Champion), an orphaned human teenager born in an army base during the invasion who has since been adopted by Jake and Neytiri, though the latter is naturally still a touch wary of having a human around. With Jake now the proud leader of the forest tribe, life for the Na'vi appears to be rather blissful…until the day the "sky people" return to conquer Pandora once more.

As it turns out, the deceased Colonel Miles Quaritch (Stephen Lang) has been resurrected by the Resources Development Administration with his spirit and memories embedded into a Na'vi-human hybrid avatar. Hellbent on finishing what he started and fuelled by his desire for vengeance against Jake, Quaritch will stop at nothing in his attempts to claim Pandora for Earth. But, once again, the Na'vi won't go quietly, particularly a new tribe of reef-dwelling inhabitants who offer new underwater worlds for Jake and the Scullys to explore and unexpected forms of resistance to Quaritch and his cohorts.

You're probably unlikely to be expecting a stellar narrative from something like Avatar: The Way of Water. It was certainly the weakest element of the first film (note the lack of a Best Original Screenplay nomination amongst its nine Oscar nods) and it's a case of history repeating in the sequel. It's far from fatal that Cameron and co-writers Rick Jaffa and Amanda Silver serve up a paper-thin plot that mostly rehashes elements of its predecessor with a swarm of new characters thrown in to distract you from realising you've basically seen this exact setup before. Their screenplay wants to provide sharp social commentary on colonialism and environmentalism but never has the courage to explore these themes deeply enough to really go for the throat on such pertinent issues.

Even with its gargantuan three-hour-plus running there, the additions to the cast are mostly just presented in a surface-level fashion without any real character depth or introspection.  Again, it's not exactly what most audiences are seeking from a film of this nature, so one can't quibble too heavily on such an issue. Cameron has several Avatar films on the horizon, so perhaps it's all part of his plan to dig deeper into these fresh characters in future chapters. That being said, you'll likely leave this sequel feeling like you barely get to know the Scullys in a particularly intimate way.

This is inherently a father-son story, so it ultimately leaves someone like Neytiri on the sidelines for much of this film. Saldaña shines when given the opportunity (especially late in the film), but one can only hope she gets to take charge of this franchise as heavily as Neytiri did in the original film. There are many new characters to juggle here, and Cameron is often more interested in world-building than character exploration. It's lucky Pandora is such an endlessly fascinating world that you're happy to let the filmmaker take you on this journey to sparkling new environments once we leave the forest behind.

The decision to lay much of this sequel in the land of the reef people known as the Metkayina is a shrewd one. Led by the stoic Tonowari (Cliff Curtis) and his fearless wife, Ronal (Kate Winslet), this fresh clan of Na'vi feature unique abilities and personas that allow them to live, play, and hunt in the depths of the sea. We're taken underwater in some of the most visually stunning aquatic sequences ever seen on the big screen. There's not a single moment you don't believe every single image the visual effects wizards have cooked up on a computer. The level of photorealism is simply breathtaking. It's like watching the wildest ocean documentary you've ever seen.

The way Russell Carpenter's fluid cinematography glides through the ocean alongside the Metkayina is genuinely hypnotic, particularly if you choose to see this film in 3D. Yes, the previously-dormant projection technique is back, and could even make a resurgence if this sequel performs the way Disney will be hoping it does. Cameron utilises the extra dimension to submerge his audience in spectacular new ways that remind us why we all went gaga for 3D more than a decade ago. It's not invasive or gimmicky. You may actually find yourself forgetting you're even watching a 3D film because it feels so damn immersive and visceral.

After a calm first act that catches you up to speed with what's occurred in the last decade in Pandora and a second act where Cameron has a blast showcasing the quirky new creatures and worlds he's cooked up, Avatar: The Way of Water reaches a mighty crescendo in the final act where the battle begins. It's here the Na'vi are able to show what they're really made of in another dazzling showdown with these brutal human (well, part-human) invaders. Cameron has always been a filmmaker who knows how to craft a thrilling action sequence, and the last hour features some of the most tense, exciting, and entertaining moments of the year. There's even a dash of Titanic claustrophobic ship-based mayhem that I dare not spoil.

It's in this third stanza that the familial emotional beats really begin to hit your heart. You've spent the better part of two hours with these characters and Cameron knows you want to see them succeed and survive. The fighting is brutal and beautifully choreographed. The action is big and bombastic. And there's one ingenious moment involving a whale-type creature and a harpoon line that resulted in thunderous applause from my audience. This rousing finale will leave you exiting the cinema with a giant smile on your face and yearning for more in two years' time when Avatar 3 rolls around.

James Cameron has truly done it again. Against all the odds, Avatar: The Way of Water is every inch as remarkable as its predecessor. It may repeat certain plot points, but they're set in a whole new world of possibilities and scenarios that make this sequel feel entirely fresh and unique. At its core, this is a simple family drama told in the most lavish of manners. This is the kind of extravagant blockbuster we rarely see outside the superhero genre anymore. On a visual and technical level, there's never been anything like it. It's no surprise this film took literally years to make. The wait was entirely worth it.





Distributor: 20th Century Studios
Cast: Sam Worthington, Zoe Saldaña, Sigourney Weaver, Stephen Lang, Cliff Curtis, Edie Falco, Kate Winslet
Director: James Cameron
Producers: James Cameron, Jon Landau
Screenplay: James Cameron, Rick Jaffa, Amanda Silver
Production Design: Dylan Cole, Ben Procter
Costume Design: Bob Buck, Deborah L. Scott
Cinematography: Russell Carpenter
Music: Simon Franglen
Editors: Stephen E. Rivkin, David Brenner, John Refoua, James Cameron
Running Time: 193 minutes
Release Date: 15th December 2022 (Australia)