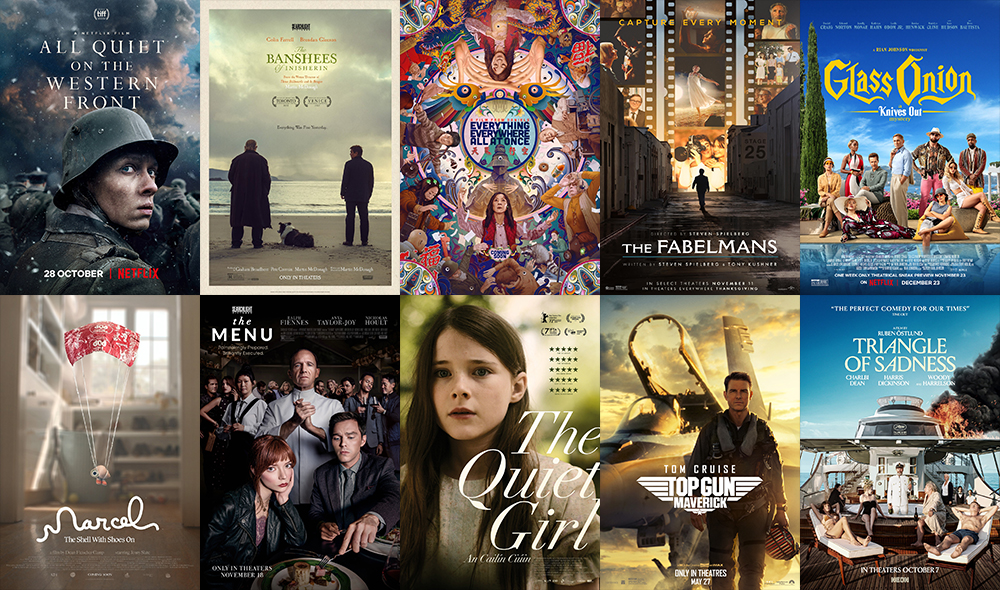 29 Jan

The Jam Report's top ten films of 2022

Another year of cinema comes to a close. It was the year that life started to seem relatively normal again. No lockdowns, cinema closures, or release date delays. Film festivals were held in-person for the first time in two years. Blockbusters started making hundreds of millions of dollars again. Three of them cracked a billion bucks. Inexplicably one of them was Jurassic World: Dominion; a film I haven't heard a soul mention since it was released in June. Until I looked back on the yearly box office numbers, I genuinely forgot we even had a Jurassic World film last year.

Attendance numbers aren't quite back to pre-covid levels. Streaming services and video-on-demand are clearly still the choice de jour for a lot of folks. Maybe this is good as it gets. Or maybe, just maybe, films like Top Gun: Maverick and Avatar: The Way of Water reminded audiences of the magic of the big screen and 2023 will see them flock back to their local multiplex.

I'm often asked if I think the days of cinemas are numbered. It's clear covid changed a lot of people's viewing habits. No one can deny that. Lockdowns and the pandemic-induced paranoia certainly made people question spending time with a bunch of strangers in a small room for two-plus hours. And there are those who are now too accustomed to watching new releases on their television or laptop to ever return. But one thing is clear from the box office results; if you give people a reason to see something on a big screen, they will turn up.

Does that mean the future will see theatrical releases reserved only for big-budget blockbusters, tentpole franchises, and nostalgia-filled sequels and remakes? It's plausible. But that was the state of the industry for years pre-covid and post-pandemic life has really just exposed the huge interest gap between mainstream fare and smaller-scale titles. Your average human being only attends the cinema four or five times a year. They want to see something that's familiar to them. Something they strongly presume they will love. Something, dare I say, safe.

It's not all doom and gloom. The fact that a film as tiny as Everything Everywhere All at Once cracked more than $100 million worldwide was a monumental achievement. Horror/thriller titles like Scream, Nope, M3GAN, The Black Phone, and Smile collectively made more than $800 million worldwide. The success of family films like Minion: The Rise of Gru, DC League of Super-Pets, The Bad Guys and Puss in Boots: The Last Wish proved parents are still taking their children to "the pictures" as my grandmother would call it. Cinemas aren't done yet.

Enough about the state of the industry. Let's get into my retrospective of the year that was. As is tradition, here are ten films that just missed out on my top ten but are still absolutely worthy of adoration.

20. The Woman King (full review)
19. Living
18. Fire of Love (full review)
17. Puss in Boots: The Last Wish (full review)
16. Pearl
15. RRR
14. Women Talking (full review)
13. TÁR 
12. Guillermo del Toro's Pinocchio
11. Aftersun

And now, without further ado, presenting The Jam Report's top ten films of 2022.
10. Glass Onion: A Knives Out Mystery (full review)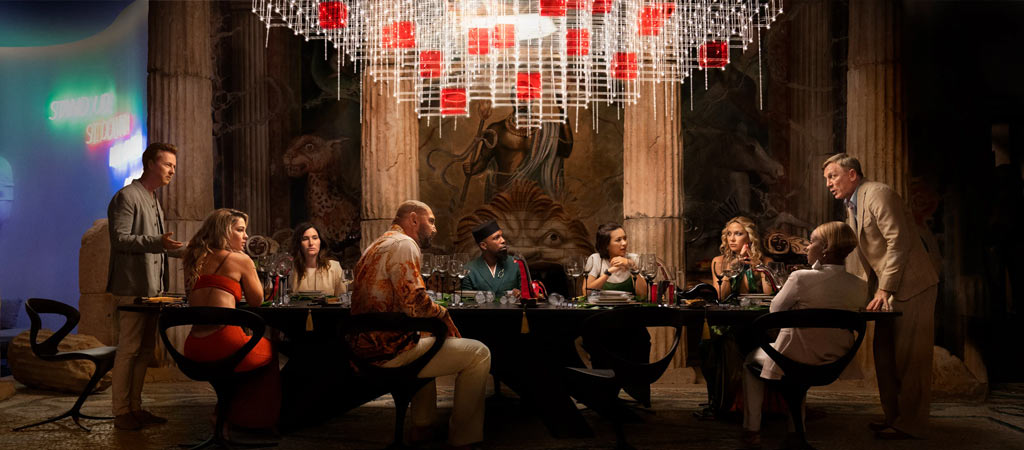 "It's a dangerous thing to mistake speaking without thought for speaking the truth."
With another embarrassment-of-riches ensemble cast and a twist-filled narrative that kept you guessing, it was a pleasure to bathe in the tremendous fun Rian Johnson gleefully serves up for a second time. Glass Onion: A Knives Out Mystery was an equally enjoyable, bitingly sharp, and beautifully crafted murder mystery that offered one of the year's most supremely entertaining romps. There's so much at play here and most filmmakers would crumble under the weight of it all. Thankfully, Johnson is an expert at spinning multiple plates at once and never losing sight of his end goal. The first film set the bar tremendously high and Johnson reaches it again with this uproariously engaging sequel.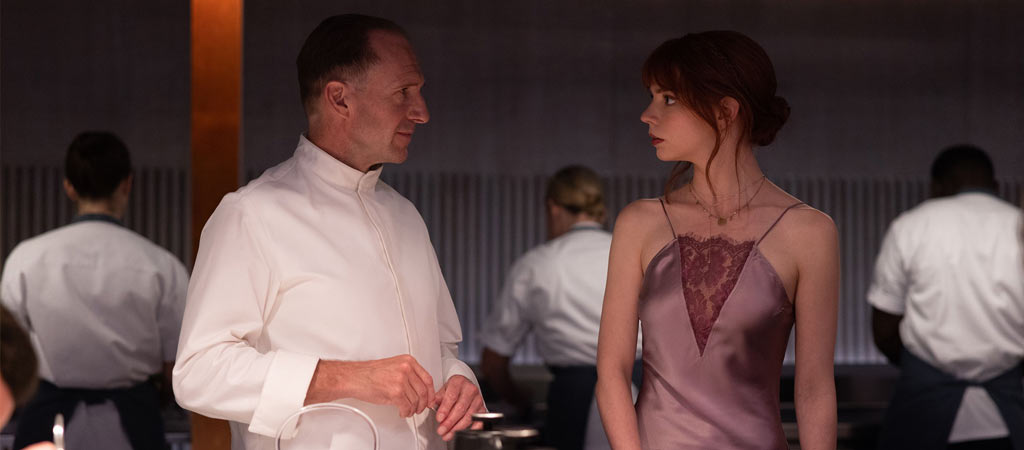 "Yes, chef."
A deliciously dark black comedy with sharp social commentary and a brilliant ensemble cast, The Menu is a delectably nasty treat that leaves a lasting impact. A satirical feast that plays well with a big crowd, it's a bloody good time that pulls few punches. Dark and deviant with a wicked sense of humour and lashings of thrilling twists, The Menu was one of the most supremely enjoyable films of the year. It's hilarious and entertaining with plenty to say about numerous pertinent topics. With a fully committed ensemble cast and a brilliantly written screenplay, Mark Mylod delivers a sumptuous experience that will leave you longing for seconds.
8. Triangle of Sadness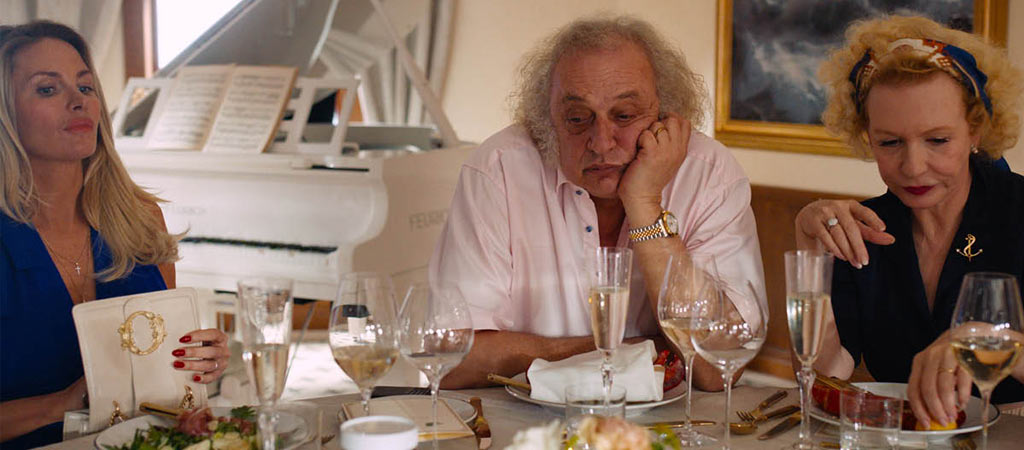 "Never argue with an idiot, they'll only bring you down to their level and beat you with experience."
Uproariously funny, delightfully demented, and bitingly sharp, Triangle of Sadness was an absolute delight. It's not for everyone's tastes, especially a literally nauseating sequence that surely tested the stomach of many audience members. But dig beneath the ridiculousness and it's a shrewd satire that perfectly skewers the mega-rich and shines a glaring spotlight on privilege, excess, and inequality. A brilliant ensemble cast brings Ruben Östlund's wild screenplay to life and the result is just magic. The way the goddess Dolly de Leon eats this film alive is a true thing of beauty to behold. Her lack of an Oscar nomination is maddening.
7. Top Gun: Maverick (full review)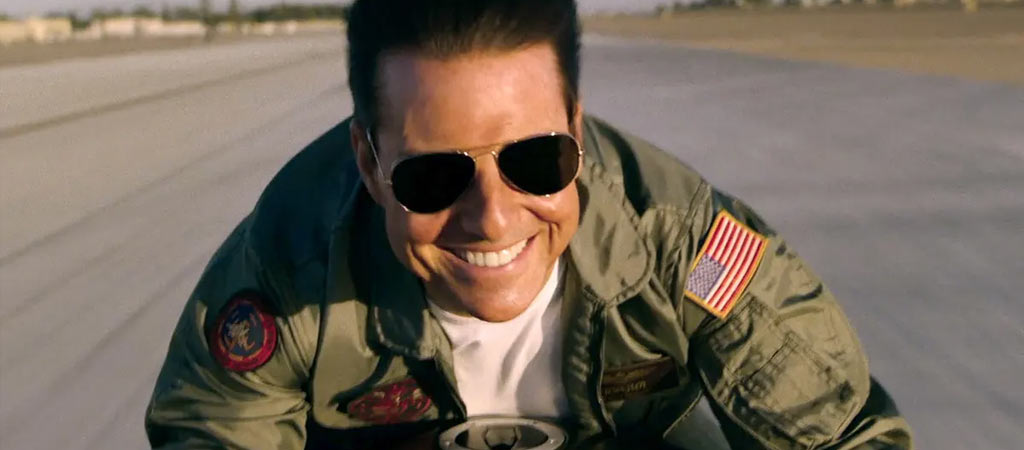 "Trust your instincts. Do think. Just do."
One of the greatest summer blockbusters of all time and easily one of the most ridiculously entertaining films of the year, Top Gun: Maverick is a textbook example of how a legacy sequel should be made. It delivers all the nostalgic feels and emotional beats fans are seeking but offers a fresh narrative that completely stands on its own two feet. It pushes the boundaries of action filmmaking with electrifying sequences that demanded to be seen on the biggest screen possible. And, yet again, Tom Cruise proves why he remains one of the last bonafide movie stars. An ultra-rare instance where a sequel manages to soar past its predecessor.
6. Marcel the Shell with Shoes on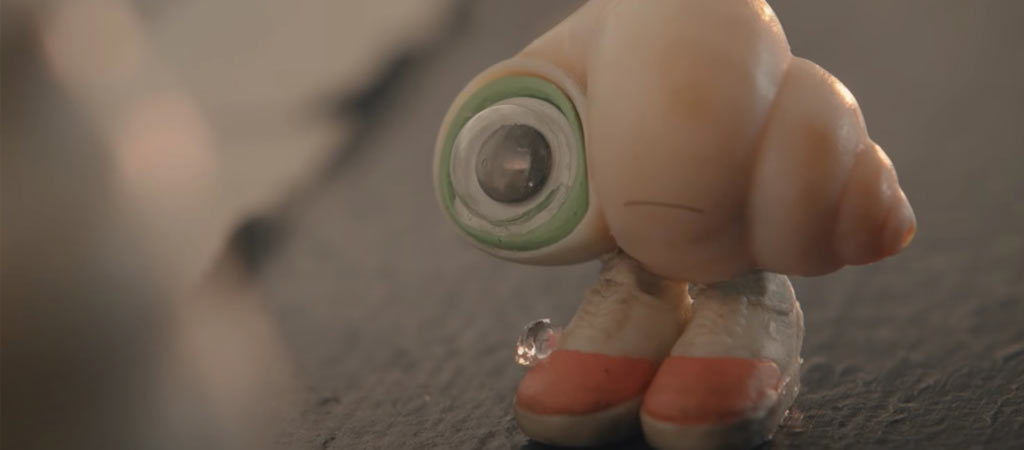 "Guess why I smile a lot. 'Cause it's worth it."
You'd be hard-pressed to find a cuter film in 2022 than Marcel the Shell with Shoes On. A simple, quirky tale that plays like a tribute to familial connection and the process of dealing with grief and loss, it's a deceptively powerful little gem that will easily win your heart over. Endlessly adorable and beautifully crafted, it's warm and charming with a streak of sharp wit that elevates its content beyond its silly premise. It's the perfect showcase for the enormous talent of Jenny Slate, who imbues Marcel with so much heart and soul through her voice alone. It's impossible not to fall in love with this little shell. A marvellous achievement.
"Movies are dreams that you never forget."
Steven Spielberg found glorious success with his most personal work to date. Tender, sweet, and simple with a phenomenal ensemble cast, The Fabelmans radiates with an unassuming and warm old-school charm that's impossible to resist. A gorgeous ode to a filmmaker's childhood and the birth of his passion for film, The Fabelmans is truly beautiful stuff from a master of cinema. Spielberg is truly laying himself and his heart bare on the big screen and portraying both the highs and lows of his life. He's making peace with the past and sharing it for the world to see. You really can't ask for more from a filmmaker than to deliver something so deeply personal. Richly intimate, wonderfully entertaining, and undeniably touching, The Fabelmans is another masterpiece for Spielberg to add to his already-burgeoning oeuvre.
4. The Quiet Girl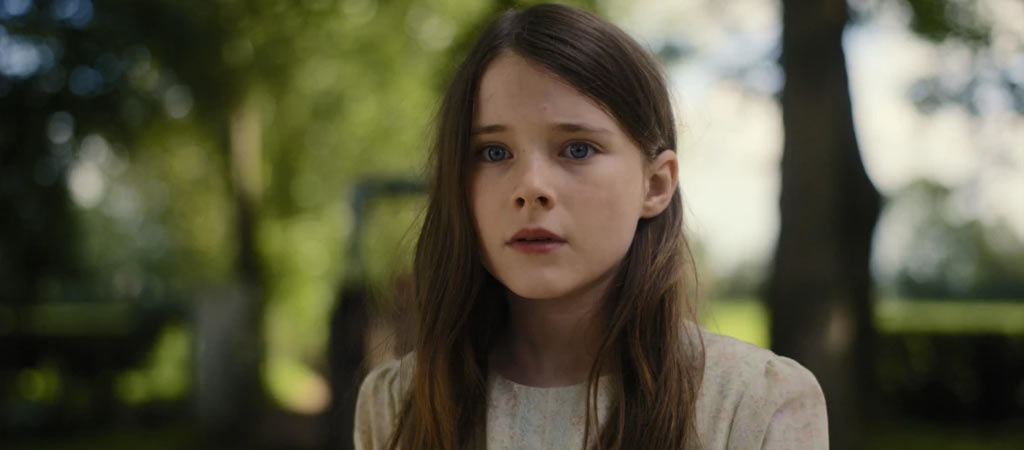 "Daddy."
The aptly titled The Quiet Girl says so much yet shows so much restraint. Tender and delicate with impeccable acting and gorgeous cinematography, it is a true gem. Few films touched my heart in 2022 as deeply as this simple yet powerful masterpiece. There is no artifice here. No big reveal or shocking twist. It's just the story of one young girl's summer spent living with a pair of distant relatives. But it's all crafted with such beauty and heart and cemented by one of the best young performances you will ever see on screen. There's an ethereal quality to this film that's rather intoxicating. Maybe it's the gorgeous location photography. Or the fact it's spoken entirely in Gaelic. Whatever it is, it's a marvellous piece of cinema that leaves a lasting impact.
3. The Banshees of Inisherin (full review)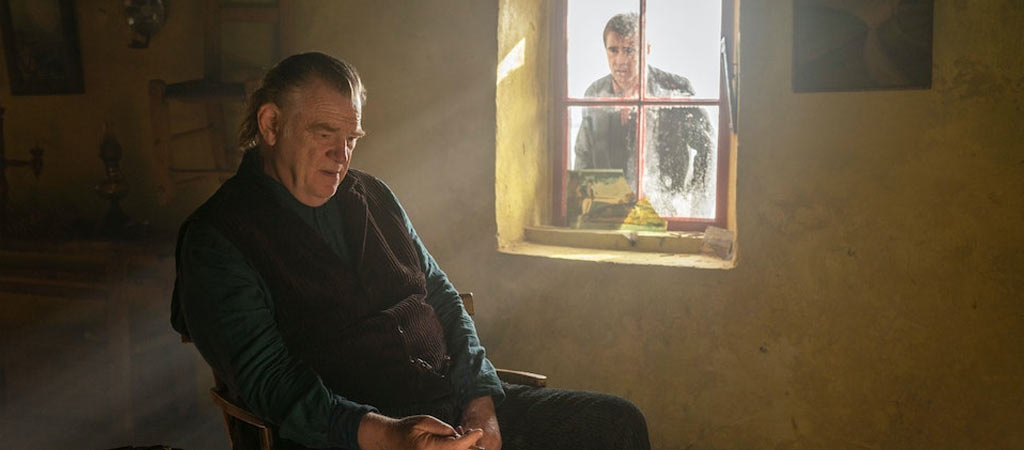 "Niceness doesn't last."
A brilliantly subversive film that's still dancing in my mind months after my first viewing, The Banshees of Inisherin is a deceptively simple Irish folk tale with plenty hiding beneath its surface. Beautifully written by Martin McDonagh and brought to life by one of the finest ensemble casts of the year, it's delightfully funny and curiously subtle until the point McDonagh takes a turn down a swarthier path and never looks back. Cemented by a career-best performance from Colin Farrell and elevated by a modest story still packs a mighty punch you won't see coming, it's a feckin' captivating film that's nothing short of cinematic perfection.
2. All Quiet on the Western Front (full review)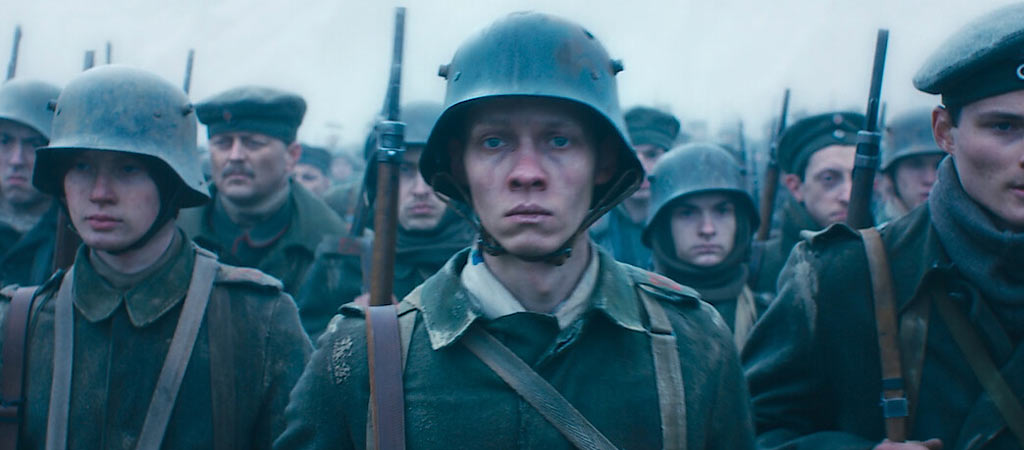 "The stench will remain on us forever."
A devastating portrait of war from an alternate viewpoint rarely seen on screen, Edward Berger's interpretation of All Quiet on the Western Front is a visceral and harrowing masterpiece. Aided by stunning cinematography and bone-rattling sound design, Berger places his audience right in the centre of the horrific true nature of warfare. It's necessarily bleak and unsettling, but therein lies the immense power of this compelling and pertinent condemnation of the senseless reality of brutal combat. Berger refuses to shy away from the brutal reality facing German soldiers and the infuriating backstory of why they were there in the first place. It's palpable viewing that will haunt your mind long after the end credits roll. What Berger has crafted is nothing short of masterful. Visually breathtaking and emotionally gripping, this is one of the greatest war films ever made. Pay attention, Academy.
1. Everything Everywhere All at Once (full review)
"In another life, I would have really liked just doing laundry and taxes with you."
As is the case each year, one film shines above all others. In 2022, it arrived earlier than usual. And nothing came close to matching it for the next eight months. A visually stunning and emotionally resonant masterpiece, Everything Everywhere All At Once was truly unlike anything I'd ever seen before. A film that will completely overload your brain and heart in the best way possible, this sublime film is an astonishing achievement that tells the simplest of stories in the most elaborate of ways. Outlandishly absurd yet deceptively powerful, it's the kind of staggering originality that reminds movie lovers why we love cinema. What an absolute gift. And may it clean up at the Oscars in a few months' time.