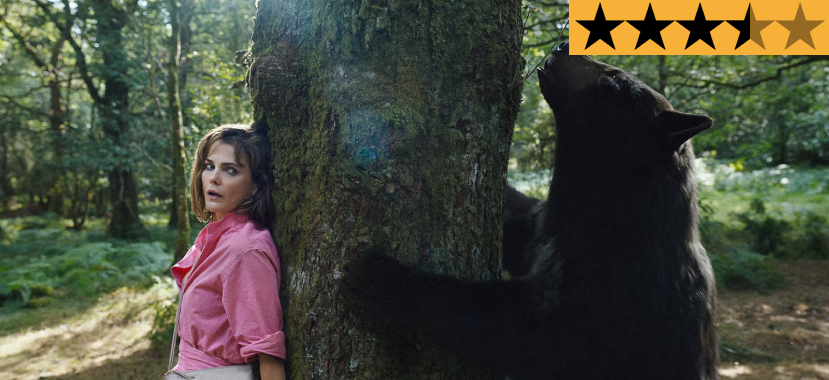 23 Feb

REVIEW – 'Cocaine Bear' is 95 minutes of pure unadulterated fun

When you've been watching movies as long as I have, you start to think you've seen it all. But then a film comes along featuring a 500 lb American black bear snorting cocaine off a dead man's severed leg and you realise cinema still has the power to shock you in the best way possible. That's just the tip of the outrageous iceberg in Elizabeth Banks' tremendously entertaining and sublimely ridiculous romp Cocaine Bear; a film that knows precisely what it is and gleefully serves up 95 minutes of pure unadulterated fun.

Loosely (and I used that term liberally) based on true events, Cocaine Bear opens with coked-up drug smuggler Andrew Thornton (Matthew Rhys) liberally tossing bricks of cocaine from the side of his plane over Georgia's Chattahoochee National Forest in a drastic attempt to lighten the plane's load. After losing his footing and knocking himself unconscious, Thornton plummets to his death in the suburbs of Tennessee.

As fate would have it, the coke is unintentionally ingested by a female black bear who promptly begins a murderous rampage while on the hunt for her next fix of the white stuff. Caught in the bear's sights are protective mother Sari (Keri Russell), who's ventured into the woods to find her scrappy, school-ditching daughter, Dee Dee (Brooklynn Prince) and her best pal, Henry (Christian Converey); Daveed (O'Shea Jackson Jr.) and Eddie (Alden Ehrenreich), who are on a mission to find the missing cocaine for Eddie's drug kingpin father, Syd (the late great Ray Liotta); Bob (Isiah Whitlock Jr.), a Tennessee detective investigating Thornton's mysterious death; and no-nonsense park ranger Liz (Margo Martindale) and her wildlife inspector crush, Peter (Jesse Tyler Ferguson).

The true story of the real-life cocaine bear is far less interesting than what screenwriter Jimmy Warden and Banks have cooked up. In reality, the unfortunate bear stumbled upon Thornton's abandoned loot, swallowed an entire duffel bag containing 34 kilograms of cocaine, and promptly died. His taxidermied corpse is currently on display in a Kentucky shopping mall. But, as Aussie icon Chopper Read once said, never let the truth get in the way of a good yarn. And this is one hell of a yarn.

Banks fully embraces the utter absurdity of this premise with such devilish gusto. With equal lashings of irreverent humour and gory violence, this is a black comedy in the purest sense. She's also wisely injected plenty of effectively built tension that adds a good dose of horror/thriller to the mix too. Perhaps it helps that Banks cut her teeth as an actress on the set of 2001's Wet Hot American Summer, as she's infused Cocaine Bear with the silly sensibilities of an 80s cult comedy in the same vein as David Wain and Michael Showalter.

It helps that Banks has a fully committed ensemble cast along for the ride who all understand the assignment entirely. Even usually restrained actors like Russell and Martindale throw themselves into this madness, particularly the latter who steals the entire film as a slightly, ahem, amorous trooper. Converey is a delight as the constantly rattled youngster who will do anything to impress his gal pal including swallowing an entire tablespoon of cocaine. And there's a great dynamic between Jackson Jr. and Ehrenreich that proves to be the true heart of the film.

There are far too many characters here (I've barely mentioned half the full cast above) and Warden's screenplay can't possibly flesh them all out effectively. Most of them are merely here to add to the rising body count and that's perfectly fine in a movie of this nature. Banks wants you to connect with the core group of characters she's focusing on and it's clear whose fate she wants her audience to give a damn about.

At the end of the day, you're here to see a gargantuan bear high on cocaine rip a dozen people to death. And that's entirely what Banks has delivered. A stellar creation from the wizards of WETA, this new heroine of horror is a terrifying sight to behold. And her wrath is as bloody and gruesome as you could desire. I won't head into spoiler territory, as the death scenes are best left unspoiled, but just prepare yourself for some of the most wildly imaginative and utterly ludicrous murders you'll see this year, especially one sublime sequence involving a speeding ambulance that left my audience applauding with giddy joy.

Cocaine Bear is completely in on the joke, making it entirely easy to just give in and be taken along for what can only be described as a wild rollercoaster of a film. It's fun with a capital F. It's dumb with a capital D. It's entertaining with a capital E. And, dammit, if it isn't likely to be one of the most deliciously enjoyable experiences you will have inside a cinema this year. This is the kind of movie best enjoyed with a large, ravenous, and appreciative audience. It also helps that it's being released at a time when cinemas are drowning in oh-so-serious Oscar-bait dramas. Line up (pun intended) at your local cineplex and strap yourself in.





Distributor: Universal Pictures
Cast: Keri Russell, O'Shea Jackson Jr., Christian Convery, Alden Ehrenreich, Jesse Tyler Ferguson, Brooklynn Prince, Isiah Whitlock Jr., Kristofer Hivju, Hannah Hoekstra, Margo Martindale, Ray Liotta
Director: Elizabeth Banks
Producers: Phil Lord, Christopher Miller, Aditya Sood, Elizabeth Banks, Max Handelman, Brian Duffield
Screenplay: Jimmy Warden
Cinematography: John Guleserian
Production Design: Aaron Haye
Costume Design: Tiziana Corvisieri
Music: Mark Mothersbaugh
Editor: Joel Negron
Running Time: 95 minutes
Release Date: 23rd February 2023 (Australia)