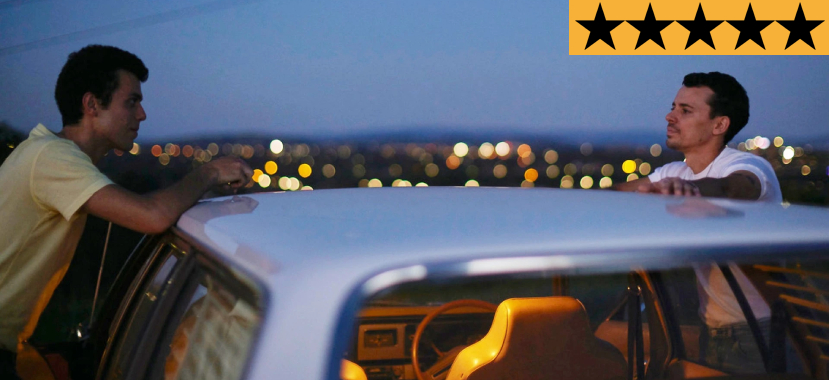 27 Mar

REVIEW – 'Of an Age' is a quietly delicate and perfectly restrained queer masterwork

In recent years, it's been beyond pleasing to see queer cinema finally move away from the exhaustingly tiresome "Bury Your Gays" trope. Films like Bros, Fire Island, Happiest Season, and The Prom have proven gay love stories no longer need to drown in misery or have someone tragically die to make an impact. What a concept, huh? But a new sub-genre has emerged centred on the painfully familiar concept of "queer yearning" seen in films like Call Me by Your Name, Moonlight, and Carol.

Australia adds its own inclusion to this emerging cinematic category with Of an Age; a quietly delicate and perfectly restrained queer masterwork that radiates with a tender, honest, and breathtaking depiction of first love. Impeccably written and directed by rising star Goran Stolevski and brought to life by two unforgettable performances from Elias Anton and Thom Green, the film wises avoids the type of cheap sentimentality and melodrama that usually permeates this style of narrative. This is raw, honest, and deeply moving cinema. And one of the best Australian films of recent times.

Set in North Melbourne in the summer of 1999, we meet almost-18-year-old Nikola (Anton), an awkward closeted gay teenager on the verge of adulthood and still without a clue what his future holds. Nikola's previously peaceful day is rattled by a frantic payphone call (remember those?) from his best friend and competitive dance partner, Ebony (a scene-stealing Hattie Hook), who has woken up hungover and alone on a beach on the other side of town.

Given it's the day of their grand final ballroom performance, a hysterical Ebony desperately begs Nikola to local her older brother, Adam (Green) and rescue her in the slim hopes of still making it to the dance on time. After tracking Adam down, Nikola is immediately taken by this effortlessly cool recent uni grad who casually drops information that reveals his homosexuality. The pair connect on their drive around Melbourne's suburbs and a romance is clearly beginning to flourish. There's just one problem lingering over their heads; Adam is heading to South America the very next day for an indefinite stay.

It's the simplest of concepts that will draw immediate comparisons to Andrew Haigh's hugely underrated queer cult classic Weekend. Much like the two protagonists in Haigh's tale, Nikola and Adam's time together is finite, creating an immediate sense of urgency and a big dash of looming tragedy. Stolevski is a master of utilising a palpable sense of restraint to showcase this burgeoning will-they-won't-they romance that's deliriously intoxicating for the viewer.

The taut claustrophobia of Adam's car only adds to the rising aura of attraction where stolen glances and wry smiles capture the undeniable attraction between these two young lovebirds. Cinematographer Matthew Chuang's tight photography is visceral and littered with close-ups that record everything Anton and Green are deftly saying with just their eyes and expressions. It's these intimate visuals that draw an audience into this love story so staggeringly immediately that you're yearning for these two to get together as much as they are.

While this is inherently a romance, it's also a coming-of-age drama centred on Nikola's journey of acceptance and self-discovery. It's clear Adam is the first openly gay person he's ever met and he's someone who innately understands him like no one ever has. It's while he feels such an instant bond with this dashingly handsome stranger. It's something all queer people experience. It's that moment you finally feel understood by another person on a wonderfully deep level. These two are drawn together because they've fatefully found something in each other that no one else could provide. And, in something akin to Shakespeare's Romeo & Juliet, we know they tragically can't be together forever.

It's refreshing to find this ill-fated queer affair isn't blocked by homophobic oppression or societal obstacles. Rather it's purely (and painfully) a case of timing not being on their side. Stolevski has clearly chosen this period in modern history for a very specific reason. It's the dawn of a new millennium. LGBTQ rights are on the rise. The AIDS crisis is a heartbreaking but distant memory. And while Nikola isn't exactly out and proud, there really shouldn't be anything in the way of a romance with Adam. But, like the greatest love stories, nothing is ever easy and fate isn't always kind.

When Stolevski jumps forward 10 years into the future to bring Nikola and Adam back together for Ebony's wedding in the second half of the film, Of an Age becomes something else entirely. We see how these boys have become men and the impact their 24 hours together had on them both. It gifts Anton and Green the opportunity to evolve their performances, while still showcasing how their characters' time together changed them. And how time may have passed but they really haven't changed at all. It all leads to one unforgettable moment I dare not spoil, but one that drew audible gasps from my audience.

Anton and Green are a match made in heaven. Their instant chemistry is truly gorgeous and their performances both feel natural and earnest. Anton taps into Nikola's teenage angst and self-doubt with ease; qualities that still remain when we meet him again in adulthood. Green is effortlessly cool and charming as the sweet-natured Adam who clearly recognises and empathises with the awkward version of a slightly younger gay male he once was. It's impossible not to find yourself fully invested in this pair from the moment they meet and that's entirely thanks to Anton and Green's mesmerising work.

Stolevsi is wise to inject plenty of levity into this otherwise heady drama. Most of that arrives courtesy of the brash, foul-mouthed Ebony, played perfectly by Hook in one of the most genuinely hilarious performances you will see this year. She's that trashy, hopeless train wreck of a friend we all had in our teenage years who you can't help but adore. At one point, Nikola declares his wannabe actress best friend is going to be the next Nicole Kidman. Without skipping a beat, Ebony retorts, "She's fucking trash." Hook eats every moment alive and the film is stronger for providing moments of comic relief to juxtapose all the swooning occurring in the front seat of Adam's car.

With authentic dialogue, raw emotion, and a captivating love story, Stolevski has crafted one of the finest films of the year. It's a meditation on those moments that unexpectedly come to define our lives. It's a portrait of gay love and the power and liberation of finding a kindred spirit, even for a crushingly brief moment. It's as radiantly beautiful as it is devastatingly bittersweet. And for those of us who've lived a similar story, it's a mirror that's reflection hits like a tonne of bricks. A stunningly crafted gem that will dance in your mind for days and weeks on end, this is exactly what Australian cinema should be.





Distributor: Roadshow
Cast: Elias Anton, Thom Green, Hattie Hook, Toby Derrick, Jack Kenny, Grace Graznak
Director: Goran Stolevski
Producers: Kristina Ceyton, Samantha Jennings
Screenplay: Goran Stolevski
Cinematography: Matthew Chuang
Production Design: Bethany Ryan
Costume Design: Zohie Castellano
Editor: Goran Stolevski
Running Time: 99 minutes
Release Date: 23rd March 2023 (Australia)