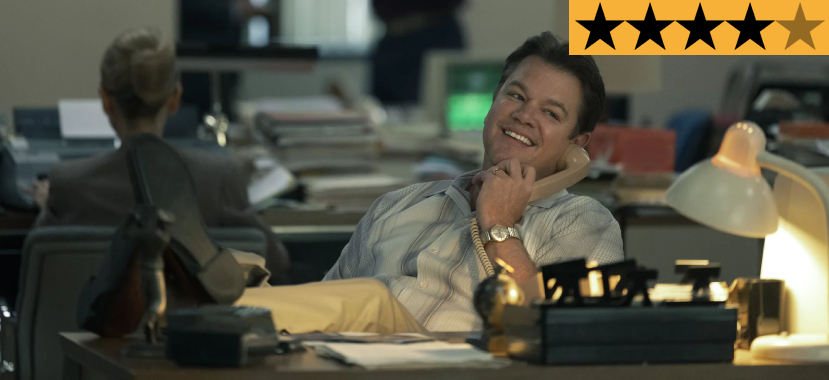 04 Apr

REVIEW – 'Air' is a textbook example of a simple story told tremendously well

The best sports movies are the ones that aren't really about sports at all. Moneyball wasn't inherently a baseball film, nor was King Richard truly about tennis. Rocky was more than just a boxing flick and Remember the Titans was never just about gridiron. Rather, these films succeeded by finding fascinating character-driven stories that just so happen to take place within the world of sport. Such is the case with the wildly entertaining Air; a film about basketball shoes that isn't really about basketball or shoes.

In a roaring return to form in the director's chair, Ben Affleck delivers one of the year's most richly satisfying and surprisingly inspiring works that's entirely accessible to all audiences. Trust me. I have zero interest in either basketball or shoes and this is already one of my favourite films of the year. A textbook example of a simple story told tremendously well, Air is an engaging, feel-good triumph. Slickly produced and perfectly cast, it's a solid crowd-pleaser that knows the intrinsic power of a bloody great yarn.

The year is 1984 and it's the dawn of sports superstars making bank with lucrative brand endorsements. American athletes like Bruce Jenner and Mary Lou Retton are raking it in with huge deals from companies desperate to use their image to push their products. Such is the case in the battle for America's favourite sneaker where Converse and Adidas lead the way over the fledging Nike. All three are hunting the signature of one NBA rookie who might be destined for great things.

While Michael Jordan (Damian Delano Young) has yet to step foot on an NBA court, Nike marketing executive Sonny Vaccaro (Matt Damon) sees what others don't and believes he's the next great basketball superstar. His boss, Robb Strasser (Jason Bateman) and Nike CEO Phil Knight (Affleck) are less convinced and Sonny's desire to invest all of Nike's basketball marketing division in Jordan is an idea no one else seems to share.

Jordan himself also has little interest in partnering with a bronze medal company like Nike. With the help of his no-nonsense agent David Falk (Chris Messina), Jordan is already courting fruitful offers from Nike's two rivals. But Sonny has a plan and a unique vision with his sights firmly set on wooing the one person who truly calls the shots in Jordan's career; his fiercely protective mother, Deloris (Viola Davis).

In what is undoubtedly the first great ensemble film of 2023, Affleck has assembled an embarrassment of riches to bring this oddly compelling tale to life. Damon brings his trademark all-American charm to a quiet but commanding performance that leads this film with such effervescent energy that's hard to resist. Screenwriter Alex Convery blesses Damon with a stirring third-act monologue that's going to be utilised by acting students for years to come. Affleck is terrific as the mercurial Nike boss who knows when to lead and when to listen. Bateman brings plenty of much-needed levity with the kind of deadpan comedy he's been hiding for years while tackling heady drama on Netflix's Ozark.

Messina is an absolute hoot as Jordan's tempestuous, frustrated, and foul-mouthed agent. Chris Tucker, Marlon Wayans, and Matthew Maher all steal focus in small but pivotal roles. But, unsurprisingly, it's Davis who runs away with this one and reminds us why she is indeed the Michael Jordan of acting. As always, Davis is simply superb as a woman who innately knows her son's worth and the future set out before him. Davis deftly captures Deloris' spirit and her uncompromising stance to fight for her son at all costs. Watching Davis act is like watching Jordan on the court; it's pure magic.

If you're expecting this to be a Michael Jordan biopic, think again. Affleck makes the clear decision to almost entirely eliminate Jordan from the film altogether. When Young does appear, he's often shot from behind or out of frame and only utters one line of dialogue the entire movie. It's a curious choice but one that makes sense when you realise how strongly Affleck wants his audience to focus on the men wooing Jordan and the strong woman rightly standing in their way. Jordan's story will be told on screen eventually, but that day is not today.

But a wonderful cast is nothing without a smart script to elevate their work. Convery's razor-sharp screenplay is loaded with zippy dialogue, genuine humour, and lively set pieces, while never once losing sight of the humanity and depth of its captivating characters. This is an underdog story centred on the hopes of a big dream and the cunning instincts of a man who saw what no one else did. It's a portrait of what can be achieved with self-belief and the value of knowing one's worth. Yes, it's ultimately just a film about a multi-million dollar shoe deal, but it's deceptively deeper than it appears.

After a minor misstep with 2016's disappointing Live by Night, Affleck reminds us why he's one of the best directors working today. His direction is crisp with stylish visuals, smooth transitions, and perfectly-timed 80s needle drops at just the right time. As both an actor and storyteller, Affleck intimately understands the power of the simplicity of this tale and to not overcomplicate it with too many bells and whistles. But he also knows when to allow the camera to calmly and tightly focus on the impeccable work of his actors. His framing of a key conversation between Sonny and Deloris skillfully proves this.

This is one of those lightning-in-a-bottle type films where every element works so effortlessly well to create something that's magically enjoyable. This story needed to be told and Affleck was the man to do it justice. His sincerity flows through every frame, crafting a piece of cinema that's just so damn easy to love. It's always refreshing to find an original, intelligent movie made for adults in a cinematic landscape dominated by franchises and sequels. An old-school charmer that plays like a dream, Air is easily the best movie of the year thus far.





Distributor: Warner Bros.
Cast: Matt Damon, Ben Affleck, Jason Bateman, Marlon Wayans, Chris Messina, Chris Tucker, Viola Davis
Director: Ben Affleck
Producers: David Ellison, Jesse Sisgold, Jon Weinbach, Ben Affleck, Matt Damon
Screenplay: Alex Convery
Cinematography: Robert Richardson
Production Design: François Audouy
Costume Design: Charlese Antoinette Jones
Editor: William Goldenberg
Running Time: 112 minutes
Release Date: 5th April 2023 (Australia)