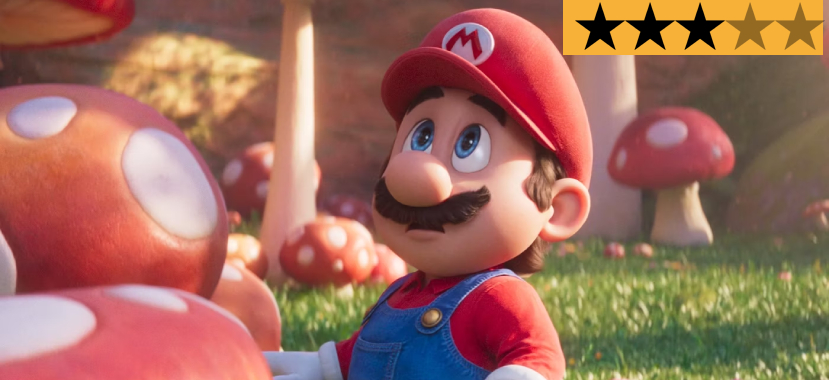 05 Apr

REVIEW – 'The Super Mario Bros. Movie' is a candy-coloured delight that will surely satisfy even the most ardent of Mario fans

Given the unwavering popularity of the Super Mario brand since its humble beginnings in 1985, it's rather staggering it's taken almost four decades for a big-screen animated adaptation. Then again, Nintendo likely suffered from PTSD after the disastrous 1993 live-action incarnation. They've rightly protected their baby for long enough and have now finally handed the reins (and the rights) over to those Minions-loving magicians at Illumination. The resulting The Super Mario Bros. Movie is a candy-coloured delight that will surely satisfy even the most ardent of Mario fans.

While its narrative is rather formulaic and it's lacking the depth of more profound animated fare, The Super Mario Bros. Movie is endlessly fun and gorgeously animated with a fully-committed ensemble voice cast to bring everything to life. Loaded with references to the numerous eras of this gargantuan game franchise to deliver all those gooey nostalgic feels, it's a charming love letter to the expansive world of Mario that naturally launches a potential future franchise with endless possibilities.

Scrappy Brooklyn plumber Mario (Chris Pratt) is struggling to find his place in the world. Tired of "feeling small," Mario has plunged all his life savings into fulfilling his dream of starting his own plumbing business with his beloved brother, Luigi (Charlie Day). But customers aren't exactly lining up to hire Mario, who sees a burst pipe and flooded streets as his chance to snatch some much-needed publicity for his enterprise. After travelling deep into the sewer system, Mario and Luigi stumble across an out-of-place green pipe.

Curiosity gets the better of the brothers and they venture inside where they're both promptly sucked into the pipe and separately transported to an alternate universe of strange lands. Mario finds himself in the toadstool-covered Mushroom Kingdom where the friendly Toad (Keegan-Michael Key) offers to introduce his new pal to the land's adored ruler Princess Peach (Anya Taylor-Joy), who also stumbled upon this world as a young orphan and was immediately adopted by its fungi residents.

Luigi isn't quite so lucky and lands in the spooky Darklands where he's quickly kidnapped by the skeletal creatures known as Dry Bones and taken to their leader, Bowser (Jack Black). After stealing the all-powerful Super Star from the Penguin King (Khary Payton), Bowser intends to utilise its gifts to rule the universe. With his sights firmly set on Mushroom Kingdom for reasons that are best left unspoilt, Mario and Peach will have to woo the Jungle Kingdom leader Cranky Kong (Fred Armisen) and his tempestuous son Donkey Kong (Seth Rogen) in the hopes of forming an army to stop Bowser's nefarious plan.

Let's get right to the elephant in the room; the much-discussed casting of Pratt. Early in the film, Matthew Fogel ingeniously explains Mario's lack of an Italian accent and wisely moves right along. You likely won't appease all Mario purists by shying away from Charles Martinet's legendary voice work (yes, he makes a cameo), but was anyone really that keen on hearing Pratt deliver lines in a garish and outdated Italian cadence? Pratt is perfectly fine as Mario and it's barely a few minutes before you completely forget that's not how the character is "supposed" to sound. It is an adaptation, after all.

It's the supporting cast of voices surrounding Pratt that really shine. The perfectly cast Day is sublime as the endlessly adorable and charmingly timid Luigi. It's a mighty shame Fogel's narrative keeps the brothers apart for much of the film. Their early scenes together showcase their brotherly love and undying loyalty to each other. It's rather confounding that the film doesn't realise this is where the true heart of the movie lies. When Mario and Luigi reunite in the bombastic finale, you realise just what you've been robbed of that hopefully a sequel will rectify.

Taylor-Joy brings plenty of spunky attitude and sharp intelligence to a character who's rarely been anything more than an archetypal damsel in distress. Key is cute as a button as the loveable Toad who might be fairly useless but his devotion to Peach and desperation for adventure is rather touching. A scene-stealing Black is a knockout as our menacing villain who is blessed with an unexpected subplot that casts the character in a very different light than you'll be expecting. And he's given a rousing power ballad to boot. Armisen brings his trademark penchant for deadpan humour, while Rogen offers everything you're expecting.

It should come as no surprise to hear the animation is utterly spectacular with some of the most impressive world-building Illumination has ever delivered. The animators sensibly don't stray from the classic character designs we all know and cherish. Regardless, Mario and co. have never looked better. The lands are all impeccably crafted, all bursting with bright colours and curious creatures that will dazzle younger audiences. And there's a bevvy of terrifically stylised set pieces, particularly a thrilling kart race along the infamous Rainbow Road with all those unavoidable perils like banana skins, green turtle shells, and the dreaded blue Spiny Shell and its immediate doom.

No spoilers here, but the film is expectedly dotted with dozens upon dozens of Easter eggs and references that fans will adore discovering. A personal favourite is a background character attempting to sell an old piece of technology at a flea market and suggesting the buyer merely needs to "blow into it" to make it work again. If you know, you know. However, it's Brian Tyler's stupendous score where the true nostalgia lies. Tyler worked closely with longtime Mario composer Koji Kondo to incorporate all the classic game themes into his energetic score. The fusion of old and new is truly ingenious. Tyler has taken the iconic music you adore and given it a beautifully rich orchestral sound to perfectly complement his original creations that will no doubt stand as one of the absolute best film scores of the year.

There's no denying The Super Mario Bros. Movie is a damn good time at the cinema. It's just a shame its storyline feels rather derivative and its plot is paper thin. There's a valiant attempt to explore themes of feeling underestimated and finding your inner strength, but they're never explored with the same depth and nuance we've now come to expect from the animation genre these days. Maybe this film exists to lay the foundation for richer content to come. One can only hope Illumination has the acumen to appreciate there can be more to Mario than just a plumber who bounces on turtles and eats mushrooms.

Regardless of its narrative foibles, it's hard not to love the giddy fun, vivid visuals, and winning characters The Super Mario Bros. Movie serves up. At a brisk 92 minutes, it moves with an energetic pace that's rather palpable. It intrinsically understands its target audience and knows precisely what fans are wanting to see, including a post-credits kicker you won't want to miss. It's a faithful ode to a cherished icon who finally gets the big-screen adventure he's been waiting to receive. And there's no doubt it won't be the last we'll be seeing of him.





Distributor: Universal Pictures
Cast: Chris Pratt, Anya Taylor-Joy, Charlie Day, Jack Black, Keegan-Michael Key, Seth Rogen, Fred Armisen
Directors: Aaron Horvath, Michael Jelenic
Producers: David Ellison, Jesse Sisgold, Jon Weinbach, Ben Affleck, Matt Damon
Screenplay: Matthew Fogel
Editor: Eric Osmond
Music: Brian Tyler Koji Kondo
Running Time: 92 minutes
Release Date: 5th April 2023 (Australia)